There's something to be said for team owners that give young racing drivers an opportunity, and two of the youngest lineups in the field at this year's 55th Rolex 24 at Daytona delivered on their promise for wins in the two designated pro-am classes in the IMSA WeatherTech SportsCar Championship.
Miami-based Alegra Motorsports used one factory Porsche driver, in the "he should be older but is still only 26 years old" Michael Christensen, along with three IMSA Porsche GT3 Cup class champions from 2016 in Daniel Morad (26), Jesse Lazare (19) and Michael de Quesada (17) and de Quesada's father Carlos to win the 27-car GT Daytona class with its No. 28 Porsche 911 GT3 R.
Meanwhile courtesy of a flawless drive with four drivers all 27 years of age or younger (James French, 24, Pato O'Ward, 17, Kyle Masson, 19, and Nick Boulle, 27) Performance Tech Motorsports scored a breakthrough win for the final Prototype Challenge class win at the Rolex 24, to give team principal Brent O'Neill a well-deserved victory for his Deerfield Beach, Fla.-based team.
It was a cool thing to note because of the lack of experience from most of these nine combined drivers. The elder de Quesada and Christensen were the only two drivers for Alegra with past Rolex 24 experience, while Performance Tech's lead driver James French and Nick Boulle were the only two for Performance Tech with past starts.
Meanwhile the Porsche Cup champions and the other two drivers at Performance Tech, Masson and O'Ward, would be making their Rolex 24 debuts.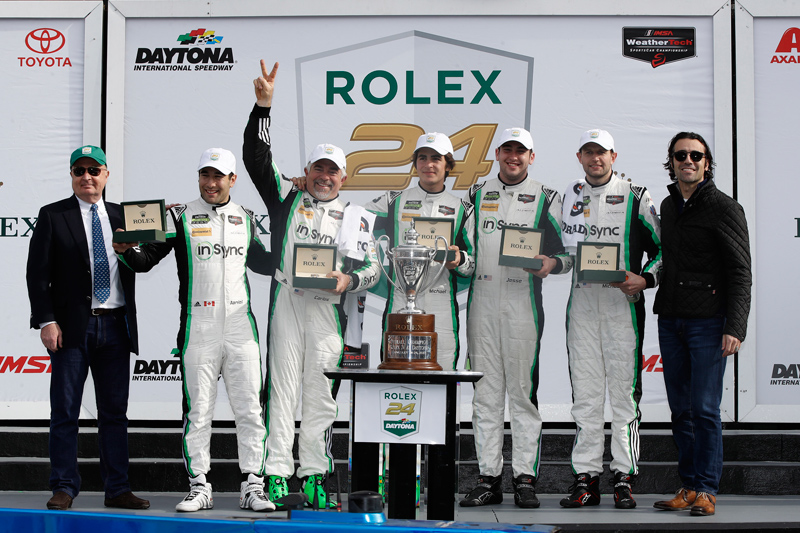 "I'm obviously very excited to be here," said Carlos de Quesada. "Ten years ago we won the 24 hours, and it was just something that ‑‑ it was just unbelievable for us. We had the right team, the right drivers, the right equipment.  Everything after that is luck.  I told these guys the same thing.
"When I assembled this team, we ran Daniel Morad with Alegra Motorsports up in Canada and he won the Platinum Cup Championship up there along with the North American Cup Championship, and then Michael, my son, went ahead and won the gold class in the USA.  Because we were also running some USA Cup races, Daniel and Jesse Lazare were racing against each other and we were watching Jesse race, and just the quality of driver that he is, we decided to go ahead and invite him to drive with us for the 24 hours."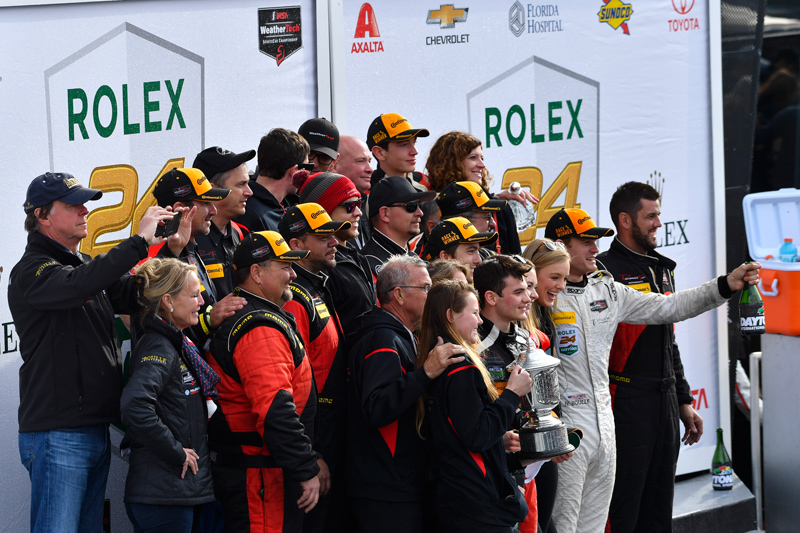 O'Neill, meanwhile, pressed ahead with the team's effort after an accident during the Roar Before the Rolex 24 test, which cost IMSA Mazda Prototype Lites champion Clark Toppe his planned seat in the race and opened the door for Boulle to rejoin the team. Rather than pack up, the team rebuilt the car with a number of spares and found the setup it needed to dial the car in from there.
What followed in the race was pretty much a tour de force in the five-car PC class. Without a scratch on the car, the quartet led 614 of 638 laps in the No. 38 Oreca FLM09 and won by 22 laps.  It marked Performance Tech's first race win in the PC class since the American Le Mans Series days, at Baltimore 2013, with now-Mazda factory driver Tristan Nunez and Charlie Shears driving.
"This was really special," O'Neill said. "I think we led all but about 10-minutes of 24 hours. There were a lot of people after the Roar that didn't think that our car was going to be winning any races any time soon, but here we are. This was good for the whole team. It was a great morale booster as we head into the rest of the season. We had a lot of guests here this race, friends and family, because it's near our home base. So, it was pretty cool to be able to pull it off. This was a great team effort. The guys in the pits did awesome and each of our drivers drove their butt off. The team deserved this."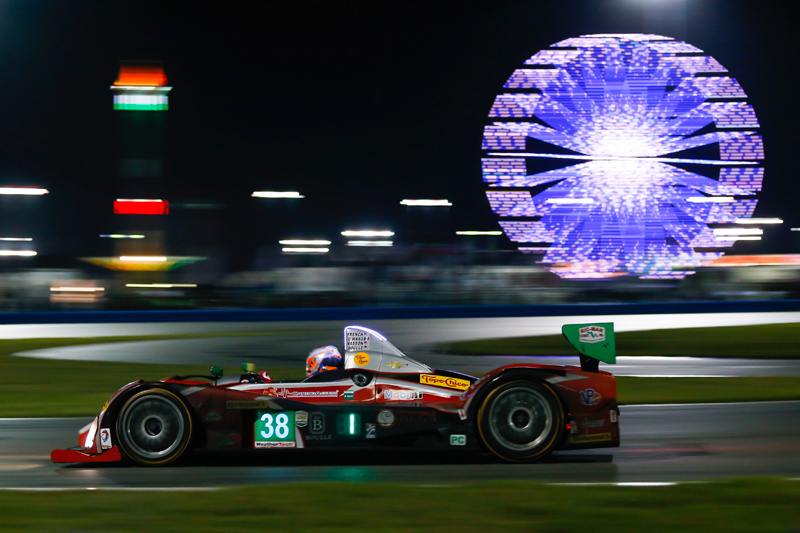 French has been with O'Neill the longest of these four drivers and after scoring pole, led the team's effort behind the wheel. The Sheboygan Falls, Wis. native has matured and developed into the team's lead driver, and was careful to not get worried in the final stages of the race as the win looked imminent. Despite his Midwest roots, French still admitted he was cold in the open-top prototypes in the bitter overnight hours.
"The rain was just freezing cold.  That's the best way I can describe it.  It was like 40‑something degrees, 42 degrees, and we were all soaking wet.  It was cold, not a lot of grip.  Basically trying to control the car in the slippery conditions with numb fingers and numb feet, it was pretty tough," he said.
"I tried to ignore those thoughts, believe me, especially with this being the last season, and to not have a win up to this point, it definitely occurred that, okay, the opportunities are getting more and more slim.  But yeah, it just seemed like everything was going really smoothly.  To be honest, it wasn't a surprise."
O'Ward and Masson both won in their series debuts, while Boulle, who co-drove with French to a podium last year at Circuit of The Americas, adds another cool stat to the ledger – his family's de Boulle Jewelers are the first Rolex Jeweler to win the Rolex 24.
Alegra's charge came in the final couple hours, with Christensen closing after consistent stints earlier in the race from his four co-drivers. They saw off the efforts from the Montaplast by Land-Motorsport Audi team, which also had a four-driver lineup of four drivers 27 or younger. The young Dane has always been a little under-the-radar in his Porsche factory driver career, but as Morad related from their days racing together in the 2010 GP3 Series, he does have natural finishing hard instincts.
"Going back to 2015, leading up to this season, I hadn't raced for four years, and prior to that I was racing in Europe actually against Michael in the GP3 series," said Morad, who won the Porsche GT3 Cup Canada title last year. "It's funny that we meet again, and this time thankfully in our car, because with a drive like that I wouldn't want to drive against you.  He just showed his class.  He's a true legend, and one of the best sports car racers in the world, and he showed that today.
"But it's a team effort, really.  Carlos gave all of us the opportunity when no one would, no team owner would take the risk on four young drivers and put them together."
Christensen, illustrating his cool status, just called his final stint "part of the plan."
"To be honest, it was a long plan, really.  We all sat together and spoke about what we thought of the race itself, what do we need to do to be successful here, and we all were having the same thoughts, don't touch anyone, be careful, it's a long race, and everyone ‑‑ most guys out there are pushing hard at certain times of the race, especially a race with weather conditions like that.  It's really tough just to keep it on track, and yeah, our plan was to stay on the lead lap and have a perfect race car for the end of the race."