It's a nearly identical presence for this year's American teams racing at the 24 Hours of Le Mans compared to 2016 within the entries revealed for the 2017 race. A total of seven teams and 12 cars entered under the U.S. flag comprise a full 20 percent of the 60-car field.
Teams from the IMSA WeatherTech SportsCar Championship racing are in the GTE classes. Ford Chip Ganassi Racing (four cars), Corvette Racing (two) and Risi Competizione (one) make up seven of the 13 cars entered in GTE-Pro, while Scuderia Corsa adds two cars in GTE-Am.
Ganassi's four cars come from the two Ford Chip Ganassi Team UK, one as an auto-invite for winning with one of the Team USA entries last year (the Joey Hand/Dirk Mueller/Sebastien Bourdais No. 68 car), and a fourth as a full-time IMSA entrant.
"When we came to Le Mans last year there was a lot of pressure on the team to deliver a win to commemorate the Ford GT40 1-2-3 finish in 1966," said Raj Nair, executive vice president of Global Product Development and chief technical officer, Ford Motor Company. "It was fantastic to win but we will not rest on our laurels. We return to Le Mans in June with another year of experience racing the Ford GT behind us, seven wins including the 2016 Le Mans 24 Hours and the 2017 Rolex 24 at Daytona, and we can't wait to compete again at this incredible event."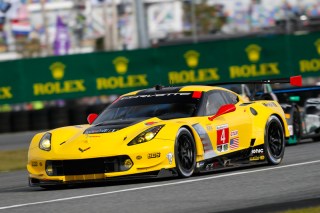 Corvette and Risi, as full-time IMSA entrants, also gained spots in the field.
Corvette, a regular Le Mans contender and race winner, won last in 2015. Last year, Risi provided the only realistic threat to Ford in GTE-Pro as a single-car entry, up against the phalanx of Fords.
Scuderia Corsa gains two entries, one as an automatic entry for winning GTE-Am last year and a second as an at-large invite from IMSA. This gives them two Ferrari 488 GTEs in the 16-car class.
The LMP2 class sees three U.S. teams present among the 25 cars.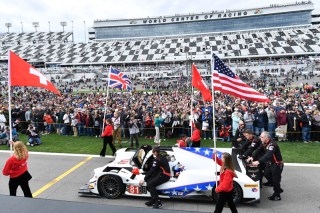 Elton Julian's DragonSpeed team will make its Le Mans debut; the European Le Mans Series full-time entrants have run in two marquee U.S. races at Sebring (fourth overall in 2016) and Daytona last weekend but not yet at Circuit de la Sarthe.
Henrik Hedman's journey from Ferrari Challenge to Pirelli World Challenge and now to the ELMS, sees the Florida-based Swede the nominated driver of the team's No. 21 DragonSpeed 10 Star Oreca 07 Gibson.
Ben Keating now will race at Le Mans under his own banner of Keating Motorsports, as the second of IMSA's at-large invites. Keating raced under the TI Automotive/Riley Motorsports flag in 2015 in the final competitive outing of the Dodge Viper GTS-R in GTE-Am, and a year ago made his first LMP2 start at the race in the open top Oreca 03R with Jeroen Bleekemolen and Marc Goossens for Murphy Prototypes. Now, the Texan will be in his No. 43 Riley Mk. 30 Gibson.
Lastly, Zak Brown's United Autosports team is entered under the U.S. banner. Brown and business partner Richard Dean have long desired and dreamed of racing at Le Mans and will do so with its No. 32 Ligier JS P217 Gibson. Mazda Road to Indy veteran and TCU student Will Owen is the team's nominated driver with Swiss teenager Hugo de Sadeleer the second driver, those two having been confirmed at Autosport International last month.
Usual U.S. teams Extreme Speed Motorsports and Krohn Racing are among the notable absences this year, with ESM focusing instead on its Nissan Onroak DPi program in the States and Krohn Racing off a Le Mans entry list for the first time since 2005.
Michael Shank Racing, which made its Le Mans debut last year, now has its Acura NSX GT3 program it's focusing on.