NBCSN Verizon IndyCar Series analyst Townsend Bell and his longtime sports car co-driver, Bill Sweedler, will have the chance to defend their 24 Hours of Le Mans victory in the GTE-Am class as Scuderia Corsa has confirmed its lineups for both of its cars.
Bell, Sweedler and the previously announced Cooper MacNeil will be in the team's No. 62 Ferrari 488 GTE, thus providing the three drivers their first run in the new GTE-spec version of the 488 after running previously in the F458 Italia. This entry will feature a partnership with WeatherTech Racing.
Meanwhile Christina Nielsen will have her full-season IMSA WeatherTech SportsCar Championship co-driver Alessandro Balzan making his overdue debut at Le Mans, and Bret Curtis on board as third driver in the No. 65 Ferrari 488 GTE.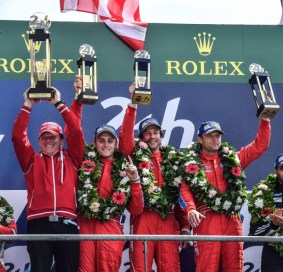 Bell, Sweedler and Jeff Segal podiumed in class in their 2015 Le Mans debut before the trio's dominant win last year. Segal, who's since been upgraded from Silver to Gold in the FIA Driver Rating system, is ineligible to join that lineup as a result this year, but is expected to still attend Le Mans anyway as a driver coach.
"I'm so excited to return to the 24 Hours of Le Mans and defend our race win along with Scuderia Corsa and Ferrari," Sweedler said in a release.
"Le Mans is such a unique and special place that has the most passionate residents. The city literally shuts down for a week to welcome racers, teams, and fans from around the world into their city. I'm truly honored to be able to participate again after two successful years. My hope is that Townsend, and our newest teammate, Cooper MacNeil, can take our collective experience and deliver another strong finish for Scudera Corsa and Ferrari in 2017!"
Team principal Giacomo Mattioli said of his lineup: "The opportunity to bring two Ferraris in defense of our Le Mans victory is a great honor. To debut in 2015 with a podium, and win last year was an absolute dream-come-true. To return now with the Ferrari 488 GTE is a brand new challenge that we are all excited for. It's of course great to see Bill and Townsend back with us for another year, and now with Cooper MacNeil joining us, we should be very strong.
"It goes without saying we had an incredible 2016 together with Christina and Alessandro, and Bret Curtis is a long-time member of the community that we're very excited to work with. We're definitely confident for another Ferrari victory!"
The two entries come via an automatic entry for winning in class last year, and a second as an at-large invite from IMSA.
The race takes place June 17-18 at Circuit de la Sarthe.