If you ask the question, "who's the greatest racing driver of all-time?" you'll likely get one of maybe five or six answers. It could be Andretti, Foyt, Senna, Schumacher or Earnhardt. Or perhaps another 10 or 12 others.
But if you ask the question, "who's the greatest daredevil of all-time?" the answer settles on one near-unanimous answer: Evel Knievel.
In a seriously unique opportunity as put together by Heritage Auctions, a couple items from the one-of-a-kind daredevil's gear from his iconic career go up for auction for the first time ever.
One set of Knievel's worn leathers and his singular, trademark cane are available for bid through February 25. Further details are available via Knievel's website, http://www.evelknievel.com, and the auction website, http://www.ha.com.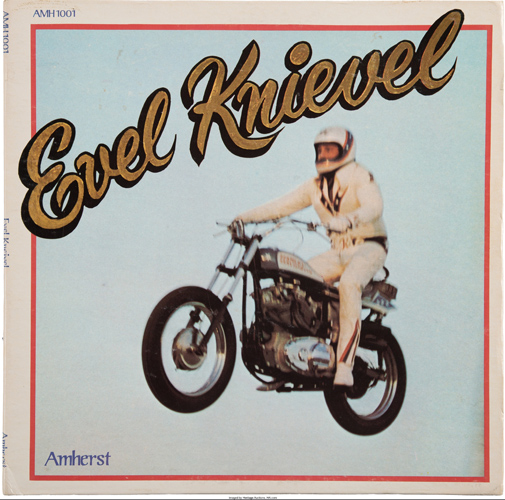 The leathers feature Knievel's signature "American flag" design, adorned with initials and with some "road rash" evidence present. Meanwhile the cane – or walking stick – is diamond-studded and was more or less attached to Knievel for his appearances.
Providing the opportunity for collectors to acquire these items is a once-in-a-lifetime opportunity and for Knievel's son Kelly, who is president of K&K Promotions and Evel's oldest son (younger son Robbie also entered into the family business), it was better to give fans a chance to embrace them rather than have them just sitting collecting dust.
"What are we supposed to do? Be buried with them?" Kelly Knievel laughed, when speaking to NBC Sports. "There's a time now for someone who's a collector to bid for them, and have them where they can be seen.
"My dad had many sets of leathers… but they're either gone, or in a museum, or he'd crash and they'd have to cut the leathers up. Since they were one piece leathers, he'd crash and go to the hospital and they would cut off. This one didn't have to be cut. It has the scrapes from the crashes.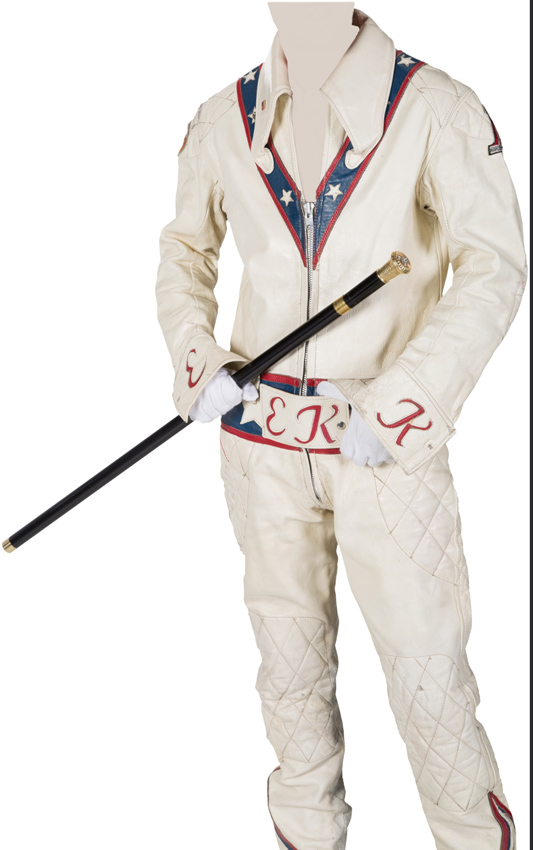 "And that cane never left my dad's hands. He got that cane after his jump at Caesar's Palace in the late '60s, and had it until he died. There's a lot of baseball cards, Super Bowl rings, and jerseys… but there's only one Evel Knievel and only one cane. This cane has the hollow bottom with the liquor flask. I'm certain it's the most famous cane on the face of the earth… and it will only increase in value as time goes on.
"It's like the king's scepter. It's like Julius Caesar's scepter. I think it's one of the rarest pieces of American pop culture that exists."
Knievel says he's not sure what the items will fetch for but indicated that because this is the first time these items are up for bid, they'll be higher as more years pass.
"I have no idea what it'll get, but whoever gets it, it's far underpriced compared to its significance and investment value," he explained. "The first time something is auctioned… Marilyn Monroe's dress I believe went for $50,000… and it just sold now for $4.8 million. Whoever gets this cane and set of leathers, it's a bargain of a lifetime. So it's the rarest diamond out there!"
For Knievel, growing up the son of a legend provided an incredible opportunity to live a firsthand account as his dad essentially created the extreme sports genre.
In a world now where it's harder to stand out with simple events – it's such a saturated sports marketplace – Knievel's Q rating and impact via ABC's "Wide World of Sports" almost stands as unparalleled.
Kelly Knievel reflects: "I was 8 (years old) when he jumped at Caesar's Place – so I was 8 to 16 years old growing up as he was starting out. When you're a kid, you don't really have perspective on it. My dad was very high energy. It wasn't a fake deal. It was Evel Knievel at the breakfast table. He was very ambitious and had a big imagination, but he was a giant man of character. When you're a kid how would you know it's any different?
"The only thing I can compare – my other friends' dads went to work, and my dad did whatever I wanted. That's how it seemed to me. I don't know if it's entirely accurate!"
He also reflected on his favorite jump his dad pulled off.
"It was at Kings Island, where he jumped the Greyhound buses. He went to England that summer… and jumped 13 double decker buses. He crashed, broke his hips and a bunch of bones. He announced to the crowd he'd retire… probably in shock and pain, and then woke up in the hospital, came back to U.S., added one more bus and jumped further and made it. That is a feat of courage and imagination.
"When he landed, the frame of Harley Davidson broke in half and he hung on!"
Knievel discussed how big a deal the "Wide World of Sports" shows were.
"To put it into perspective, on ABC World Wide of Sports, my dad had four of the top 10 shows, including the No. 1 show on 'Wide World of Sports' in history," he explained.
"There's a Q study – so a measure of name recognition – and in the '70s, my dad was the most recognized name in the world. There's a Q study done for deceased celebrities… and he has a 99.5% recognition level.
"The event of extreme sports is such that there's all these young kids, who know Evel Knievel through the advent of extreme sports. So it connects the generations that way. Guys like Tony Hawk, Travis Pastrana, and Robbie Maddison, their inspiration was Evel Knievel."
He said timing was everything for his dad's success. His dad passed away in 2007.
"The situation was the same in the '70s, but my dad was so unique. He came up with his own thing. He had that much imagination and creativity. I don't think it's a function of time… it's a person at the right time. It takes a person to do something that spectacular. He invented his own persona.
"I think (extreme sports) would exist… but as a symbol, it was a case where he was coming out of nowhere and captured the public's imagination. Like a lighting rod."
You can't get the lightning rod, but you can get the next closest thing with that walking stick. And those leathers, which are still in one piece.