Californian driver Cabot Bigham's social media channels branded him a year ago with the moniker of "Follow the Ham," which is both clever and accurate at the same time.
For one, it makes a fun play on words of his surname – Bigham immediately makes one break the word down into "Big Ham," which then leads to thinking about bacon, which then leads to the logo that has developed for his driver identity.
And second, perhaps more importantly, it's a perfect double meaning for what "Following" the Ham actually means. From a social media context, it means following him via his various posts. But on the race track, it means others were following him on track.
Bigham scored a surprise but well-judged GRC Lites championship in his debut season, defeating 2015 champion Oliver Eriksson, talented veterans Alex Keyes and Alejo Fernandez, and a host of notable rookies including Miki Weckstrom in the process.
Bigham, 20, will now step up into Supercars for 2017 with Bryan Herta Rallysport, as the replacement for Patrik Sandell in the team's No. 2 MSport Ford Fiesta. Nick Franzosi is the team manager. Bigham carries support from Paratek Pharmaceuticals, Oral IV and Fuel Clothing, with team partners to be announced later.
With the Swede moving to Subaru's program, the door opened for Bigham to graduate as the first Lites champion to do so since 2014 champ Mitchell DeJong, who only made his Supercars debut at last year's season finale in Los Angeles in a wild card third entry for Honda Red Bull Olsbergs MSE.
The Mill Valley, Calif. resident who drove the Paratek Pharmaceuticals entry for Dreyer & Reinbold Racing last year won twice, scored five podiums and eight top-five finishes in 11 starts. But down to both Eriksson and Weckstrom going into the final race of the season in L.A., Bigham needed a minor miracle to pull off a championship victory.
He got it when after starting 10th and last in the final, an accordion effect accident that happened in front of him was akin to his personal "parting of the red sea" as he made into second behind DRR teammate Keyes merely several turns into the 10-lap race.
"It's exactly that – everything fell into place!" Bigham told NBC Sports. "We couldn't have predicted a more ideal scenario for where we were starting. I got inside of Alejo into Turn 2. That gave me the proper positioning to get inside the wreck, avoid it all, and slot in behind Alex.
"But at the checkered, I couldn't really comprehend the emotions! So much is going through your head. Prior to the race start, I said, 'There's a pretty slim chance I could battle for second.' It didn't occur to me I could win it, but I never said I couldn't win it. That was a huge learning experience to tech me to never give up, no matter the situation."
Bigham then had the option of returning for a GRC Lites title defense or instead moving up to Supercars.
Once Sandell announced his departure after two solid seasons with Herta's rally team, suddenly the two-time Indianapolis 500-winning car owner had a void to fill in the team that still has his name.
"We looked at all our options. I talked to a great number of drivers – GRC veterans and other racing championships – and also rookies to rallycross," Herta told NBC Sports. "There wasn't a particular mould but someone we could fit.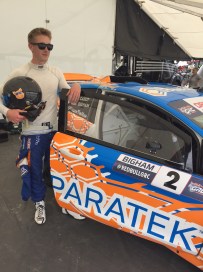 "But with Cabot, I saw he won the championship. I was able to watch. I tend to watch the Lites stuff when I can. But I hadn't met him much in person. He's young and doesn't have a lot of racing experience yet. Traditionally it's a two-to-three year process for most people. But he sort of mastered it in his first year."
Bigham had become aware of Herta via a Skip Barber shootout and also through Herta's own son, Colton's, burgeoning racing career. Bigham called the meeting and now subsequent opportunity with Herta a "full circle" moment.
Putting together the deal took a couple months before today's confirmation.
"Moving up as a rookie, you need to secure the time with team owners to talk, and secondly to find the finding," Bigham explained. "Everything slots into place usually from December to February. That's when the driver releases and contracts get signed. We try to get signed as quickly as possible, but without rushing."
The single-car Ford team is the second confirmed Ford entry for the season, along with the two-car Loenbro Motorsports effort. For Bigham, he'll have the team's singular focus while for Herta, the opportunity to expand to a two-car team in Red Bull GRC would only come with the right manufacturer opportunity.
"This should ensure we have everything at our disposal for great results," Bigham said. "It'll be the same car as they've had the last two years (Ford), which is an appealing aspect. There's always a couple years of R&D. I'm glad there's a consistency there."
Herta added, "Red Bull Global Rallycross gets a lot of looks from new manufacturers and it's been a goal/business plan to position ourselves as a one-car team. Expanding to multiple cars is something we'd only do with a manufacturer partner involved with us."
Bigham said the series' trip to Canada in June for a doubleheader is the race weekend he's looking forward to most, as it will mark the first time he's raced outside the United States.
Matched up against some of the more experienced names in Red Bull GRC, this is quite an opportunity for Bigham and a shot to impress in the championship.