Wink Hartman helped launch Josef Newgarden's Verizon IndyCar Series career, when he was a co-owner with Sarah Fisher Hartman Racing from 2012 through 2015 (first as SFHR, then as the combined CFH Racing when the Fisher/Hartman partnership joined Ed Carpenter Racing in 2015).
Hartman's now venturing into a launch of a different kind: running for Governor of the state of Kansas.
Hartman's introductory video, linked here, goes on the motive of saying Topeka needs to be fixed and that "putting career politicians in charge isn't the solution."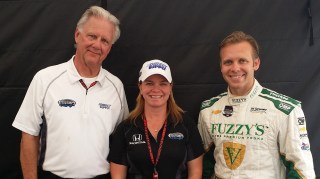 An oil man by trade, Hartman's support for IndyCar racing waned as the oil prices went down. Hartman Oil was a sponsor more often than not on Newgarden's No. 67 car throughout his first four years in the series. Ed Carpenter Racing re-emerged as its own team from 2016, after its first three years were as ECR from 2012 to 2014.
Now, the Wichita businessman is venturing back into politics. Via Kansas.com, he ran for a congressional seat in 2010 but lost to Mike Pompeo.
Newgarden won his first two races in IndyCar driving for Hartman's team. It's now time to see if Hartman will be doing any winning of his own.