Since rejoining the United States racing scene in 2011, Josef Newgarden has established himself as one of its great characters.
Whether he was running around incognito at the streets of Long Beach or Texas Motor Speedway to promote his rookie IndyCar season (while also professing his fandom of Dario Franchitti) or giving a tour of St. Petersburg, Florida ahead of the season-opening Firestone Grand Prix of St. Petersburg, the 26-year-old has consistently illustrated a knack for entertaining fans and maintaining a polished demeanor for sponsors.
Those traits, along with supreme driving talent, made him an obvious fit for Team Penske.
[youtube https://www.youtube.com/watch?v=B3On9cO4qCU?ecver=1&w=560&h=315%5D
Newgarden's media prowess was on display again on Thursday when he posted a Twitter video promoting the 101 Days to the Indy 500 festivities. In the video, Newgarden is seen next to a small refrigerator packed with Miller Lite and offers to supply the beverage to everyone celebrating the upcoming 101st Indianapolis 500. The video turns humorous when the person filming Josef reminds him that there is not enough Miller Lite to supply everyone who may want to celebrate, prompting him to admit that you may need to purchase your own if you want to join in the festivities.
For roughly 35 seconds, the video appears to be little more than a promotional video again displaying Newgarden's charismatic personality.
However, it concludes with Newgarden making a peculiar statement. "Make sure you buy some Miller Lite and support the No. 2 car with me driving for Team Penske," he asserted as the clip ended.
The wording is curious and could imply that Miller Lite might be sponsoring him in some capacity during the 2017 Verizon IndyCar Series season, possibly at the Indianapolis 500. Reddit users picked up on this facet relatively quickly, and a debate ensued.
While there are team owners, such Roger Penske, who run teams in multiple disciplines, it is rare that they'll use a driver to promote a brand that supports a team in an entirely different discipline, even if that team competes under the same organization.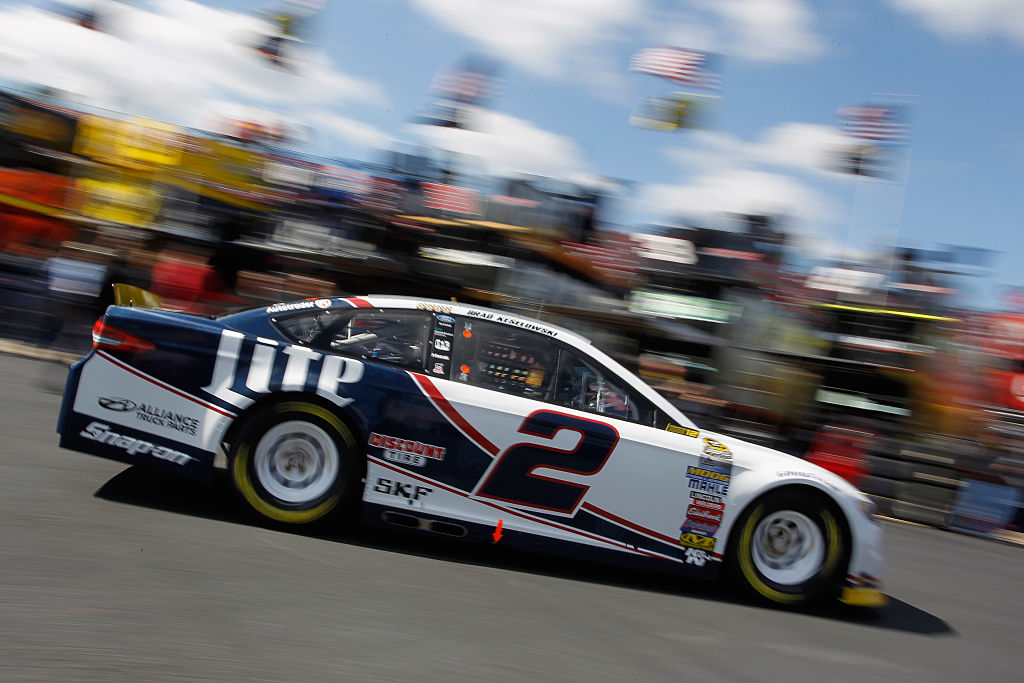 Miller has been a staple with Team Penske for decades, most notably with their Monster Energy NASCAR Cup Series team. The brand, now under Anheuser-Busch ownership, has sponsored the No. 2 NASCAR team for more than two decades, beginning in 1991 with Miller Genuine Draft. Miller Lite adorned the entry beginning in 1997, resulted in the famed "Blue Deuce" paint scheme, and maintains a presence to this day, though the color scheme of the car is now predominantly white, resulting in the informal nickname of the "Blanco Deuce."
However, Miller is no stranger to Penske's IndyCar program. It was featured prominently in the 1980s on Danny Sullivan's car, with the combination winning the 1985 Indianapolis 500 and the 1988 PPG Indy Car World Series championship together. Miller branding was also featured on Bobby Rahal's IndyCar teams cars from 1992 through 2003.
Of note, the No. 2 machine that Newgarden will pilot in the Verizon IndyCar Series has featured a series of rotating sponsors, including Verizon, DeVilbiss, PPG, and Hawk Performance, as well as Roger Penske's Penske Truck Leasing, and Newgarden carried a Verizon livery at the recent Phoenix test.