A year ago, Bryan Herta faced a quandary and a fork in the road.
A sponsor had pulled out, leaving the likable team owner and past driver needing a way to continue into the 2016 Verizon IndyCar Series season at the eleventh hour.
You should know the story from there. Herta and Michael Andretti struck a deal where the Bryan Herta Autosport team melded with the Andretti Autosport operation as the fourth Andretti entry for 2016. Alexander Rossi replaced Gabby Chaves as driver although the rest of the BHA crew shifted over unchanged.
Rossi promptly won the 100th Indianapolis 500 presented by PennGrade Motor Oil thanks in large part to Herta's strategic gamble but Rossi's own maturity beyond his years, while Chaves endured a nightmare season racing only part-time.
It's natural to wonder where Herta might be now if the last-minute deal didn't happen. Luckily, there was never a question that the Herta-Andretti partnership would continue into a second year, and as Herta explained, the melding is such that there's not a divide of "BHA" and "Andretti Autosport" within the overall unit.
"I think it's kind of cool how it's evolved. A year ago this was all fresh," Herta told NBC Sports. "Indy 500 aside was a great thing on its own, but overall it's worked well for us and for his team. This was a natural evolution.
"You had the 98 car… and it was my original guys that came over on the car. Now the idea was, let's do this for a year. At end of the year, really, we'd talk about how to continue it. We achieved the objective and didn't need to go our own way again. We want to continue it.
"This year is a more thorough integration. It's not the '98 guys' and 'Andretti guys.' There's a mix; the BHA guys are mixed to different cars. I have a role in Marco (Andretti's) car. It's back to one team. The 98 yes, falls under the BHA entry, but really now we're all in with Andretti Autosport."
And that is the funny part of the year ahead. While Rossi's No. 98 NAPA AUTO PARTS Honda is still the Andretti-Herta Autosport entered car, Herta himself shifts to the strategist box for Marco Andretti, in an attempt to help bring the No. 27 hhgregg Honda's performance – and results – forward. This also allows Michael Andretti to step off the box and be free to go to his other race team events, if needed, for conflict weekends.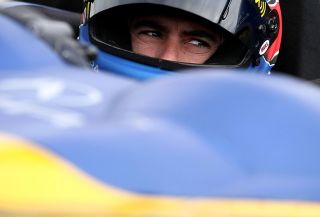 The relationship between Herta and Marco Andretti is a really intriguing one. Herta and Michael Andretti raced together first as rivals, then as teammates between 1994 and 2007. Marco Andretti's debut in 2006 coincided with Herta's last full-time year as a driver in IndyCar, before he shifted to Michael Andretti's Acura LMP2 sports car program in 2007 (right).
Yet Herta can see both the father side (his son Colton, races for Andretti's Indy Lights team in 2017) and the teammate side of Marco. He knows the talent is there, but it's been inconsistent on whether it's fully shone through or not.
"He's got a really capable group of guys over there," Herta explained. "Me moving over was just a case of freshening some things up. Also with Michael recognizing… given his role as a team owner in multiple championships, he's better off, not handcuffed, but not being stuck in any particular place. Say he might be needed at FE, GRC, or here. This frees him up to be wherever he's needed.
"The second point is the father-son dynamic is difficult. They're both very similar and passionate. So it was, let's try something different. Marco was up for it. I was up for it. I have known Marco since he was a kid and I believe there is more than enough ability there. He has all the tools he needs."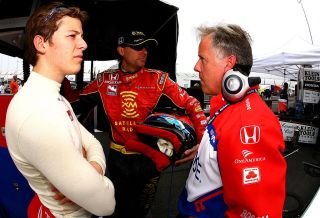 Marco Andretti, for his part, is bullish on the move as well. "I'm really excited to be working with Bryan. Dad was great at calling races, but sometime it's a hectic work environment, and no one wants to make mistakes. Every one of these guys is extremely talented," he told NBC Sports in December.
Luckily for both parents, they just get to play "dad" this year at the track rather than be directly involved in their sons' races. It's a move that, in large part, has helped Graham Rahal develop the last two years at Rahal Letterman Lanigan Racing, a team Herta used to race for. With Bobby Rahal off the box and Rico Nault stepping in, the younger Rahal has achieved his best two seasons the last two years.
Herta still has the "dad" component as Colton, 16, comes home for 2017 after two years abroad in Europe racing for Carlin. The Andretti Steinbrenner Racing entry Colton will drive for in Indy Lights matches the BHA No. 98, but features no Herta ownership involvement.
And being free to just watch the son of "Hertamania" compete is a freeing element for the senior Herta.
"It's really nice having him home. We've enjoyed having him home," he said. "On the race weekends it was hard to watch him… I only went to two races a year. I was always here.
"This year, I'm not going to watch every session. But just being here and keeping tabs on what's going on is nice. I don't have a role in Indy Lights program.
"For me, if I walk over there, it's just me being dad. I'm not there to work."
But work is something the senior Herta has done a good job of as one of IndyCar's newest – and youngest – team owners at just 46 years old. He's still got his own team name active as well, as the Bryan Herta Rallysport team continues into 2017 with new driver Cabot Bigham, who steps up to Supercars after winning the GRC Lites title.
The IndyCar season starts on March 12 at St. Petersburg and resumes on NBCSN on April 9 in Long Beach, while GRC kicks off at Memphis April 28-29, also on the NBC Sports Group networks.