Veteran Funny Car driver Cruz Pedregon is used to winning races and championships.
He's tied with the legendary Don "The Snake" Prudhomme for fifth on the NHRA all-time Funny Car wins list with 35 triumphs.
He also is a two-time NHRA Funny Car season champion (1992, 2008).
But the driver of the Snap-on Tools Toyota Camry Funny Car is not used to the kind of dismal season he had in 2016 – and he's bound and determined to dramatically change that in 2017.
The 2016 season was the worst of Pedregon's career. He failed to win a race for the second straight season, failed to advance past the first round of eliminations in 18 of the season's 24 races, failed to qualify for the sport's biggest race of the season — the U.S. Nationals in Indianapolis — and missed qualifying for the Countdown to the Championship playoffs.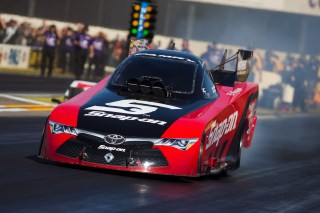 When the season concluded, Pedregon found himself with a disappointing 12th place finish in the final standings. As far as he was concerned, he only had one place to go, and that was up in 2017.
"I needed to go through a rebuilding mode, like they do in football, baseball and basketball," Pedregon told MotorSportsTalk. "I had to do a better job of bringing people in and figuring out what I needed to purchase as an owner.
"That's not how I want to race, so I made the changes I felt we needed to make."
The biggest change was the guy under the hood. As both a driver and team owner, Pedregon had tuned his own car since 2010. But during the off-season, he hired a new crew chief, Aaron Brooks, formerly of the Lucas Oil Top Fuel team that disbanded after last season.
"At the end of the day, the competition has raised the bar the last two years," the 53-year-old Pedregon said. "Unless you're part of a satellite team or part of a multi-car team, those things can elude you if you're a single car team.
"So, I feel not being part of a multi-car team and not really having a crew chief or car chief that had some connection with the technology, I just felt we got behind from a technical standpoint and it caught up to us.
"We had some good years in 2010, 2011 and 2012, and '13 was my best year (since his last championship season in 2008). We won four races and were in the championship conversation all the way up to the end (finished fourth, preceded by fourth-place finish in 2012 and third-place finish in 2011).
"Then in 2014, we dropped off a little bit (finished 10th), and 2015 (finished ninth) we declined in performance and consistency and then we hit the bottom last year. So, I had to retool, regroup and reload, and that's what I did by hiring Aaron, who was with the Lucas Oil Top Fuel time for the last five years.
"Aaron has great attention to detail and is very crafty. He's kind of a throwback crew chief. More modern-day crew chiefs sit behind a computer and makes calls based on data, while Aaron is more of a hands-on guy, working with the team. My team really needed that.
"I feel now we have a car that's built properly, it's on-par or exceeds what's currently out there winning the races. Now what lies ahead of us is to go out and execute. We have to go out and prove that not only can we build a nice car and have a nice influx of equipment, and now we're going to go out on the track."
Because Brooks did not join the team until January, Pedregon had limited preseason testing. In the season-opening Circle K Winternationals at Pomona, California two weeks ago, Pedregon failed to advance past the first round.
But that's going to change, Pedregon promises. He comes into this weekend's NHRA Arizona Nationals at Wild Horse Pass Motorsports Park in suburban Phoenix looking for bigger and better results.
"We need these runs under our belts so we can get the consistency that we need to race with these guys," Pedregon said. "I feel like performance-wise, we're going to be right near the top. I'd say top-five is what we're shooting for and I don't see why we can't start that this weekend in Phoenix."
By the same token, Pedregon is prepared to bide his time if additional patience and time is needed to get back into the thick of the Funny Car ranks.
"We're going to experience some growing pains, but there's not a guy on this team that doesn't feel like the potential is through the roof," Pedregon said. "Personally, I think we won the off-season free agency game in landing Aaron Brooks.
"Yeah, we lost early in Pomona, but the sky is the limit with this group. We ran a career-best in a 'must' qualifying run on Saturday.
"Realistically, it may take four or five races, but I don't think much more than that. Much like a football team, the first two quarters may not show what we've got, but the last two quarters, we'll really show what we have.
"I'm motivated like no other. I feel like a big weight has been lifted off my shoulder because the last couple of years. While I was optimistic, I had to really go through that to get to the point where I'm at now and say, 'Look, I can't do this by myself. I tried.'
"That being said, I've enjoyed some good years with crew chiefs. The last time I had a bonafide crew chief, who really gets in there and does what a crew chief does, was back in 2007 through 2009 with Rahn Tobler, and in those three years, we won a championship.
"Now we've got Aaron on board … any time I pull up to the line, I feel we have a shot to win."
Follow @JerryBonkowski