Lots of Pirelli World Challenge news has come down in the last couple weeks, and rather than break it off into a number of posts, we've combined it into one post, below.
—
The preliminary entry list for the St. Petersburg season opener is out. A total of 43 cars split between the series' four classes (GT, GTA, GT Cup, GTS) are listed and that number breaks into a 24-19 split between combined cars for the GT/GTA/GT Cup and GTS separate races.
The GT field features a bevy of potential stars including the series' champions dating to 2011. Defending champion Alvaro Parente returns with his No. 9 K-PAX Racing McLaren 650S GT3, Johnny O'Connell looks to get back in top in his No. 3 Cadillac Racing Cadillac ATS-V.R after four straight titles from 2012 to 2015 while Patrick Long now is set for a full season in the No. 58 Wright Motorsports Porsche 911 GT3 R, following a midseason switch from EFFORT Racing last year.
TBAs come from Magnus Racing and Bentley Team Absolute, and we expect those names to be released soon.
—
The livery is out for the pair of RealTime Racing Acura NSX GT3s, with "Squircles" continuing over from the previous generation TLX-GT. Ryan Eversley's No. 43 Acura will feature a white nose bleeding into blue, with orange trim and mirrors, while Peter Kox's No. 93 Acura features the reverse livery. Acura Executive Creative Director Dave Marek developed both this livery and the corresponding one for the Michael Shank Racing Acuras in IMSA.
—
R. Ferri Motorsport returns after a year's hiatus with Spaniard Alex Riberas in the team's No. 61 Ferrari 488 GT3. The former Porsche Junior has shifted to racing Ferraris and has knowledge at most, if not all, PWC tracks from his most recent season in IMSA with The Heart of Racing. R. Ferri nearly won the 2015 GT championship with Olivier Beretta, before the controversial Monegasque driver retired with crash damage in the season finale.
—
James Davison will make at least a one-race return to TRG for the season opener in the Kevin Buckler-led team's venerable No. 007 Aston Martin V12 Vantage GT3. The talented Australian driver ran with TRG in IMSA for a couple years and was a regular polesitter, and he's won races in PWC with the Always Evolving Nissan GT-R NISMO GT3 entry as well. Nissan will be absent from the St. Petersburg season opener but is expected to return with a new single GT-R by Long Beach, driver TBD with Nissan's factory support withdrawn.
—
Alec Udell has a big year ahead with two teams in the PWC GTA class. Santa Ana, California's GMG Racing will enter Udell in the No. 17 Euroworld Motorsports Porsche 911 GT3 R for 50-minute sprint races of North America's premier sprint format GT race series.  In addition to the five-race weekends – 10 events – that comprise the 2017 Pirelli World Challenge "Sprint" season, Udell will also participate in the five-weekend, 10-race, SprintX Championship – Pro-Am class – as well. The 15-time PWC race winner will join GTA veteran and two-time 2015 SprintX race winner Preston Calvert (Potomac, Maryland) in the GMG-prepared Calvert Dynamics Porsche 911 GT3 R.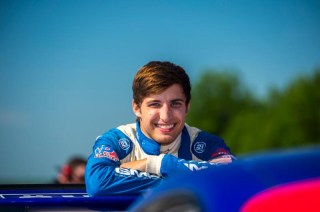 —
Two former teammates at Tequila Patron ESM in the FIA World Endurance Championship, Ryan Dalziel and Jon Fogarty, have been busy testing their new cars for the PWC season. Dalziel returns after a year's hiatus when he nearly won the 2015 title driving an EFFORT Porsche and will be in CRP Racing's No. 2 Mercedes-AMG GT3. Fogarty's No. 99 GAINSCO/Bob Stallings Racing entry is now a Porsche 911 GT3 R, following an offseason switch from the McLaren 650S GT3.
—
Dalziel has a bit to prove this season, having been well-poised to score the 2015 GT title (and still winning an award from Porsche at year's end anyway at its Night of Champions event) except for having to miss a few races due to conflicts. Nick Short's team nearly won the title themselves with Mike Skeen and the previous generation Audi R8 LMS ultra in 2014.
"I'll be honest, I want to prove that I could have won the GT title back in 2015," Dalziel said. "But that was my issue that I missed the three races. I had other racing commitments. That is not the case in 2017. I want to run for the GT title. The GT division is very tough and highly-competitive. Just look at the season finishes the last two years. The point championship came down to the final race
"The Porsche 911 drove a lot more like a prototype sports car similar to what I drive in the other series (WEC and IMSA). The front-engine Mercedes is a very good car, but I have had to change my driving a bit. The Mercedes is similar to the Dodge Viper I drove previously as well as the Chevrolet Corvette. It has big power and rear-wheel drive. And it's fun to drive. It just takes a little time to get adjusted."
—
Fogarty and the team's transition to Porsche from McLaren has been aided by Porsche factory driver Wolf Henzler, who attended the team's first major test at NOLA Motorsports Park in February. The NOLA test followed an initial shakedown run the team had at Willow Springs International Raceway prior to that after taking delivery of the chassis and just in the last week or so, the team finished up testing at Sebring International Raceway.
"It was great to work with Wolf and study his approach and driving lines with this car. He's got as much experience as anyone driving these cars. His tips and pointers were very helpful, so it was a great opportunity for us," Fogarty said.
Engineer John Ward echoed Fogarty's comments, "The Porsche is new for all of us, there are always a lot of unknowns in terms of set-up and what works and what doesn't. It can take a lot of track time to establish a baseline, so it was a good idea to have Wolf join us for the first big test."
—
The new Panoz Avezzano GT, featuring an Andy Blackmore Design livery and a number of holdovers from the DeltaWing Racing crew, has broken cover with testing at Road Atlanta ahead of its planned debut at St. Petersburg in the PWC GTS class. Although the car is not yet GT4 homologated it will run under GTS homologation to start for the team owned by Dr. Don Panoz, led by Tom Milner and driven by Ian James.
—
Also in the GTS department, Ricardo Juncos told RACER he plans to enter Maserati GranTurismo MCs in GTS this year, although an official start date hasn't been determined. Juncos Racing is in the midst of preparing for its full-season two-car entry in the Indy Lights Presented by Cooper Tires series and for its step up to the Verizon IndyCar Series with at least one and quite likely two cars in the 101st Indianapolis 500 presented by PennGrade Motor Oil.
—
Also in the GTS department, James Sofronas' GMG Racing has announced a partnership with CrowdStrike and will run a McLaren 570S GT4 for driver George Kurtz. Kurtz gained some PWC experience last year with TRG in an Aston Martin Vantage.
—
Nate Stacy, one of two talented teens who took PWC GTS by storm in 2016 (the other was Parker Chase) will race one of Flying Lizard Motorsports' Porsche Cayman GT4 MRs in 2017. He recaps his trip to Germany for training at Porsche Fitness Camp here.
—
PWC has also released its 2017 TV schedule, which includes four same-day GT telecasts on CBS Sports Network and full season showings for all its classes throughout the year.
The season opens in St. Petersburg next week, with first practice a week from tomorrow. We'll have one more check-in before then.