After six years, Robert Wickens' return to a top-flight open-wheel car was almost seamless in two days of testing at the Sebring International Raceway short course, as he made his test debut in an IndyCar.
The Toronto native and DTM regular for Mercedes, who turns 28 later this month, had a sampling of the No. 5 Arrow Electronics Schmidt Peterson Motorsports Honda on Tuesday before an extended run today in the afternoon for his first ever IndyCar run.
Wickens is no stranger to open-wheel though, having been one of North America's top prospects about a decade ago. A regular race winner in Formula BMW and Formula Atlantic, Wickens was picked up as a member of the Red Bull Junior Team and his path led to the doorstep of Formula 1.
However, outside of one free practice with the Virgin team at the 2011 Abu Dhabi Grand Prix (before Lance Stroll, Wickens is the last Canadian driver to have participated in a Grand Prix weekend although Jacques Villeneuve is the last to have started a race in 2006) and a further outing with the Renault (which became Lotus, then back to Renault) team at the subsequent rookie test a few days later, he's been absent from the open-wheel arena as a move to DTM presented itself with Mercedes. There, Wickens has become one of the top drivers in that touring car championship.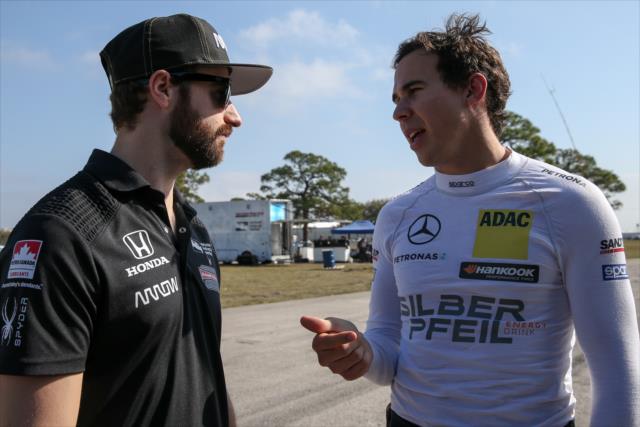 The idea for a ride swap between Wickens and his countryman, longtime friend and occasional teammate James Hinchcliffe, presented itself over the winter and the first portion of which took place this week. Wickens said it didn't take him long to get back into the open-wheel rhythm.
"I remember the layout well, with a bumpy Turn 3, Turn 4 and all that stuff. It didn't take me that long," Wickens told NBC Sports.
"When I was making the seat, it's pretty weird to be laying this much down (in the seat)… to have your ass under your legs!
"But once I left the pit lane, it was completely normal. I still have more open-wheel experience than closed-wheel. It's like riding a bike, being back in the middle of the car again. It wasn't hard getting comfortable right away."
Wickens only did a small run on Tuesday while the majority of the 21-car field was running (16 of the 21 cars projected for St. Petersburg tested then, with Andretti Autosport running today), and got the last hour and a half today following Pipo Derani's debut earlier in the afternoon (Luis Michael Dorrbecker tested today in the second car). Wickens estimated only getting about six or seven proper runs, north of 30 laps on Sebring's bumpy 1.5 miles.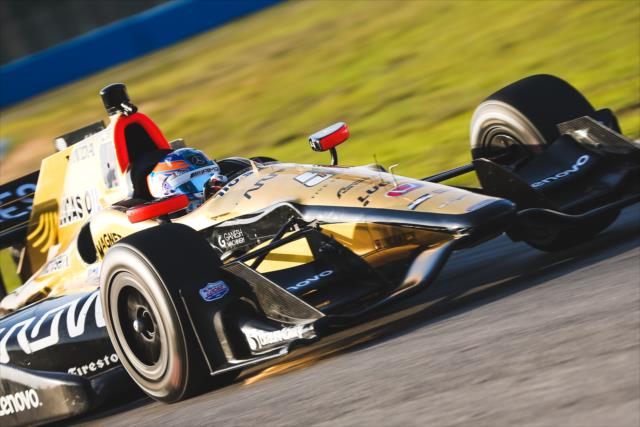 Wickens adjusted well to the grip levels and brake performance; he admitted he could have been a little harder on new supplier PFC's carbon brakes.
"You don't want to be that guy in a media event who's crashing a car," he laughed. "I had a decent amount of margin in braking zones. I was more or less there, but I just needed to adjust entries.
"I had my own expectations of the grip level. To be honest it was a little better than I expected. I felt my expectations were managed. Turn 3, I was surprised… it was impressive how stable the car was over the bumps. The circuit changes from asphalt to concrete, to asphalt. I was impressed with how well the car could take that. That caught me by surprise a bit. The dampers in IndyCar are far more advanced than in DTM. We have a spec damper, which is same for everyone."
It's easy to think of Wickens as a driver who "got away" from IndyCar, especially as seeing a number of his contemporaries he raced in Europe, notably Alexander Rossi, Mikhail Aleshin and Josef Newgarden are now in IndyCar full-time. Interestingly, Wickens and Aleshin were in Red Bull's Junior program at the same time and in a funny coincidence, were teammates for this week's test as Aleshin premiered his new red and black No. 7 SMP Racing Schmidt Peterson Motorsports Honda.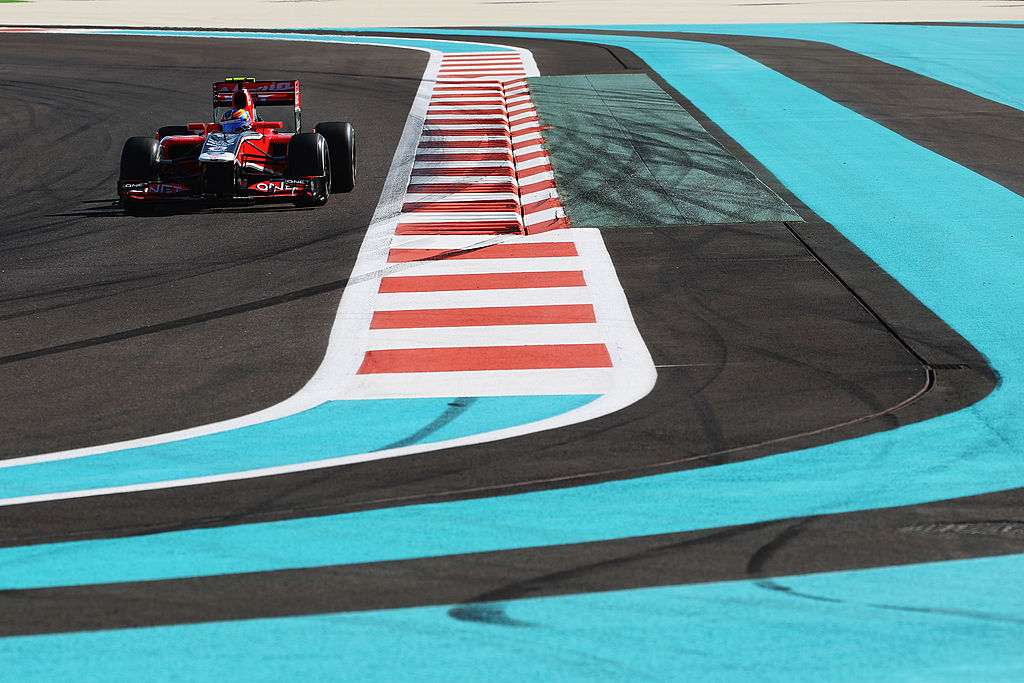 "Me and Mikhail go way back with Red Bull. We'd been teammates. So four of the five years I was on Red Bull, he was too," Wickens said. "Then we were teammates 3.5 in '08, and then again in F2 in '09. We both lived in a village in Austria. So what are odds of us testing here as teammates the same time?"
Wickens' circuitous path from 2008 through 2011 saw him acclimate to Europe in year one, then contend for or win championships each of the next three years. He finished second in Formula 2 in 2009, then finished second to Esteban Gutierrez in GP3 in 2010 (and ahead of Rossi, Newgarden, Rio Haryanto, Jean-Eric Vergne, James Jakes and Stefano Coletti among others) and then won 3.5 in 2011 (ahead of Vergne, Rossi, Daniel Ricciardo and Brendon Hartley among others).
He doesn't have any regrets for the fact this didn't lead to a full-time F1 seat. Without Red Bull, he might not have got that far anyway, and the experience of jumping around has helped his overall growth and development.
"There's no regrets with the career path. Without them, I would have never left my first year of FBMW," he said. "I don't think there's a perfect way to get to the highest level. There's a lot of sideways steps. But made me a better driver, because I was always driving different cars, not in F3 with the best car three years.
"Going from Atlantic to F2, GP3 and 3.5, those were all brand new cars. It was three years on the trot of different teams and literally building and that made me a much stronger driver. I was able to grow myself on my feeling, and how I needed to drive."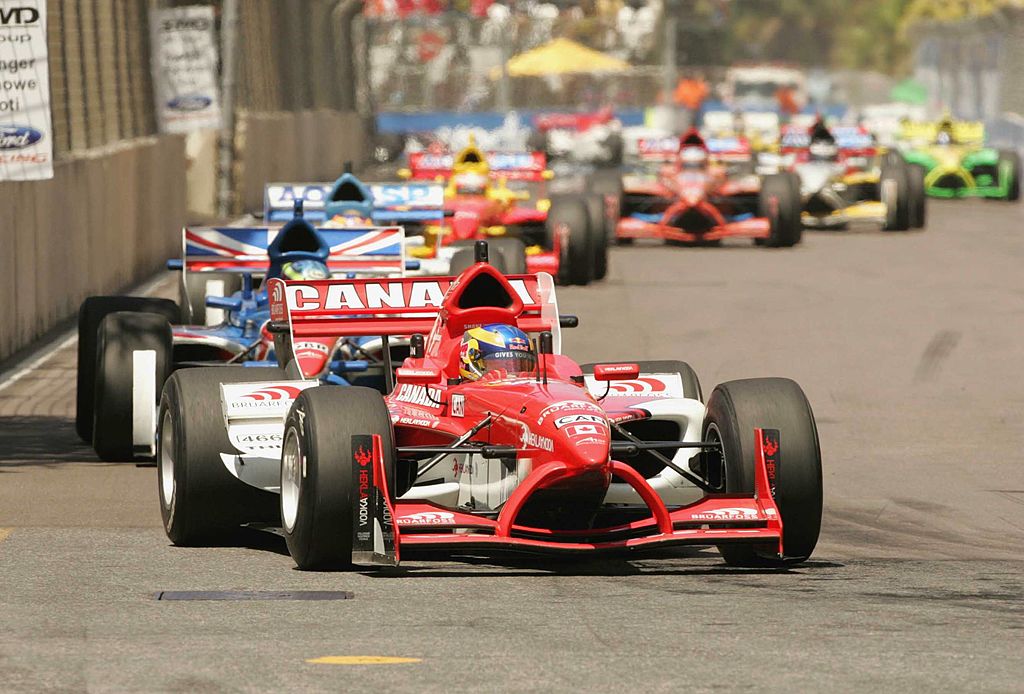 Ask Wickens his favorite open-wheel series though and it's none of those. It's A1GP, the former World Cup of Motorsport championship where he and Hinchcliffe were teammates during the 2007-'08 season.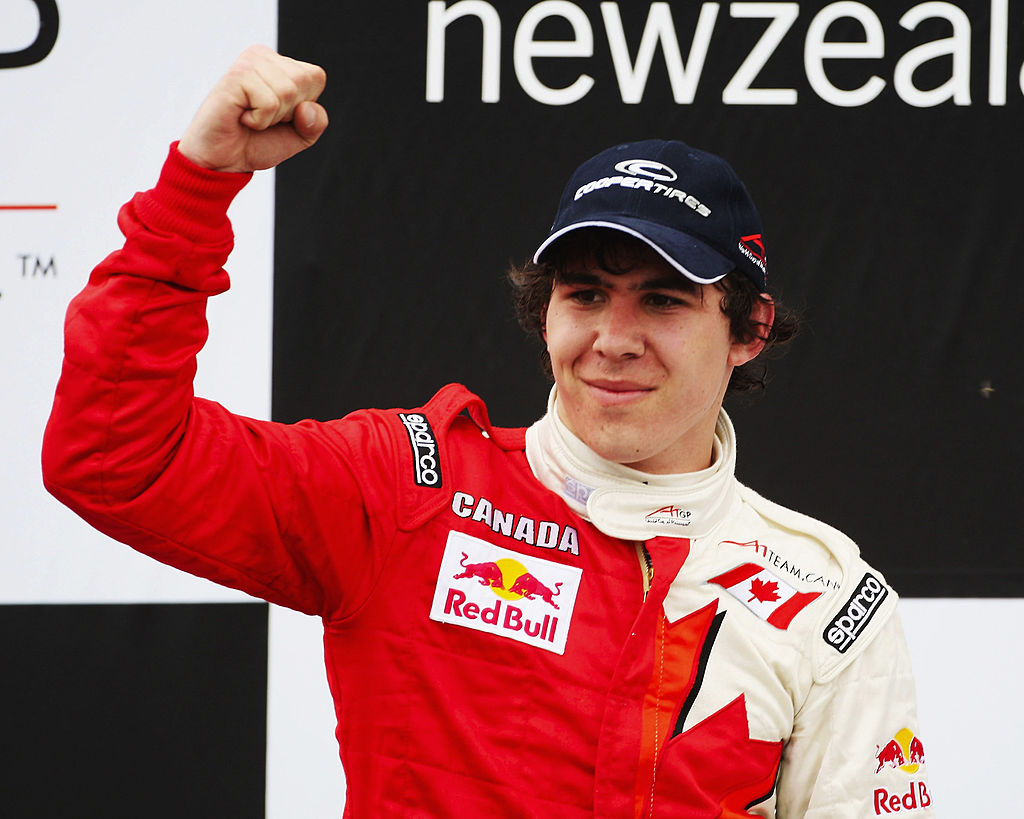 Wickens reflected on the series: "A1 was an awesome series. It's the most fun I've ever had in motorsport. I was young, I had just turned 18, and I was coming out of my Atlantic season. I thought Forsythe had everything… we had a big nice shop, two engineers, three mechanics.
"Then I show up at A1 and it's five cars, 10 mechanics, media, film stuff and cameras! Whenever I think about it it puts a smile on my face… it was one of those, 'this is exactly what I want in my life are these moments.'
"You had ex-F1 drivers, future F1 drivers, touring car and top level sports car guys… then me as this 18-year-old guy barely out of Formula BMW. It was all a really cool experience as its own championship, a standalone for nationalities. You got to spend your offseason traveling the world and racing cars. Not too bad…"
Wickens hopes to attend at least one IndyCar race this year and will look to sync up with Hinchcliffe on schedules.
Hinchcliffe now will have his DTM test to look forward to later this month at Vallelunga, Italy, while Wickens has memories of a lifetime delivered from a day a lot of folks have dreamed of witnessing for a long time.