The two protagonists for the 2016 Pro Mazda Championship Presented by Cooper Tires championship, Aaron Telitz and Pato O'Ward, settled who'd win the Mazda Motorsports Advancement Scholarship in September at Mazda Raceway Laguna Seca.
Telitz took the crown, and would be confirmed for his graduation into the Indy Lights Presented by Cooper Tires in a Soul Red-liveried car.
While the graduation was known in September, it's taken until today before all the i's were dotted and t's crossed on the formal confirmation of Telitz's seat in the No. 9 Belardi Auto Racing Dallara IL-15 Mazda, thus ending months of informal chatter about the seat and even a quick inside joke that Telitz's team was "Real Big Secret," a joke that spread to social media.
In another humorous twist, O'Ward, who battled Telitz all season with Team Pelfrey a year ago, has been confirmed for his own step up to Indy Lights in the No. 3 Pelfrey entry on exactly the same day. The 17-year-old Mexican will join Pelfrey's Indy Lights program for this week's Spring Training test at the Homestead-Miami Speedway road course and the season opener at St. Petersburg.
Clearly, the two drivers still can't get away from each other after pushing each other all last year in Pro Mazda.
The long and short of that background is that these two will round out the expected field of 15 cars for the season-opening weekend, which is only one car lower than 2016 despite the withdrawal of Schmidt Peterson Motorsports and its four cars. Belardi (has grown from two to three cars), Carlin (three to four) and Andretti Autosport (three to four) have all added an extra car to pick up three of the four-ex-Schmidt Peterson cars.
—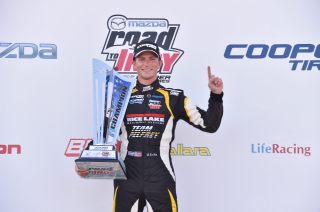 Telitz, the 25-year-old from Rice Lake, Wisconsin, was invited by Brian Belardi's team to Watkins Glen last fall for the introduction, and completed a comprehensive testing program over the winter – primarily in Florida and also at Gateway Motorsports Park – in preparation for his step up.
"John Brunner, the team's general manager, and [team owner] Brian Belardi invited me to the IndyCar/Indy Lights race at Watkins Glen last fall before the Pro Mazda season ended," Telitz said. "I had a head-start in knowing the guys and seeing how the team works and knowing their cars are fast. They won that weekend and then again at Mazda Raceway Laguna Seca. I just really enjoyed how the Belardi guys worked. They were really professional and Brian is from Wisconsin. It's great to have that home-state connection, as most of my personal supporters are from Wisconsin."
"All of us at Mazda are thrilled to have Aaron carrying Mazda's Soul Red color in 2017 with Belardi Auto Racing," said John Doonan, director of Mazda Motorsports. "To see a talent like Aaron achieve success in the Mazda Road to Indy is ultimately what the program is all about. When he pulled into victory lane after winning the Pro Mazda Championship last fall, I told Aaron that he needed to savor the moment and remember all of the challenges he faced getting there. We cannot play favorites in the Mazda Road to Indy, but we wish Aaron the very best as he opens this new chapter in his racing career and is one step closer to the Verizon IndyCar series."
Telitz completes the team's three-car lineup alongside Santiago Urrutia and Shelby Blackstock, series veterans who shift to Belardi from Schmidt Peterson and Andretti, respectively. Telitz's additional supporters include Rice Lake Weighing Systems, Rising Star Racing, Morrie's Chippewa Valley Mazda, Styled Aesthetic, Fred Thomas Resort, Team USA Scholarship, among others.
—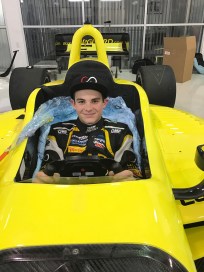 For O'Ward, the Indy Lights drive is a slight surprise as he's also committed to a full season in the IMSA WeatherTech SportsCar Championship PC class with Performance Tech Motorsports, confirmed after he was part of the Brent O'Neill-led team's victory at the 55th Rolex 24 at Daytona in January.
O'Ward is the third consecutive driver confirmed to a St. Petersburg-only weekend with Team Pelfrey. Scott Hargrove was confirmed for the same role last year with Pelfrey and in 2015 with the team's former incarnation as 8Star Motorsports. Hargrove continued through the month of May with Pelfrey last year but only raced at St. Petersburg in 2015.
With O'Ward's eight-race IMSA schedule, there's only one conflict weekend between PC races and Indy Lights, the weekend of July 8-9. PC races at Canadian Tire Motorsport Park and Indy Lights at Iowa Speedway both on July 9.
Interestingly, O'Ward parlayed a first two weekends-only announced deal into an eventual full-time role with Team Pelfrey in Pro Mazda last year, so he's got experience in succeeding despite no guarantee of further races. As last year, he carries support from Gap Guard and Topo Chico.
"I am back with Team Pelfrey in Indy Lights for the first official Series test and for the first race of the season in St. Petersburg," said O'Ward, whose teammate is the very experienced Juan Piedrahita. "A big thank you goes to the creator of Gap Guard, better known as Dale Pelfrey, once again for the opportunity and the whole Team Pelfrey crew as well for the continuous support they have given me the last few years."
"We are very excited to confirm Pato on the Indy Lights front," added Team Pelfrey IL team manager, Gary Neal. "Not only does this mean we have an exceptionally talented driver, but it's also great to see the Team Pelfrey ladder system in full swing. We are looking forward to a strong outing at the Grand Prix of St. Petersburg."
—
Three other Mazda Road to Indy signings have come in in the last few days, as well:
Team Pelfrey rounds out its three-car Pro Mazda lineup with Russian driver Nikita Lastochkin and Brazilian driver Carlos Cunha joining the previously announced TJ Fischer, the young Californian. Cunha has Formula 3 Brazil experience while Lastochkin steps up after two years in USF2000.
Exclusive Autosport rounds out its three-car USF2000 lineup with karting veteran Dev Gore joining a pair of third-year drivers in Parker Thompson and Luke Gabin.
Testing continues today and tomorrow at Homestead-Miami Speedway.