After Aaron Telitz's confirmation at Belardi Auto Racing yesterday, the two further Mazda Motorsports Advancement Scholarship recipients, Anthony Martin and Oliver Askew, have now been formally confirmed at Cape Motorsports for 2017.
Martin steps up to Pro Mazda Championship Presented by Cooper Tires after winning the Cooper Tires USF2000 Championship Powered by Mazda title while Askew makes his USF2000 debut after winning the USF2000 shootout at Mazda Raceway Laguna Seca, and after also getting on the board in a big way with his Team USA Scholarship win in the fall.
Both drivers tested well this week at the Mazda Road to Indy presented by Cooper Tires Spring Training at Homestead-Miami Speedway, with Askew pacing most USF2000 sessions while Martin emerged at the head of a neck-and-neck battle with Team Pelfrey's trio in Pro Mazda.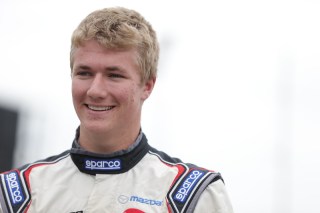 "Going with Cape Motorsports again was a quite easy decision," said Martin, the 22-year-old Australian. "I'm a loyal person and I really do love sticking with the boys. They're a great team, and everything they have is second to none. I witnessed it all of last year, and I could not leave the team because the way they run the show is impeccable. I've never been a part of a team or a family environment like this one.
"Winning the Mazda scholarship meant everything to me. while describing the overwhelming response in his home country. "It was an immense reaction. There was so much hype in Australia about me winning this championship."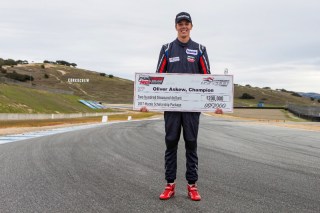 Askew, whose whirlwind winter has now ceded to a relative period of calm in preseason, looks forward to his USF2000 race debut.
"The team at Cape Motorsports have helped me a lot with this next step," said Askew, a 20-year-old from Jupiter, Fla. "I've learned so much in the last month of testing with them preparing for this year. It's a big opportunity for me and I want to maximize that. With Cape Motorsports, everything is possible, as they're one of the best teams in the paddock and I'm very happy to be with them.
"As soon as I won the Shootout, I was thinking about the championship and winning races. This is my opportunity, so I want to make it easier on myself going into next year to win the USF2000 title and earn another season scholarship from Mazda. I'm very fortunate right now to have this opportunity from Mazda."
Team co-owner Nicholas Cape, who had Martin in one of his USF2000 cars last year, thinks Askew can deliver this year and rates him rather highly.
"We are delighted to have Oliver on our team," he said. "He is an exceptional young man and has an extremely bright future ahead of him. He has everything we look for in a driver. It's been a year in the making getting Oliver in our car and he has impressed us during the initial tests and we're really looking forward to seeing him race. We are also very proud to be representing the first Mazda Road to Indy Shootout winner, and would like to thank Mazda for all their support. It's really quite remarkable what they do to support young drivers."
Mazda Motorsports director John Doonan can't wait to see what these two drivers will do in Soul Red cars.
"Anthony is a perfect example of a driver from across the globe who saw the Mazda Road to Indy as the best opportunity to climb the motorsports ladder," he said. "Anthony is in a great position to help tell the Mazda story on multiple continents. Our colleagues at Mazda Australia have been able to tell his success story there, where Mazda has had great success in the marketplace.
"The success of the $200,000 Mazda Road to Indy Shoot-out was way beyond our expectations," he added. "We knew we were breaking new ground by bringing drivers from all over the world and that it would be good… but it turned out to be fantastic. Everyone at Mazda was blown away by it, and especially Oliver."
The season begins next week at St. Petersburg.