MotorSportsTalk looks through the teams competing in the 2017 Verizon IndyCar Series season. In five years, Ed Carpenter has built Ed Carpenter Racing from a single-car team in the middle or back of the field to a consistent race-winning outfit and serious championship contender, although enters a pivotal 2017 season with a couple key changes.
Drivers (Engineer, Strategist)
20-Ed Carpenter/Spencer Pigot (Matt Barnes, Tim Broyles)
21-JR Hildebrand (Justin Taylor, Brent "Woody" Harvey)
Manufacturer/aero kit: Chevrolet
Sponsors: Fuzzy's Ultra Premium Vodka (Nos. 20, 21)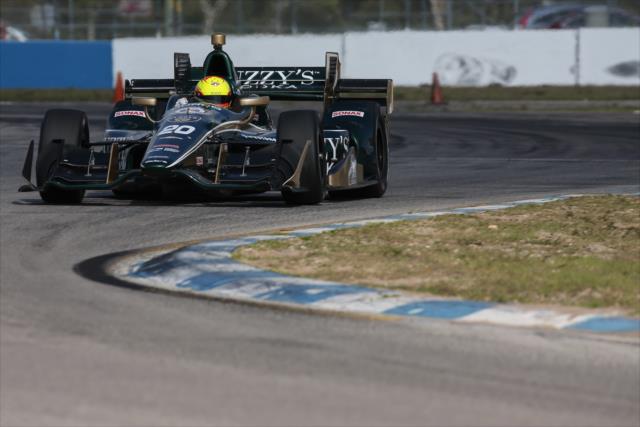 What went right in 2016: Carpenter's team has fully ascended into proper title discussion thanks to some of Ed's moves as a team owner, realized by teammate Josef Newgarden in his fifth year. A dominant Iowa win, a number of other podiums and a fierce return and recovery from his Texas accident highlighted a year when Newgarden was best of the non-Team Penske drivers.
What went wrong in 2016: Carpenter's own oval races behind the wheel were a nightmare for a second straight season. Spencer Pigot had to learn on the fly following a pre-Detroit switch, figuring out the Chevrolet package by comparison to the Honda, and struggled in his qualifying appearances on the road and street courses.
What's changed for 2017: The promotion of JR Hildebrand to full-time driver in the No. 21 isn't perceived as a change so much, because of Hildebrand's innate familiarity with the team over the last three years. Still, ensuring he lives up to his undoubted potential and past experience will be key. He'll work with new engineer Justin Taylor, who adapts to IndyCar from Audi LMP1 machinery.
What they'll look to accomplish in 2017: With a Chevrolet package and a reduced number of Chevrolet entrants, a top-five points finish remains achievable for Hildebrand, who must score his first win at some stage this year. Pigot doesn't need to win but could do with his first career top-five or podium, and will look to improve his Saturdays. Carpenter? He somehow must recapture his form of old on ovals, when he was worth the price of admission behind the wheel. Savvier and older, Carpenter has become a valued owner who's made his team a perennial contender.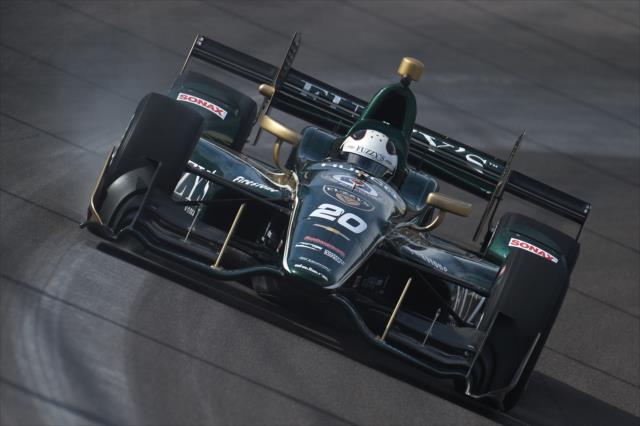 MST PREDICTIONS
Tony DiZinno: JR Hildebrand is my pick to become IndyCar's next first-time race winner. From a confidence standpoint, I hope he does it sooner rather than later. The place I think he could well do it is Long Beach. He has two top-five finishes there in the past, he won in Indy Lights there in 2009, and more importantly, Carpenter's team has had a solid street course setup and won there themselves on strategy with Mike Conway in 2014. A Hildebrand win at Indianapolis would be an incredible story line but I can't quite bring myself to make that pick. If he can finish in the top-six in points, he'll have followed up his deserved promotion with a justifiable result. For Pigot, I hope he can score at least one podium and showcase his talent at this level he did in the Mazda Road to Indy and for Carpenter, man, I hope he's lost that horrible luck on ovals.
Kyle Lavigne: Ed Carpenter Racing may not be as "sexy" of a team as Team Penske, Chip Ganassi Racing, or Andretti Autosport, but they've become every bit the power house those teams are. JR Hildebrand gets promoted to a full-time drive again after spending three years in a part-time. He'll need to leave behind the driving errors he made in his time with Panther Racing, but this driver and team are a potent combination that could ruffle a lot of feathers at the front of the field. It's tough to say if Hildebrand makes a championship push, but he could be the break out star of the 2017 season.

Teammate Spencer Pigot needs to build a 2016 season that was consistent, albeit unspectacular. Most notably, he'll need to improve his qualifying pace and regularly advance out of round one to prove he has the raw speed to become a top-level IndyCar driver (and he does have it in him, as evidenced by his drives in Mazda's IMSA program). Consistently challenging for top ten finishes in the races would also bolster his career and mark him as a genuine star of the future.
Ed Carpenter needs to shake the dark cloud that has followed him at the oval races since 2015. He remains every bit of fast as anyone on an oval, but need Lady Luck on his side to score results at the front of the field.
Luke Smith: For a team that has lost arguably IndyCar's best young talent in the form of Josef Newgarden, there an awful lot of positivity surrounding Ed Carpenter Racing heading into the 2017 season. JR Hildebrand's promotion into a full-time seat was a sensible one, given how closely he has worked with the team in recent years, and the return of Spencer Pigot is a show of great faith after his select appearances last year. The apple cart has not been rocked at all, which is good.
Hildebrand certainly has what it takes to compete at the front of the pack and win races, but there will be a period of adjustment as he gets used to racing full-time in IndyCar once again. Victory should certainly be the target this year; failing that, anything less than a set of podiums would surely go down as a disappointment. For Pigot, a solid campaign with some top fives is what he needs.
As for team owner Ed Carpenter? Well, he needs to keep it out of the wall. He's been unlucky at points, but of his five oval starts last year, he retired from four of them. Carpenter remains rapid and his qualifying form was good last year, making his lack of results frustrating.