While the Verizon IndyCar Series always gets the headline status at the start of the new season, it's the Mazda Road to Indy presented by Cooper Tires' start of a new year that always provides the first glimpse into the potential future stars you could see in IndyCar one day.
The traditional six-pack of races on the streets of St. Petersburg sets the tone for the start of the new year as the run for the more than $2 million in Mazda Motorsports Advancement Scholarships awarded at year's end gets going.
With that, here's a look ahead to the respective seasons:
Indy Lights Presented by Cooper Tires
Few would argue last year's Indy Lights field was one of the strongest in quality in nearly a decade. Seven different drivers won races and six were in contention for the championship with just two race weekends to go.
There's always going to be a bit of upheaval with a new season and of those top six drivers, only two of them return for 2017, which means both enter as the joint preseason title favorites.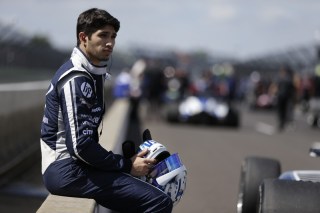 In a nutshell, Kyle Kaiser has consistency and stability in his pocket while Santiago Urrutia has speed, car experience and a change of scenery that he didn't have this time last year.
The 21-year-old Californian, Kaiser won his first two races at the Phoenix oval and Monterey road course, scored poles there and on the streets of St. Petersburg and finished third in points. A well-rounded driver, Kaiser has grown in maturation over the season and if he can turn some of his sixth places of a year ago into top-fives – he had six of them in 16 races – he could win the title for Juncos Racing.
Urrutia, meanwhile, is in a title-or-bust scenario for his sophomore season. The Uruguayan has speed to burn and the confidence of knowing he can win in Indy Lights, which he did at three different permanent road courses last year.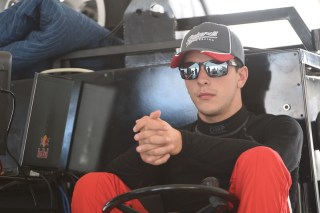 He and engineer Tim Neff move to Belardi Auto Racing in a move that should shore up his oval progression; this has been the type of track that's given him trouble the last two years. Improve on ovals, and the title is there for the taking after his tough loss a year ago, which he handled with maturity beyond his 20 years.
The five other returning drivers for 2017 – Shelby Blackstock, Zachary Claman De Melo, Dalton Kellett, Neil Alberico and Juan Piedrahita – finished between eighth and 13th in points a year ago with only one combined podium finish (Kellett was third at the Freedom 100).
Of those five, you'd have to say Alberico has the highest upside given his usual year-to-year growth in both USF2000 and Pro Mazda when he contended for the title then, and with mechanical issues stunting his first year, he has a chance with Carlin to emerge as that team's lead driver. Blackstock (Belardi) and Claman De Melo (Carlin) switch teams this offseason. None of these five would be considered a preseason title favorite but two to three of them, at least, should move forward from where they were a year ago.
The eight rookies set to debut at St. Petersburg boast a fascinating mix of talent, speed, personality and family history that will serve Indy Lights well.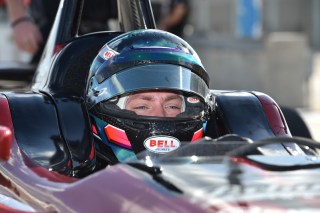 Belardi Auto Racing fields Aaron Telitz, the Wisconsinite who completes his journey up to final step on the Mazda Road to Indy presented by Cooper Tires ladder after winning races in USF2000 and winning last year's Pro Mazda championship. Telitz, engineer Kent Boyer and the John Brunner-led, Brian Belardi-owned team have clicked during the offseason and he should be an instant contender.
Andretti Autosport has two traditional rookies in Nico Jamin and Ryan Norman. Jamin, the 2015 USF2000 champion and the only other driver in Telitz and Pato O'Ward's zip code in Pro Mazda last year, will no doubt impress in his step up to Indy Lights, and like Telitz seems a probable first-time winner at some stage this year. Norman enters rather under-the-radar but has experience in the Atlantic series and will look to surprise as the year progresses.
There's a third rookie from the Andretti stable that will draw a lot of interest in Colton Herta, who at 16 will be one of the youngest drivers in series history and will be the top family storyline going into the year. Herta, the son of Bryan Herta, drives for Michael Andretti (himself the second generation in a three-generation racing family) and George Michael Steinbrenner IV, who brings that family's winning history from the New York Yankees into racing with the Andretti Steinbrenner Racing entry. Young Herta has a lot of experience in Europe and is back Stateside for the first time since 2014, when he raced in USF2000.
Carlin has a pair of rookies in Garth Rickards and Matheus Leist. Rickards, the Pennsylvania native, will look to do what RC Enerson did in 2015 – step up from USF2000 to Indy Lights directly and win a race. Rickards' qualifying didn't always bare itself out in great USF2000 results so if he can keep his qualifying performance up in these cars, he could shine. Leist, the teenaged Brazilian, moves Stateside after winning last year's BRDC British F3 title. He will have to learn quickly.
Lastly a pair of Latin American drivers will be keen to impress. Argentine teenager Nico Dapero came on quickly at the end of last season with Juncos Racing in Pro Mazda and will continue to grow with the team this year. Meanwhile Mexican teenager Pato O'Ward, confirmed only for St. Petersburg with Team Pelfrey, looks to upset the apple cart with nothing to lose and everything to gain in his own step up from Pro Mazda.
The 16-race schedule features no races on the West Coast with Phoenix and Monterey both dropped (probably to Kaiser's chagrin), and Gateway added. The Freedom 100, Iowa, Gateway and Watkins Glen races are single events with the rest doubleheaders for a total of three oval, four street course and nine road course races.
Four of the five returning teams all won races last year (Pelfrey the exception) and all five made the podium at least once. While a 15-car grid falls short of continuing to build upon the 16 that started last season, it is fortuitous most of the equipment from the disbanded Schmidt Peterson operation found a home elsewhere on the grid for 2017, and keeps the quality of the field still relatively high.
Kaiser and Urrutia enter as the drivers who immediately should be considered preseason title favorites, but the number of rookies that could win races is very intriguing as well. And if any of the other returning drivers make that next step forward this year, then we may well be writing about the seven different winners once again.
Pro Mazda Championship Presented by Cooper Tires
One of the challenges within the Mazda Road to Indy presented by Cooper Tires is that as drivers move on, either further up the ladder to Indy Lights or to sports cars, sometimes one of the three MRTI series is hit with a lower car count than you'd hope.
That series happens to be Pro Mazda in 2017, in the final year of its existing chassis with the rotary powered Mazda engine in the back, with car counts only scratching or exceeding the surface of double-digit entries.
But as Indy Lights struggled with single-digit fields as recently as 2013, and is now almost double that, this is very much a "survive and advance" year for Pro Mazda before the new Tatuus PM-18 debuts next season. And if last year with a similarly low car count is any indication, the loss in quantity can be offset by good quality.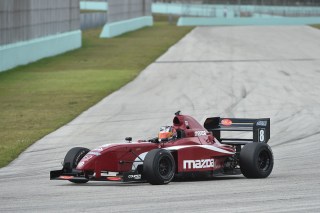 Indeed four of the top five from last year's Pro Mazda field – Telitz, O'Ward, Jamin and Dapero – have advanced into Indy Lights this year. It leaves a gaping hole at the top of Pro Mazda, of course, but one that several key drivers will look to fill.
USF2000 champion Anthony Martin should be at the head of the field from the off, as he'll be back in a single-car effort for Cape Motorsports. The Australian overachieved in a single-car team with John Cummiskey Racing in 2015 in USF2000 and translated what he learned then into moving into title ascension with Cape last year. He'll have full focus on his car this year and because he won't be in the position of having teammates take points off each other, he has a good chance to match Matthew Brabham as the last driver to win USF2000 and Pro Mazda titles in successive years (2012-2013).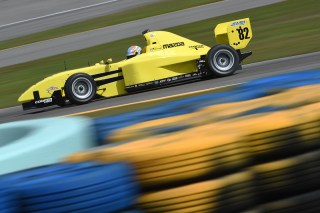 Team Pelfrey, meanwhile, will look for its third straight title with three new full-season drivers. The lone holdover is TJ Fischer, the Californian who made a midseason step up from USF2000 to Pro Mazda and learned the ropes. He should make a step forward this year. Los Angeles-based Russian Nikita Lastochkin rarely featured in two seasons of USF2000 but should do better here. The wild card is teenaged Brazilian Carlos Cunha, new to the series and the tracks, but a fast prospect who could surprise. Urrutia and Telitz – Pelfrey's last two champions – have worn Soul Red for Mazda in Indy Lights the following year.
The remainder of the field does not, at present, boast significant title prospects but will look to intermingle at the top when the opportunity presents itself. That said, a surprise or two could emerge from the late entries.
An additional incentive program announced by series operators Andersen Promotions helps, as does the fact it's only a six-weekend, 12-race schedule with a tripleheader at Mid-Ohio and single oval at Gateway joined by doubleheaders at St. Petersburg, Indianapolis, Road America and Watkins Glen.
Cooper Tires USF2000 Championship Powered by Mazda
While Indy Lights features a bevy of rookies and Pro Mazda features a number of new potential race winners, it's USF2000 that features both, plus the new Tatuus USF-17 chassis that figures to throw a monkey wrench in the formbook for 2017.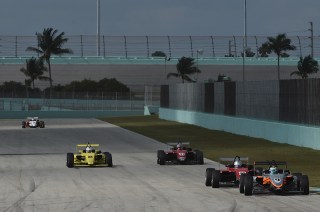 More than 20 cars figure to start the season opener at St. Petersburg this weekend and there's about half the field, split between returning drivers and talented rookies, who could make some noise.
Cape Motorsports has won the last six series titles but faces a threat to its supremacy in 2017.
The veterans still in USF2000 are all hungry for different reasons. Three drivers enter their third years, and all of Parker Thompson (Exclusive Autosport), Luke Gabin (Exclusive) and Ayla Agren (Team Pelfrey) have the most race experience within the series. Whether that translates well with the new car, however, remains to be seen.
Series sophomores Robert Megennis (Pelfrey), Lucas Kohl (Pabst Racing) and Dakota Dickerson (Newman Wachs Racing) all impressed at various points last year and only Megennis returns to the same team in 2017. It would not be a surprise to see any of these three win their first races.
But it's the rookies, who without the background of having the previous car and needing to re-learn this one, and with wide-eyed optimism and enthusiasm, who figure to make a big splash.
Chief among them is Oliver Askew, who's a name you should put on your radar sooner rather than later given his star potential. The Floridian has won the Team USA Scholarship and the USF2000 shootout in successive months, and excelled in his first official test with Cape at Homestead-Miami. He'll win races, the question being when they'll happen and if it's enough to give Cape a seventh straight title.
Newman Wachs' Andre Castro and Pabst Racing's Rinus Van Kalmthout are two rookies who also figure to make some noise. Two others made one weekend appearance apiece last year, Kaylen Frederick of Team Pelfrey and Devin Wojcik of ArmsUp Motorsports.
The rest of the rookies are sprinkled in at Cape, ArmsUp, DE Force Racing, RJB Motorsports, Pabst, Benik, John Cummiskey Racing and Exclusive Autosport. So there's plenty of first-year drivers to go around.
Like Pro Mazda, USF2000 only has one oval on its schedule, in Iowa instead of Gateway. That race and Watkins Glen are single races with the rest doubleheader weekends.
You might not know the USF2000 names now but as recent drivers like Spencer Pigot, Matthew Brabham, RC Enerson and Sage Karam have proved, IndyCar is within reach down the road.