ST. PETERSBURG, Fla. – There have been a lot of things that have happened today and yesterday at the Firestone Grand Prix of St. Petersburg, the season-opening weekend for the Verizon IndyCar Series, Mazda Road to Indy presented by Cooper Tires and Pirelli World Challenge.
So, here's an attempted recap of some of the things beyond the on-track sessions:
VERIZON INDYCAR SERIES
EXTENSIONS, AND A ROAD MAP, ARE GOOD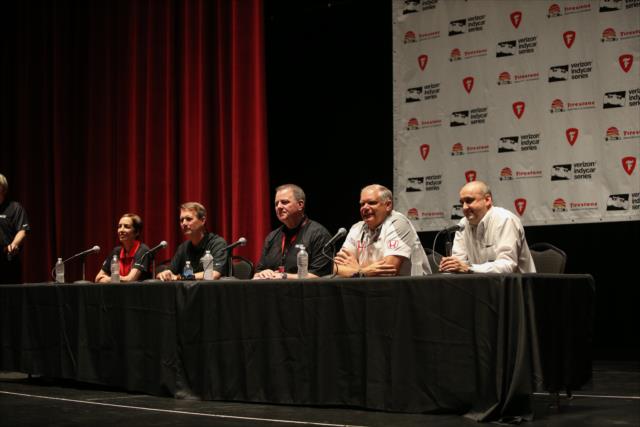 It's a good thing the term "five-year plan" isn't a drinking term because INDYCAR president of competition and operations Jay Frye says "five-year plan" a lot.
But "five-year plan" is a phrase that can stave off a lot of anxiety because it is a phrase that indicates a clear road map, with direction and commitments from the key series stakeholders.
Frye said the word "plan" no less than eight times during today's press conference confirming the various extensions between Chevrolet, Honda, Firestone and Dallara.
"I think everybody up here has been part of this five-year plan we keep talking about, which is a collaboration of this entire group, as well as everybody in the paddock," Frye explained.
"It was important we have a path, a destination of where we're going. As mentioned earlier, the plan in 19 will change things for '21, '22, '23. We're always looking that far out. Want to make sure everybody has bought into what we're doing next."
Paddock reception to the news seemed positive. Michael Andretti said it was beneficial for INDYCAR, as a sanctioning body, to be proactive rather than reactive and said this is what they are trying to do now. Alexander Rossi, who is in a noticeably better and different mindset about IndyCar than this time 12 months ago when he was making his series debut, was equally effusive.
Will Power added similar praise after the Friday press conference: "I think you could see the momentum with the continuity of drivers, teams, manufacturers, tire manufacturers, all that. It shows strength in the series. It really does. There was a time when there was a different set of drivers every year. Now it's the same group every year, same teams."
HONDA FAST, BUT LET'S WAIT TIL TOMORROW FOR MORE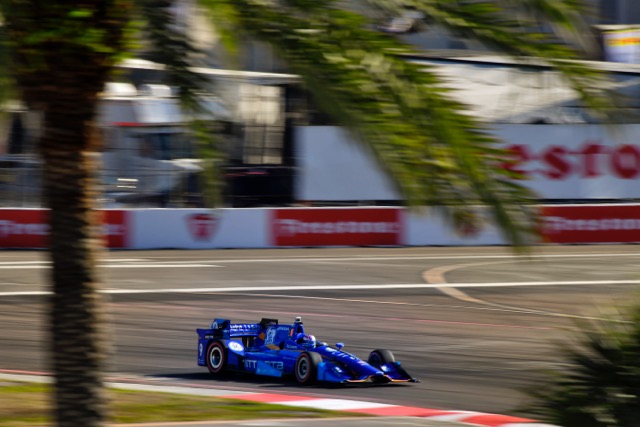 Quite a bit last year, you'd see some Honda teams have decent practice days, but it didn't necessarily translate to having better qualifying runs.
At St. Petersburg in particular, only Takuma Sato (2015) and Ryan Hunter-Reay (2016) have gotten Hondas into the Firestone Fast Six since the introduction of manufacturer aero kits.
Chip Ganassi Racing Teams certainly had a great second session today with Dixon first, Tony Kanaan third and Charlie Kimball fourth, all in the 1:02 bracket around the 1.8-mile, 14-turn street course. But Dixon cautioned against reading too much into the times.
"It's Friday. It doesn't pay anything, doesn't mean anything," said the Kiwi. "Hopefully what we learnt today, we can continue on and help improve the car come tomorrow, and more importantly for the race on Sunday."
PUTTING THE BRAKES ON THE BRAKE TALK?
Is excessive brake temperature and potential brake fade in the race going to be a major topic of conversation this weekend? It depends on who you ask.
Performance Friction's carbon brakes make their debut this weekend, replacing previously supplier Brembo. Per PFC Director of Motorsports Darrick Dong, PFC had 28 total IndyCar tests prior to their race debut this weekend dating to the middle of last year. PFC was announced as new supplier in September last season; a full intro Q&A is linked here.
The general perception in the paddock is that some Honda teams may have not optimized their cooling to ensure their discs don't get too hot, whereas the Chevrolet teams might have done a better job in the design process. Will Power, who was second in second practice, said this isn't the highest track for brake pressures with only two decently long straights and heavy braking points.
"The brakes for me have been fine. It's not a really high-pressure track," Power explained. "I think it's when you go to places like Elkhart Lake, Indy road course, these places where you have massive brake pressure, and you notice the difference."
SUSIE WHELDON'S NEW SHOP
Susie Wheldon launched the new Verve Boutique store on Central Avenue downtown St. Petersburg on Thursday night. A number of IndyCar drivers and a solid amount of presence from the IndyCar community were there to support the opening for the new store. Wheldon is the widow of the late Dan Wheldon, the two-time Indianapolis 500 champion and 2005 series champion who lost his life at Las Vegas in October 2011. More info on the night here is linked via Brant James of USA Today.
A couple of photos are below:
FUN PREVIEW FROM MOBIL 1 THE GRID
From Mobil 1 The Grid: a preview and a look ahead to this street race:
MAZDA ROAD TO INDY PRESENTED BY COOPER TIRES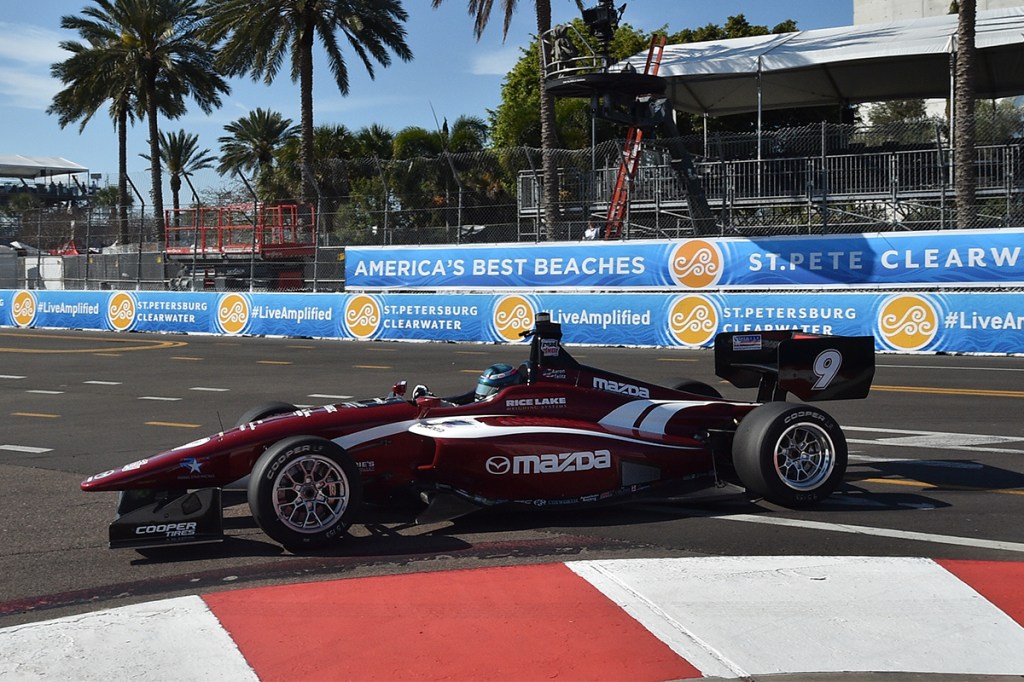 Here are quick notes from this weekend's preliminary sessions for the Mazda Road to Indy presented by Cooper Tires before their races, which begin tomorrow:
History may be on its way to repeating itself in the top rung of the Mazda Road to Indy, Indy Lights Presented by Cooper Tires, if first practice was to be believed. Pato O'Ward, who was only on an announced one-weekend deal last year (at the time) with Team Pelfrey in Pro Mazda and promptly won the first race of the year, led first practice today in his first session of his one-weekend deal (for now, anyway) in Indy Lights. Santiago Urrutia was second with Colton Herta third. The top 13 were covered by just 0.9656 of a second.
Come qualifying though and O'Ward was second behind his Pro Mazda title sparring partner last year, Aaron Telitz with Telitz uncorking a late flier in the No. 9 Soul Red Mazda he drives for Belardi Auto Racing. Telitz's best time of 1:07.5844 nets him a debut pole in his step up to Indy Lights, and fellow American Kyle Kaiser moves into second in the No. 18 Juncos Racing Dallara IL-15 Mazda after O'Ward lost his best time with an accident at Turn 7. In third, Juan Piedrahita has a career-best qualifying run for Team Pelfrey; the Colombian veteran's previous best was fourth at Sonoma, twice, in 2014.
Deltro Energy announced its sponsorship of Herta's No. 98 Andretti-Steinbrenner Racing entry earlier this week.Based in Mississauga, Ontario, Canada, Deltro Energy designs and installs energy storage systems with emerging technologies such as Lithium-ion batteries and fly wheels. The younger Herta, who turns 17 this month and did not race here in 2014 when he last raced full-time in the U.S. in USF2000 because he was too young, also threw out the first pitch at Tuesday's New York Yankees spring training game, held at nearby George M. Steinbrenner Field in Tampa. Herta's got a maturity level beyond his years and told NBC Sports he's so much happier to be back in an American racing atmosphere, after spending the last two years racing in Europe.
Despite a late arrival to the Pro Mazda Championship Presented by Cooper Tires grid – a deal which only came together within the last week – Victor Franzoni topped the timesheets in first official practice here for Juncos Racing. His old USF2000 sparring partner Anthony Martin was second with Team Pelfrey's trio of youngsters third through fifth.
The order was reversed in qualifying though, with Mazda scholarship recipient Martin eclipsing Franzoni for pole for the first race. The Australian took his Cape Motorsports Soul Red Mazda to a pole time of 1:13.6718, just 0.012 of a second clear of Franzoni. TJ Fischer and Carlos Cunha were next for Pelfrey with World Speed Motorsports' Phillippe Denes rounding out the top five.
Cooper Tires USF2000 Championship Powered by Mazda had two qualifying sessions, which feature two different orders. Robert Megennis has his first career pole for Team Pelfrey in race one, and Parker Thompson has the first pole for USF2000 debuting team Exclusive Autosport. Somewhat bizarrely, both drivers set the exact same time but in two different sessions, at a lap of 1:15.3708!
It's been a tough weekend for Newman/Wachs Racing in the team's return to the open-wheel ladder. The former Atlantic Championship title-winning team has witnessed three accidents, two from Andre Castro and one for Cameron Das, who is in his only confirmed weekend with the team so far. Castro was reportedly distraught after a Thursday accident but got back in on Friday, only to have another accident. Das' car came back on a truck at the end of the session.
Results from today's sessions are below:
PIRELLI WORLD CHALLENGE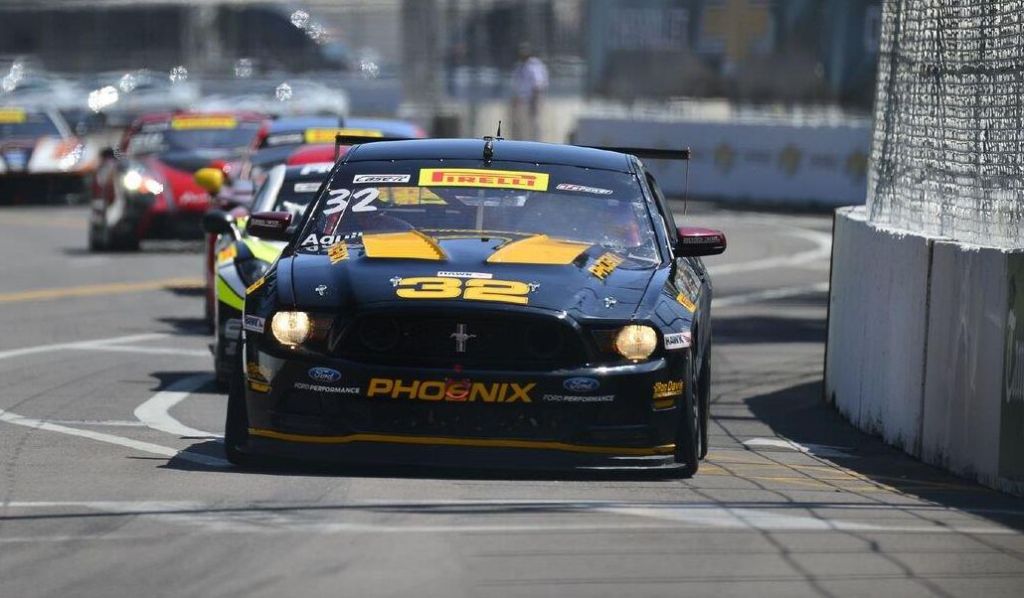 Here are notes from the Pirelli World Challenge paddock:
Expect the GAINSCO/Bob Stallings Racing Porsche 911 GT3 R, the classic "Red Dragon No. 99" car driven by Jon Fogarty, to be a Sprint-weekend only entrant, barring a change of plans from team principal Stallings. The team indicated the desire to be primarily in the Sprint race markets (the five IndyCar weekends) for GAINSCO Auto Insurance agents, and also want to take a "wait-and-see" approach to the SprintX season. The SprintX season starts at Virginia International Raceway at the end of April.
Late entrant Daniel Mancinelli, an Italian driver with some GT experience in Italy and elsewhere in Europe, took his No. 31 TR3 Racing Ferrari 488 GT3 to a surprise overall pole position. He was initially classified as a GTA driver (amateur or inexperienced in GT cars status) but later reclassified to GT following a formal evaluation from PWC.
Ryan Eversley's No. 43 RealTime Racing Acura NSX GT3 did not make qualifying after an accident on Thursday, Eversley having hit the wall at Turn 6 in a rare incident for the popular driver out of Georgia who's become an unofficial resident of Wisconsin in recent years since joining RealTime. Michael Shank Racing is assisting in the repair process by sending some spare parts to Florida to help the rebuild, which will be completed in time for the first GT race to be held on Saturday.
Andrew Aquilante took the fifth consecutive victory on the streets of St. Petersburg for the venerable but aging Ford Mustang Boss 302 in PWC GTS race one. Dean Martin and Spencer Pumpelly did so in 2015 with Jack Roush Jr. sweeping last year. This is a one-off weekend for Aquilante and Phoenix Performance, for the moment. Polesitter Lawson Aschenbach took the new Chevrolet Camaro GT4 to second in its race debut for Blackdog Speed Shop with Jade Buford third in one of the Racers Edge SIN R1 GT4s.
Speaking of the new Camaro GT4, the Blackdog team showed assembled media around the new car this morning. A full debrief from that will come next week. The Camaro GT4 runs a parallel debut program between PWC and IMSA's Continental Tire SportsCar Challenge; the Camaro will debut in that series at Circuit of The Americas in May.
Audi Tire Center announced an extension with Magnus Racing's pair of Audi R8 LMS entries, which make their PWC debut this weekend. Pierre Kaffer and John Potter are in the two cars.
Results from today's sessions are below:
OTHER NOTES
Andretti Autosport premiered its new hospitality unit in the paddock today, which is rather large and dwarfs all others as it has a rooftop viewing area. Michael Andretti and Ryan Hunter-Reay both joked the hospitality unit needs a name; when the question was posed to Andretti Indy Lights driver Dalton Kellett, the Canadian engineering major and series sophomore joked it should be called "Clifford the Big Red Tent" in reference to Clifford the Big Red Dog, a children's carton. The tent may not be red, but it is big.
On more serious Andretti Autosport matters, team president JF Thormann told NBC Sports he hopes to have the driver for the team's fifth car for the Indianapolis 500 settled within the next two weeks.
Rahal Letterman Lanigan Racing, which fields the No. 15 Steak 'n Shake Honda for Graham Rahal this weekend, hosted Special Forces members from MacDill today. RLL's "Turns for Troops" program continues into 2017; more info on that program is here.
Rising Star Racing principal Art Wilmes is here this weekend supporting both of his two primary drivers Spencer Pigot and Neil Alberico, RSR ambassador and "godfather" Josef Newgarden, and Pro Mazda champion and Indy Lights rookie Telitz, who's had a bit of help from him before. Wilmes said he is working on ensuring Pigot, who's not currently confirmed for the Indianapolis 500, can land a seat there.
On another Rising Star Racing note, several members of the Tampa Bay Lighting were present today for pace car rides, and hung out with RSR's current primary Indy Lights driver Alberico of Carlin.
Ricky Taylor was here today as an interested bystander. Taylor tested for Team Penske last month at Homestead-Miami Speedway, in his IndyCar debut. "It was an absolute blast. Every driver's goal at one point in their career is to be an IndyCar driver, and it was amazing to get the call to drive a Penske car," Taylor told IndyCar Radio. "We were doing a two-day test in Sebring with the Cadillac, I said I have to miss one of them. I'm testing a Penske car! Took the test and it was a blast to drive one of these, muscling around."
Verizon has a new pit display branding in pit lane, that takes cues from its previous design and is updated for 2017.
Honda's hospitality – long a paddock staple – continues with additional enhancements including a new awning and several other new elements once inside the tent. The food, as ever, remains excellent.
Oriol Servia is here, as is fellow open-wheel veteran Adrian Fernandez. Fernandez said he offers some advice and support to young Mexican drivers while he can, such as Indy Lights driver O'Ward.
While rookie Ed Jones made his formal debut on track today in the No. 19 Dale Coyne Racing Honda, three of that car's four drivers from last year were also either at the track today or en route to it. RC Enerson was here, doing his best to keep his face present in the paddock after his three-race debut last year. Gabby Chaves is here as well, doing the same, while Pippa Mann was en route to St. Petersburg and expects to be here this weekend for an autograph signing at INDYCAR's Fan Village and to check in with the paddock herself.
More to come from the rest of the weekend later on.