The troubles with Honda's aero kit have been well documented. And even with Chip Ganassi Racing back under the Honda umbrella, the freeze in aerodynamic development led many to think that things wouldn't be much better in 2017.
However, if Friday practice and Saturday qualifying were any indication, Honda has found some serious speed. Honda entries led all three practice sessions (Marco Andretti led the first session, and Scott Dixon led the second and third sessions) and Hondas took eight of the top ten spots in qualifying for Sunday's Firestone Grand Prix of St. Petersburg. Further, four Hondas made the Firestone Fast Six, their best qualifying performance since the aero kit era began in 2015.
Surprisingly, though, Dixon expressed disappointment. As he explained, an error on his behalf may have cost him the pole. "That was just on me unfortunately. We have a super fast car and should have been on pole," he asserted. "I just messed up a little on my fastest lap there. I'm obviously disappointed, but the team has four fast cars. We're working together great with Honda and I can't wait to start the race tomorrow. Hopefully we'll have the GE car up front when it counts."
Takuma Sato, who qualified fifth, detailed that despite a very small window with which to work, Honda has clearly made gains. "It's really a great job from Honda over the course of the winter. I know it's a frozen package. We can do very little things, but I think engine development as well as how you try and use the car and the package, I think today is a result that we are really coming back in strong," said the Andretti Autosport driver.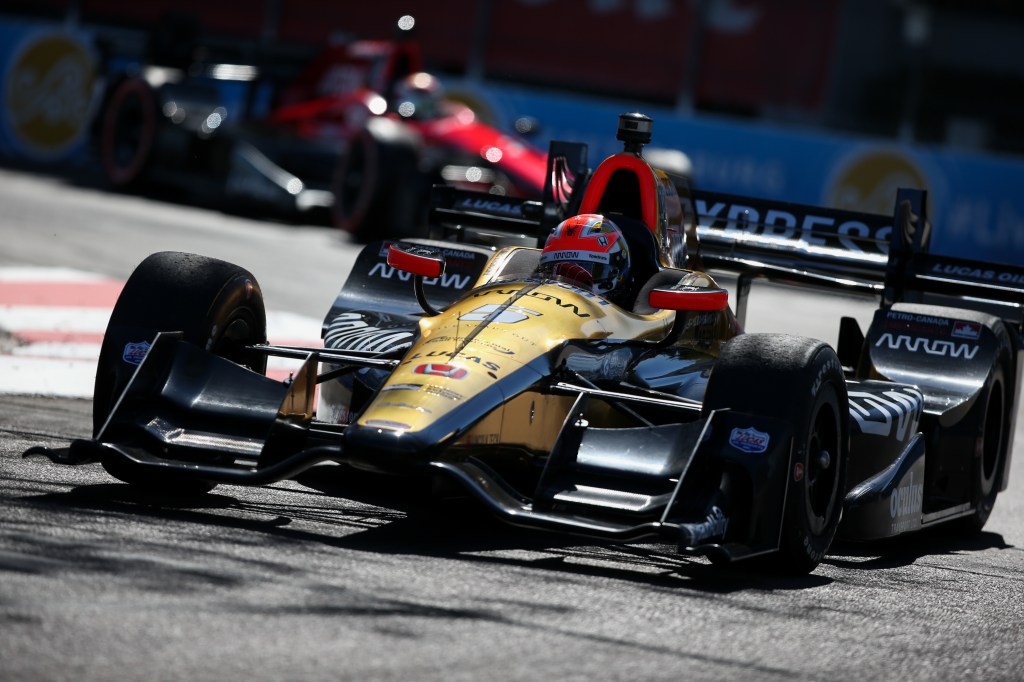 James Hinchcliffe, who qualified third, detailed that, even though Chevrolet held the upper hand, no one within Honda or its IndyCar teams were laying down. "We were always pushing and always trying to improve. Certainly if you look at the results, it was leaning in (Chevrolet's) favor for a while, but Honda is not one to lay down and just take a beating, so yeah, I think you've seen a lot of that."
The Schmidt Peterson Motorsports Driver also noted that the aero kit freeze actually helped the Honda teams further understand their aerodynamics as the package went unchanged. "Coming into the start of '16, all the Honda teams were dealing with a brand new aero kit. We were doing a second consecutive year of starting from scratch essentially where the other manufacturer wasn't going through that. So now that we've got a year of development under it, it was natural that we were going to gain more."
The speed of Honda's aero and engine package is further exemplified in Alexander Rossi and Charlie Kimball. While neither advanced to the Firestone Fast Six, both enjoyed strong runs to qualify seventh (Rossi) and ninth (Kimball). Yet, neither was satisfied. "I'm disappointed to miss the Firestone Fast Six because I know that we're quickest on the (Firestone primary) blacks in that second run before going to (alternate) reds. I think the potential is there, we just didn't put it together," said Rossi, who actually had his best qualifying result on a road/street course.
Kimball, too, was unhappy with a seemingly strong qualifying result. "I'm disappointed with qualifying ninth," said he Novo Nordisk Chip Ganassi Racing driver. "I think coming into the weekend my goal was to qualify in the top 10 and finish in the top five. We're obviously already hitting that goal with starting ninth, but after the last couple of days I think we've been faster than where we're starting tomorrow."
Sunday's Firestone Grand Prix of St. Petersburg rolls off at 12:30 p.m. ET.