ST. PETERSBURG, Fla. – Patrick Long (Pirelli World Challenge) and Anthony Martin (Pro Mazda Championship Presented by Cooper Tires) won the post-Verizon IndyCar Series race events Sunday at St. Petersburg to cap off a busy weekend on the 1.8-mile, 14-turn street course during the Firestone Grand Prix of St. Petersburg weekend.
Long's PWC win saw him make a move on the start to get past polesitter Alex Riberas from third on the grid, past the Spaniard and Johnny O'Connell in his Cadillac.
The driver of the No. 58 Wright Motorsports Porsche 911 GT3 R also needed to hold off O'Connell on a restart with less than three minutes remaining after the track had a couple cars peppering it. But Long was able to do so and won by 1.475 seconds from O'Connell in the Velocity Red No. 3 Cadillac Racing Cadillac ATS-V.R, and Riberas in the No. 61 R. Ferri Motorsport Ferrari 488 GT3.
The win was particularly cool for Long, having helped co-run the Kart 4 Kids Pro/Am in Palmetto, Fla. this week – both he and Sebastien Bourdais, who won the IndyCar race earlier Sunday, auctioned their to-be-race-worn helmets off.
Alec Udell (GTA, No. 17 GMG Racing Porsche 911 GT3 R) and Preston Calvert (GT Cup, No. 77 Calvert Dynamics Porsche 911 GT3 Cup) took their second class wins in as many days. Udell will race the SprintX races in a Calvert Dynamics-entered, GMG-operated Porsche 911 GT3 R with Calvert as his co-driver.
Full results from today's PWC race are linked here.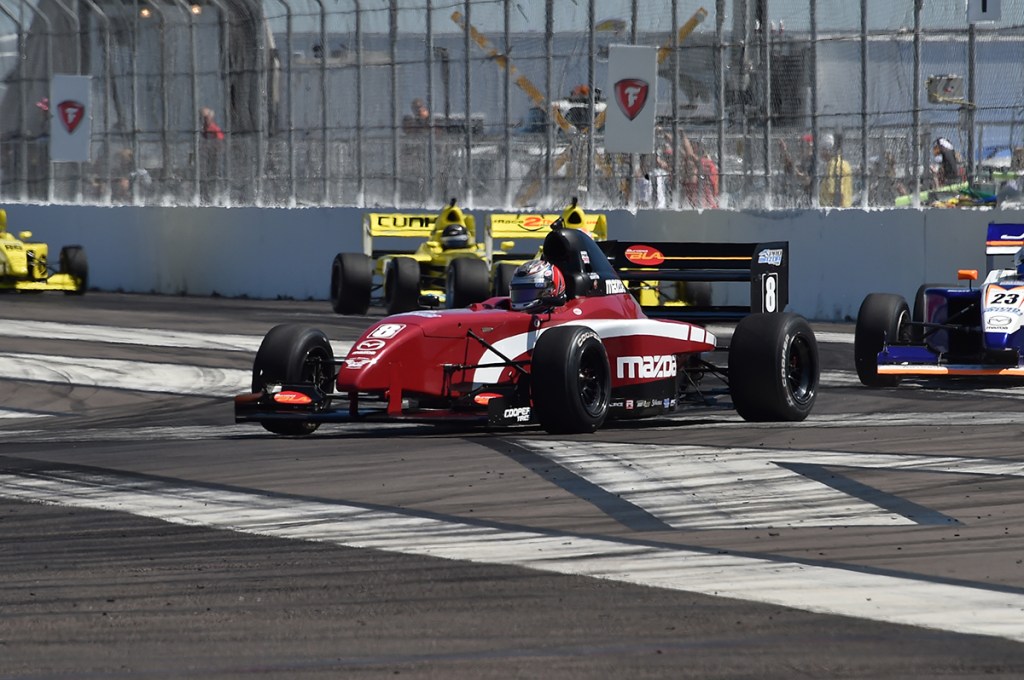 Meanwhile in the second of two Pro Mazda races, Mazda scholarship driver Anthony Martin completed a weekend sweep for Cape Motorsports.
The Australian took his No. 8 entry to the victory over Juncos Racing's Victor Franzoni and Team Pelfrey's TJ Fischer, thus making it an identical podium for the pair of races in the second level of the Mazda Road to Indy presented by Cooper Tires, which is now off until the IndyCar Grand Prix weekend at the Indianapolis Motor Speedway road course in mid-May.
Fischer's podium was a luckier one with Carlos Cunha succumbing to a mechanical issue, thus depriving the talented teenaged Brazilian of a maiden podium finish.
The results from this Pro Mazda race are linked here.