ST. PETERSBURG, Fla. – On February 23, 2003, a then-unheralded 23-year-old Frenchman named Sebastien Bourdais arrived on North American shores for his first top-level race in the U.S. Dale Coyne, meanwhile, was back full-time with two cars after two years where he'd only run part-time to help make up the numbers for the 19-car Champ Car World Series entry list.
Bourdais and Coyne have traveled a long way separately in the 14 years since, but found their greatest triumph together thus far in Sunday's Verizon IndyCar Series season opener for 2017 at the Firestone Grand Prix of St. Petersburg.
Admittedly, a lucky break provided the window for Bourdais to leap frog from 10th at the time of the second caution on Lap 26 to second on Lap 27, when the top seven cars were forced to pit under yellow after not stopping earlier.
But, that's a Coyne speciality. The likable team owner whose Plainfield, Ill.-based team has been a staple in the IndyCar paddock for more than 30 years has made countless strategic gambles, more of which bare fruit than others, that have been as ubiquitous to the team's legacy as its running joke of having its second car listed as a TBA in the days leading up to St. Petersburg.
Bourdais capitalized on an ailing Simon Pagenaud, who had some rear wheel guard damage, to make the eventual pass for the win on Lap 37. Bourdais led 69 laps from there, losing the lead only on pit stops. And realistically, he wouldn't have stayed up front if he wasn't able to keep up the pace or if the Coyne crew lost spots in the pits – neither of which happened.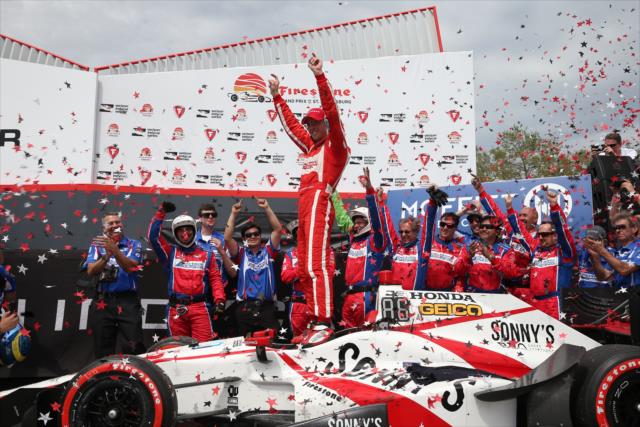 Even if the circumstances of today's win could be called lucky, the overall story of the two units syncing up together for the win is a good one.
That 2003 race for Bourdais was one he nearly won on debut, but a mistake on his end cost him that chance. He'd never finished better than sixth here since.
"I caught myself thinking about 2003, when obviously we started the opposite. We dominated the weekend, were on pole, cleared the field, then all hell broke loose," Bourdais said. "I found myself tapping the wall in turn eight, threw it away.
"It was kind of redemption day here. To come out on top with obviously a lot of friends and family on-site, the whole community supporting the effort, it was just a great feeling. I couldn't really be any happier for Honda and Dale for giving me the opportunity to put the band back together and make it happen.
"Everybody works really, really hard. We're a small group. There is nobody at the shop that doesn't travel. But it works. It's a great little group. We're sure not going to stop there. We're just going to keep on trying."
In Bourdais' case, his win was the 36th of his career and moves him into sixth place on the all-time list, surpassing Bobby Unser, and it's his fifth since returning to IndyCar in 2011, then with Coyne. He won once with KVSH Racing in 2014 and 2016 and twice in 2015, so this marks his first win with Coyne's team.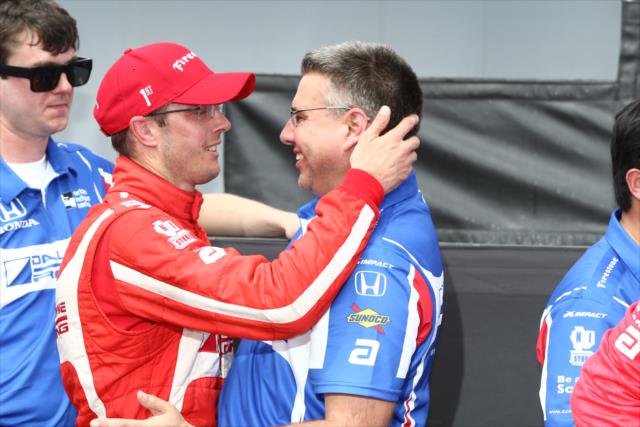 Bourdais, who enjoyed his greatest and most consistent success with Newman/Haas Racing and engineer Craig Hampson in the Champ Car days, said he savors this win more now because the opportunities to achieve them are rare.
"I'm just trying to enjoy the moment as much as I can, because for sure in those years with Newman/Haas, there's one thing I didn't do very much, partly because I was chasing F1 and a lot of other things, but at the end of the day I didn't savor those moments as much as I probably should have," he said.
"I try to do a better job with that because, first of all, they don't come around that many times a year. Second, it's when it's over that you realize it was that special. Try and suck up the moment, yeah, just really savor those because they're very special."
For Coyne, the win is a change of pace at St. Petersburg from the team's results in recent years, thanks in large part to actually having the program settled months earlier for the first time in a while.
Justin Wilson scored three straight top-10s from 2012 to 2014 at St. Petersburg and scored the team's best finish at the track in 2009, in his team debut, when he finished third.
But as recently as two years ago, Coyne only barely made St. Petersburg with the lesser rated Carlos Huertas and Francesco Dracone as drivers, Dracone having not even had an aero kit at the series' preseason spring training test at Barber Motorsports Park.
This year was different. Coyne was already exploring his 2017 driver lineup in the summer during July and into August, announced Bourdais in October and then added rookie Ed Jones as the Dubai-based Brit stepped up after winning the Indy Lights Presented by Cooper Tires championship.
Coyne said when he'd confirmed Bourdais that he hoped his race team could be the equivalent of a certain baseball team in Chicago; the Cubs shed their "lovable losers" label with their World Series win in the fall, and Coyne looks to do likewise in IndyCar this year.
"He was looking for a home as soon as he won the championship. We talked to him at earlier, I think starting at Mid-Ohio last year. We were able to get that done," Coyne said of Jones.
"At the same time we got Sebastien's done. It was nice to get them both done. We have the engineering, the chief mechanic, the team manager, have all your people in place, so that you can hit the ground.
"It's a long off-season. We didn't want to waste any time. We were able to have all of it done right at the beginning of the off-season. I think that's paid off. It's nice continuity for the team. Just makes everything that we do that much more efficient."
Bourdais added, "That's the thing. It was not starting from zero. It was not scrap everything and start over again. Obviously there was a lot of very valid and useful things that had been put in place by Darren and Cannon. We added to that. We didn't throw anything away."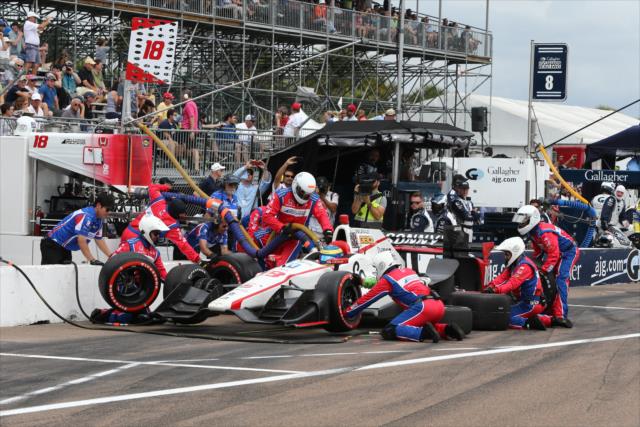 Coyne explained a bit of the magic that goes into his strategy plays. The decision to do what he did today was aided – in a roundabout way – by Bourdais having extra tires available from crashing out in qualifying yesterday.
Asked what Coyne thought of Bourdais' mistake yesterday, Bourdais laughed and replied, "What an idiot."
Coyne, whose previous driver Conor Daly called him a "wizard" last year said, "The strategy evolves as the race goes on. Going to be a big yellow in the beginning, a lot of cars are going to pit, leave him out, or he climbs through the field because everybody pits, or is he fast enough to pass six or seven cars? All of those things play in the thing.
"We had a yellow early, stayed out. Gained two positions on that. The first-lap carnage helped us a little bit. He had a hard time getting around Marco. It's going to be a long day if we try to do sneak-up-to-the-lead strategy.
"Pitting early, the early strategy of the day, pit early, when you're in the back, you have to do something to leapfrog the field. It hurts us because your last laps are faster. We pitted a lap or two before Simon at the end, and he closed half the gap on us, because he was able to keep going in clean traffic. We had enough of a gap that it was okay.
"You think about the strategy things all day long. You watch the fuel mileage. You tell him different numbers, see what he can hit, work the calculations from there."
For Bourdais, the win is particularly special because it comes in St. Petersburg, his adopted hometown. He, wife Claire and their children really moved there in 2005 and have made it home.
He and Patrick Long also both co-ran the Kart 4 Kids Pro/Am in Palmetto, Fla. earlier this week, both drivers announcing they'd auction off their helmets. Although both were auctioned before the race, two people now have incredibly special souvenirs.
"First time we really moved here was early '05. We spent two years, two and a half years there, then we went back to Europe, and came back in March of 2012, never really looked back," Bourdais said.
"The house we got here, we built it, in Shore Acres. With the kids being in school a couple of blocks down the road, you get to make a lot of friends. We have some really good friends. We just lead a very normal life with normal, fun people.
"It's just awesome to be able to share that with them. They were all excited. Obviously my parents were there, as well. It's always very, very special to have these kind of moments in front of the ones you love."
This is a moment Bourdais and the Coyne team will cherish. And the only TBA to be answered from here is whether the team will add more wins this season, perhaps in a more conventional manner.
"The Watkins Glen win (with Wilson) in 2009 was special because it was our first win. The other ones were nice. This is above both. We brought him back from Europe a few years ago. He stayed here ever since," Coyne said.
"We were hoping we could win a race or two this year. We're halfway there. Maybe we can do better than that. We'll see."