Golf has four official majors. Racing has several unofficial majors.
Chip Ganassi Racing has now won the last two of those unofficial majors, having delivered back-to-back wins in the 24-hour races at Le Mans in June and Daytona in January, respectively, in the team's first and second year with the new Ford GT.
The Daytona win was a milestone for Ganassi's sports car program overall. The Ganassi sports car program launched at the 2004 Rolex 24 at Daytona, nearly 15 years after the CGR IndyCar program began in 1990.
And the Daytona win was the team's 50th in North American sports car racing, combining the records from both the GRAND-AM Rolex Series and IMSA WeatherTech SportsCar Championship. The team had 46 wins in the Daytona Prototype era before scoring its first three in IMSA with the Ford GT last season, and Daytona marked the 50th, courtesy of the effort from Joey Hand, Dirk Mueller and Sebastien Bourdais in the team's No. 66 Ford GT.
This does not factor in the wins achieved by Ford Chip Ganassi Team UK in the FIA World Endurance Championship, nor does it include the Ganassi win at Le Mans last year, as that was achieved by the U.S. team in the WEC race (also Hand, Mueller and Bourdais driving).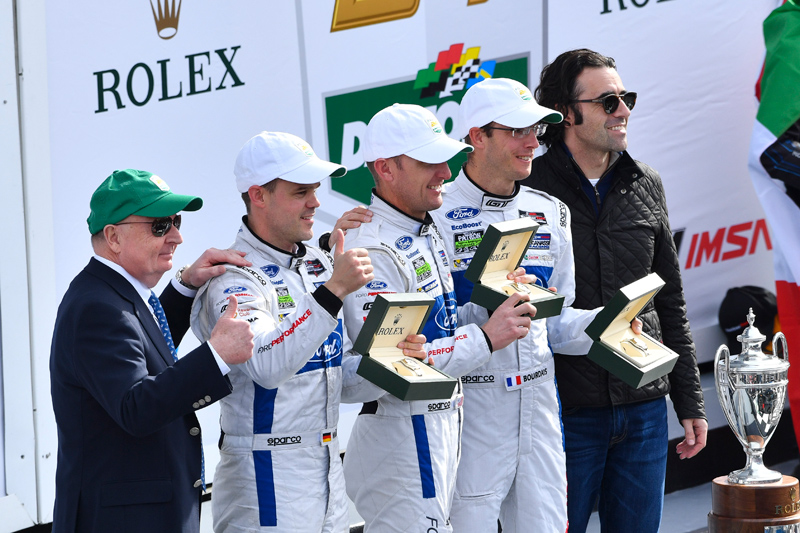 Alas, official statistics aside, Ganassi managing director Mike Hull spoke to the value of winning these "majors" like Le Mans, Daytona and Sebring. A Sebring win this weekend for the Ford GTs would match the feat achieved by Corvette Racing in holding all three titles at once, last achieved in 2015 and into 2016 (Corvette won Daytona and Sebring in both 2015 and 2016 and Le Mans in 2015, before Ford and Ganassi's win last year).
"It was a significant win," Hull told NBC Sports, before going into the golfing analogy.
"I love golf and I watch a lot of it. I was reading up when Tiger Woods was in a press conference, either in L.A. or San Diego several years ago. He'd won the event. They asked, 'Tiger, what does it mean to win this tournament, given you've grown up here, have your friends and family, etc.?'
"He said, 'Listen, one of my goals is to win more golf tournaments than everyone else, but you have to understand that people probably won't remember I won this event. They'll remember I won majors. Obviously my goal is to be better than Jack Nicklaus if I can be, because he set the bar. It's nothing in deference to this tournament or the PGA Tour, but I'll be remembered for majors.'
"So when I think about winning a race like the Rolex 24 at Daytona, this race team, all of us will be remembered for winning majors. Championships are one things, but major events are bigger. This being the 50th win is terrific. If you win others, they might say it for a day or so, but they don't say it the rest of year or life."
The win was Ganassi's first GT Le Mans class win at Daytona after winning six times overall from 2006 through 2015 (2006, 2007, 2008, 2011, 2013, 2015).
Hull reflected on how far out of sorts the team was at its first Rolex 24 in 2004, because they were all collectively new to endurance racing.
"The winning process defines our culture at Chip Ganassi Racing," Hull said. "Culturally, the people who moved in 2004 had come from the culture of winning. But none of us knew anything about sports car racing!
"We had a miserable first Daytona 24, and we came away with it and had a roundtable conference discussion… by the end of it, we had a list of 570 items to improve for next 24 of Daytona! We were miserable at endurance racing. We knew how to sprint race. We won that year's title by sprint racing and learning where we needed to improve from there."
The task was made a little easier at this year's Rolex 24 by the fact both arms of the Ganassi, Ford and Multimatic sports car program – both the U.S. and U.K. teams – were all housed in Ganassi's Woodland Dr. Indianapolis shop prior to the race. It also was easier running four of the same models, rather than split between two DPs in their final run and two GTs in their race debut as occurred last year.
"I don't think it was as insurmountable as people thought from the outside!" Hull said. "Corporations pay large amounts of money for team-building exercises. In our case, the WEC team came to Indy for a week! We had a whole week of team building and it was fantastic!"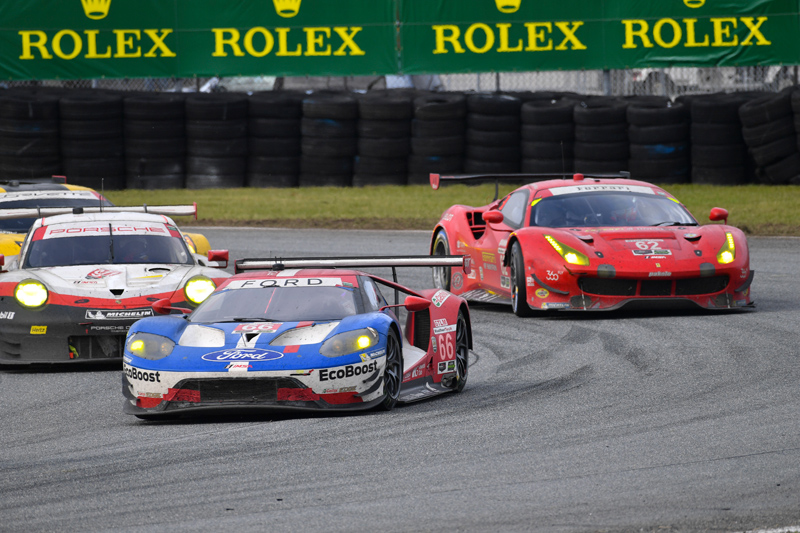 Making the win all the more special was that it came after an intense bout with three of the other four manufacturers in class, Ferrari, Corvette and Porsche. Hull said the nerves persisted through the miserable overnight conditions, as rain consistently fell at the Daytona International Speedway.
"We were all engaged 24 hours. It was intense," Hull said. "The rain started 7 p.m. at night and never stopped. That defined the category and quality of not just Chip Ganassi Racing, but all the people in the race in class. Everyone hung in there. Everyone raced hard, clean, and worked hard all night. It was a testament to the strength of the GTLM category, and strength of the IMSA series."
Hull also continued to note his respect for the Corvette Racing team, which has long set the bar within the GT ranks and which Ford Chip Ganassi Racing is trying to match up with and beat on a regular basis.
"When you look at things, analysis creates paralysis sometimes. But I still consider the Corvette team, with its lineage and success, the best," Hull said. "In various categories where we've raced, if you can race on the same day with the same people, wheel to wheel, you're achieving a lot with your program. That's the only measure you have.
"Tom Brady has five Super Bowls. With young high school quarterbacks, who are they using as the mark? Tom Brady. They want to win six.
"It's no different in racing. You look at the best in the category, over time, and you want to race with those guys and get past them. That's how we look at Corvette. They've set the mark on and off track. They race so full of integrity. You want to race like they do."
Ganassi's team last won at Sebring in 2014, when Scott Pruett, Memo Rojas and Marino Franchitti won overall. The team will look for its third straight endurance race "major" – as will the Hand/Mueller/Bourdais trio – ahead of this weekend's race.