The 2017 Verizon IndyCar Series season marks Tony Kanaan's 20th IndyCar competition, but don't think that the 42-year-old native of Brazil has lost anything at his age. As Kanaan put it, he hasn't lost anything.
"In my mind, I'm still very young," the 42-year-old quipped during a roundtable interview at the Firestone Grand Prix of St. Petersburg. "I take care of myself a lot. I think I'm still in the game. I think I still I had a decent season last year, despite not getting a win."
And so long as he still has the energy and stamina, Kanaan has no intentions disappearing into the sunset.
"As long as I feel this way, I'm going to keep going. So, how I feel: I feel great! We're raising the bar, between some guys in IndyCar and some guys in NASCAR, with how much we do nowadays to keep ourselves in shape."
Still, things haven't gotten any easier for the former IndyCar champion and Indy 500 winner. Outside of the obvious wear and tear that age inflicts on the human body, Kanaan is balancing his family life with his racing life. As he explained, his wife Lauren helps ensure he stays the course.
"She knows exactly what it takes," he said of Lauren, who has worked on IndyCar's media side previously. "So, she takes a lot of the sacrifices: the not-sleeping nights where she stays awake and I get to sleep because I have to wake up and train in the morning. The house runs like a race weekend now. We have a schedule and I have my things that I have to care of between when I schedule my exercises. The priority at home is still racing, which is great that she understands that."
One source of motivation that drives Kanaan to remain competitive is the team around him. Chip Ganassi Racing is one of the premier teams in motorsports and has been a front runner in IndyCar for two decades. Yet, while Kanaan acknowledged the pressure and joy he experiences driving for such a storied outfit, he also it's influence should not be overstated.
"To be honest, people have a misconception of that. We can't forget how fun it was when I was in a little team (with KVSH Racing). Me, Jimmy, 'Sulli,' KK, and all those guys: it was fun! We won the biggest race in the world," he said of the time with the Jimmy Vasser-led program.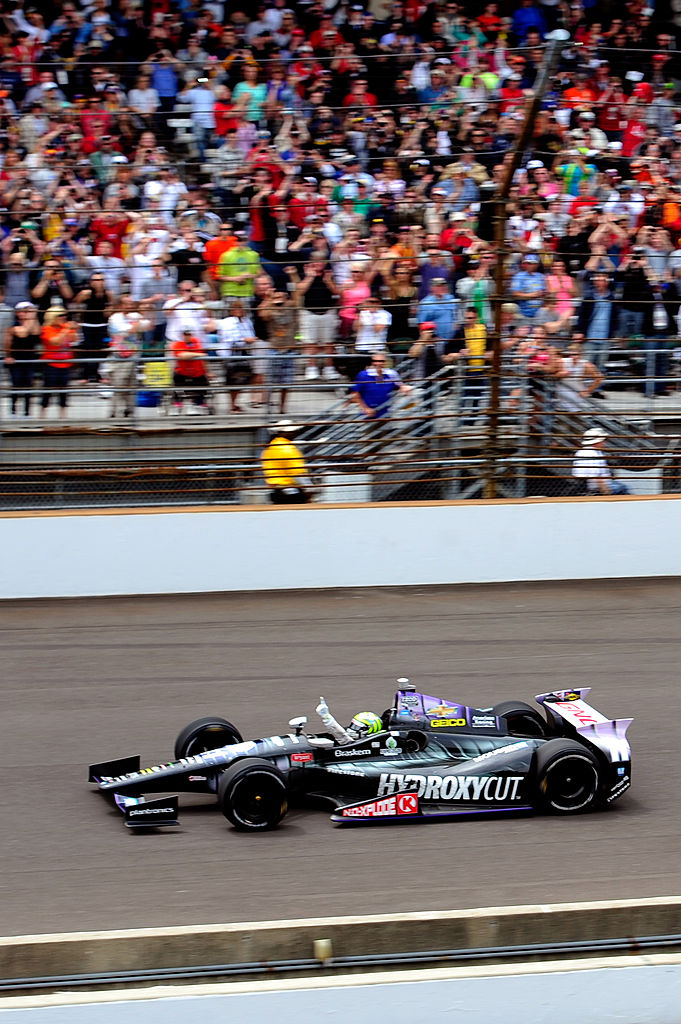 The longevity of his career means Kanaan has amassed some impressive numbers. He has one championship (2004), one Indy 500 win (2013), 17 career wins, and 76 podiums. The stat that impresses him the most, though: 265 consecutive starts, the longest streak in IndyCar history.
"The consecutive races (streak) is kind of cool actually and every race that goes by, the farther away I get (from being beaten). The funny part was the guy I had to beat for that was Jimmy Vasser and I was racing for Jimmy at the time. He almost threatened not to let me start!" he laughed.
To commemorate his 20th IndyCar season, Kanaan is calling the year "TK20," with planned activation including parties, events, special gear, digital content, and more. "With the TK20 launching, my idea was to enjoy every bit of it this year. 'Enjoy' meaning taking more time to spend with the fans, which I kind of do it anyway, and looking at things differently outside the race car," Kanaan said of the initiative, which will run the length of the 2017 season.
The IndyCar star also understands that a career like his cannot exist without someone taking a chance on you at the very beginning. For Kanaan, that someone was Steve Horne, former owner of Tasman Racing, with whom Kanaan and Helio Castroneves competed during their Indy Lights days.
"Without Steve, we wouldn't be anywhere," he said of Horne's influence. "It was a combination of Philip Morris in Brazil and him, but he was the one who had a good team that picked us. We went to a test and it was ten guys and he hand-picked me and Helio out of those ten guys and gave us the opportunity. Without him, I definitely wouldn't be here."
Though Kanaan admits he is in the twilight of his IndyCar career, he would not elaborate on whether or not 2017 is his last year as a full-time IndyCar driver. However, he did mention he intends to keep racing, even when his full-time IndyCar career ends.
"I would love to look around and do the IMSA program and do Le Mans," he said. "Winning (the Rolex 24) was great. The 500 was great, and the championship. But now, I think I want to have the opportunity to do Le Mans. So, some IMSA, maybe WEC, but I'd probably stay around sports cars and maybe do the 500 once a year, that would be ideal."