One of the new motorsports elements coming to NBCSN later this year is American Flat Track, which kicks off its 64th season this week at Daytona International Speedway as part of Bike Week with the Daytona TT on Thursday night. Coverage of the series begins on NBCSN in July.
As a primer for what to look for in the new season, we caught up with American Flat Track CEO Michael Lock to preview some of the key story lines.
—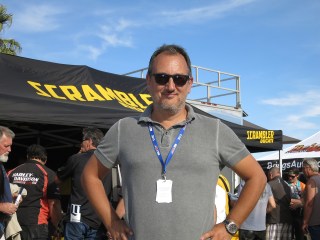 MotorSportsTalk: This year has seen a change to Twins vs. Singles for the series. Can you explain the process that went into that change?
Michael Lock: "First off, we're thrilled that after all the months planning towards this season with these changes, now it's here.
"What we've thought to do is create two distinct classes of races. We'll have it where the most experienced, fastest guys riding the most technologically advanced, powerful bikes. The singles are for more of the younger up-and-comers who are racing on production, single bikes. You can buy them anywhere whereas the twins are prototypes, and exotic. We've created these two distinct classes, compared to what was it like before… and it was a lot more complicated!
"There was Grand National 1. Some tracks they rode twins, and some they rode singles. It depended on how long the circuit was. It's very difficult to explain that to the outside world, versus just saying it's the same guy and the same brand every week. We changed the organization and the class structure to make it a lot simpler. The byproduct not only simplifies it for the teams and riders, who can focus on one machine, but also attracts great interest from the manufacturers. So there's two benefits."
MST: Having the pending Harley-Davidson versus Indian battle must be big for the series…
ML: "It's heaven-sent for our sport. Harley-Davidson has supported pro flat track for years. Now to have Indian come along, it's both key brands from the Midwest since they are in Minnesota and Harley is in Wisconsin. There's an enormous rich heritage on the street and in racing, going back over 100 years. We're super excited.
"Harley is an iconic brand. Everyone knows Harley-Davidson whether you ride or not. It's a lifestyle. To have Indian come along and seek to share some of the limelight will be good for everyone, for the sport, for motorcycles."
MST: How was the series able to expand to an 18-race calendar this year?
ML: "We've put a lot of work into this. We've expanded the season to 18 dates. A year ago it was 14, and two years ago it was 11. We've grown the reach of the sport, and we've done it to become much more national rather than regional. We see these areas online but haven't been getting them on the calendar until now. There were two new ones we found last year in Oklahoma City in Remington Park, which is a mile-long horse course, and also at Turf Paradise in Phoenix. Both of them sold out in the first year. And we're going back because they're so successful.
"We're also going to Texas Motor Speedway … it's a fantastic facility on their half mile oval. We're looking forward to that. And having our finale in Southern California makes sense because that's our biggest concentration of fans. We end in Perris, California, about an hour out of L.A., towards the mountains."
MST: As the year progresses, what's going to be the big challenges for the competitors?
ML: "It's easier said than done arranging both the actual and TV schedules! A sport like Flat Track is very much up-and-coming and the goal is to increase the awareness to where it eventually becomes top billing. After Daytona, Atlanta and Charlotte is when it gets hectic for us; those three set the tone for the year.
"We go into May with three consecutive tracks. The one-mile tracks see the riders at 130 mph, just hurtling through the corners. If you've never seen it before, it'll stop you breathless. We have Phoenix, Sacramento and Springfield, Ill., the 'holy grail.' The Springfield Mile is an incredible experience.
"We have three events in June. We have two in July, three in August, and three in September… so it's relentless through the summer. The championship's going to be fascinating to watch down to the finale."
MST: How is Flat Track trying to attract the youth demographic?
ML: "It's critical. Not only for us at the sanctioning body level but also for the manufacturers. They're using sport as a way to market their brand. Motorcycling generally has been a baby boomer sport. It has been, how do we motivate them for potential fans into the sport.
"In a modern digital age where you can get everything immediately, you have to make a compelling argument to get them to the races. Beyond flag-to-flag, what else are you offering? There's action before the races, in-between the races, with the family entertainment and also improved vendors and fan villages. Either Harley or Indian or both will attend all races with display bikes, and a signup. We're working very hard on not only enhancing the racing action, but also making it a party within a race."
MST: What piqued your interest in Flat Track to begin with?
ML: "There's a number of touch points. Anyone in motorcycling for a while, will know the golden age o 1980s and 1990s in international Grand Prix racing. American riders totally dominated, Kenny Roberts, Kevin Schwantz, Eddie Lawson, Wayne Rainey… I was a kid who grew up in London. And I wondered, 'Why were the Americans so dominant?' They learned flat track before they road raced. No one in Europe was flat tracking. They learned a set of skills, corner speed, and how to do it. They dominated MotoGP for two decades, and that's when I first heard about Flat Track.
"Having been in the U.S. for 20 years, I went Indianapolis for the motorcycle GP… and I was working with Ducati at the time. We went to the fairgrounds and Kenny Roberts turned out there… this was in 2009 after he retired! He threw his leathers on and did a couple laps on the infamous Yamaha bike. Suddenly it all made sense.
"All these elements were brought together. With Jim France, a primary investor in AMA… when he asked me to help him to build American Flat Track, we had to leverage this history and great story telling. We mesh it with the extraordinary action. It's not until you see it on track, inches apart you see how dynamic it is. We just had to get out of our own way!"