SEBRING, Fla. – CJ Wilson Racing has a lot of cool components occurring at this week's Mobil 1 Twelve Hours of Sebring race.
The team owner himself is now a driver, with CJ Wilson making his race debut in the Porsche GT3 Cup Challenge USA by Yokohama in his No. 33 Porsche of Fresno entry in that series' Platinum class.
Meanwhile in the Continental Tire SportsCar Challenge, Wilson – who himself could be considered a "renaissance man" given his post-baseball career features racing, team ownership and photography – has a driver who also is worthy of the designation in Till Bechtolsheimer, who marks one year since his debut in one of the team's Porsche Cayman GT4 Clubsports.
Bechtolsheimer is British by nationality, a CEO/portfolio manager in his day job in New York and arguably one of the more intriguing drivers in IMSA given his background.
He's long been a vintage racer with a love for cars from the 1930s through 1960s, and a veteran of the Monaco Historics races.
He isn't on social media, and the running joke that's occurred as a result of that is a number of fun names created using the same "TB" initials but not actually real names – "Talc BrisketHammer," "Tool Bubbletasker," and "Till BoogieMonster" being three of several offbeat examples.
The team has also revealed a number of "facts" about Bechtolsheimer, some of which are more factual than others.
But laughter and jokes aside, he's now become embedded into a modern racing environment, in his first full season in the Continental Tire Challenge and second overall this year.
Bechtolsheimer made his debut in the team's No. 35 Porsche last year, which he shared with Tyler McQuarrie at Sebring. It was a massive learning experience, as Bechtolsheimer reflected.
"Last year was a lot of firsts, I'd never even raced a car on slicks!" Bechtolsheimer told NBC Sports. "It was pretty overwhelming. The first session I had an off, and damaged the car a bit so I felt pretty bad. But each day got progressively better. We ended up fifth and it was a really enjoyable weekend. But it was jumping in the deep end, for sure."
Results improved rather quickly for the two of them, with Bechtolsheimer a key cog in back-to-back podium finishes of third at Mazda Raceway Laguna Seca and second at Watkins Glen, although the latter result was aided by the team's sister car of Marc Miller and Danny Burkett getting held up by slower traffic and losing a sure win, ultimately dropping to third.
After a fourth in Lime Rock, McQuarrie had a conflict for the upcoming Road America weekend and ST class veteran Justin Piscitell was brought up to GS for what on paper looked to be a special run ahead in the No. 35 car there. The New Balance/Safecraft car took on a special Chicago Blackhawks livery for the Road America weekend and Bechtolsheimer, in just his fifth weekend with the team, had a bit more experience within the CJWR framework.
He'd also had a dynamic start to the race, before contact triggered from two other cars ultimately left him on his roof after the car had been rolled over at Canada Corner. It ended the race before it even had a chance to get going but for Bechtolsheimer, being OK and moving on after that incident was another positive sign in his adaptation to modern racing and a closed cockpit car.
"It was the second lap, and it was my best opening laps of the season," he explained. "I got caught up in someone else's accident. It was disappointing from that standpoint. But no one was hurt, car got fixed, and compared to a vintage car it felt pretty solid. Really, it looked a lot worse than it was."
The No. 35 car returned for the season finale at Road Atlanta, where Bechtolsheimer banked his fifth top-five finish in class in six starts. All told it was a good groundwork laid for 2017, and now Bechtolsheimer has shifted into the team's No. 33 car, alongside Miller.
McQuarrie made waves for his "race everything" campaign in 2017 but Bechtolsheimer praised Miller's coaching and teaching ability, and relishes the opportunity to drive alongside the Michigander in the same car this season.
"I learned a lot from Tyler and I really enjoyed racing with him. Last year I was getting coached by Marc to some extent. This year to have Marc's undivided attention is pretty nice, as we've known each other for a couple years," he said.
Bechtolsheimer has also been impressed by the North American paddock, in terms of the camaraderie of the drivers and the quality of the race tracks.
"It's just got a very professional feel to it, which is what I was excited about," he said. "I do vintage, which has a more club-like feel, so I didn't want to replicate that. I want to grow as a driver as the team grows, and hopefully steps up in coming years.
"The race tracks are just so awesome," he added. "I grew up watching Touring Cars, Formula 1, so not really Indy and NASCAR. So I didn't see a lot of the American tracks. I'm a big fan of the 1950s and 1960s era. Here, they rival the best tracks in Europe.
"I've enjoyed it. Huge amount of history. The crowds that these races draw is multiple what we'd get in Europe. All that makes for a great atmosphere. To be honest, the thing modern racing that gave me pause for thought going in was, 'I thought it'd be a more aggressive paddock, and everyone would try to prove they're the next Michael Schumacher. It's been the opposite. Great feel, and great people."
Another running joke Bechtolsheimer has is that he calls each track he's driven on his "new favorite," but hails Watkins Glen as his ultimate favorite because of the nature of the circuit and the history there.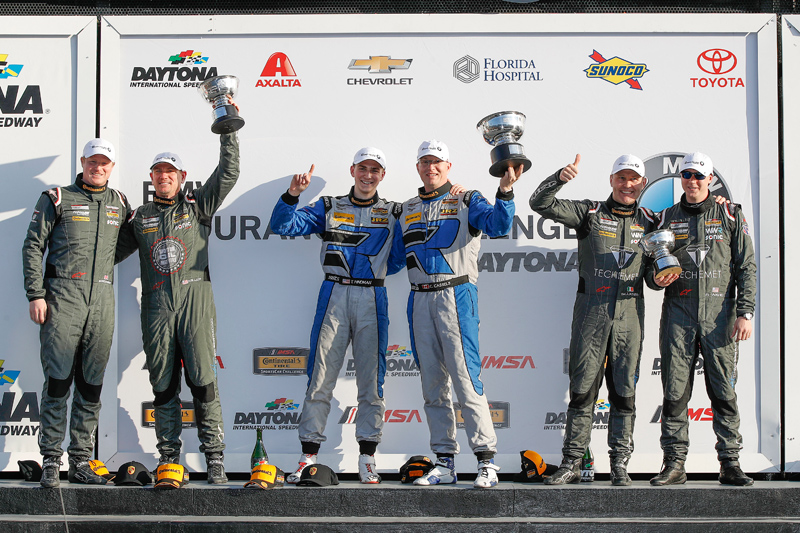 That said, he rocked it in his Daytona debut at the season opener. Bechtolsheimer advanced through to the lead in his stint of more than two hours, 20 minutes. He and Miller finished second to a sister Porsche Cayman GT4 Clubsport, the No. 12 Bodymotion Racing entry driven by Trent Hindman and Cameron Cassels (pictured above), and it was a double CJWR podium with Damien Faulkner and Russell Ward in third in their debuts as teammates in the team's No. 35 Techemet-backed Porsche.
"It was the most fun I've had in the series," he said. "The fact it was a four-hour race. Doing whatever I did, two hours, 20 or so, it was a lot of time in the car, so I could really settle in. I tried to stay on the back of the McLarens. Then ended up in a position where I could challenge for the lead. Had a great battle with RS1 car. It was surreal… didn't know what position I was… then my crew said I'm in the lead, so I'd try to stay there!"
The second round of the season takes place Friday afternoon here at Sebring at 3:40 p.m. ET and local time, where Bechtolsheimer is expected to qualify and start the No. 33 car before handing over to Miller for the finish of the two-hour race. Live coverage occurs online at IMSA.tv with IMSA Radio audio coverage.
Liveries from veteran designer Andy Blackmore are below for all three cars. Wilson has had a busy week, having also been confirmed with co-driver Andrew Evans for United Autosports for the 2017 Henderson Insurance LMP3 Cup Championship in Europe. The American duo will race a Ligier JS P3 sports prototype in the first full season of the ACO-backed British Championship.