SEBRING, Fla. – The new-look GS class in the Continental Tire SportsCar Challenge that premiered last year took a step forward into the future at Sebring International Raceway.
The new Porsche Cayman GT4 Clubsport premiered with several different teams and rather than CJ Wilson Racing or Muehlner Motorsports America, it was Bodymotion Racing that scored the car's first win in the series with Trent Hindman and Cameron Cassels driving the No. 12 Porsche.
A year later, Bodymotion enters having won the season opener in January at Daytona, continuing the team's form after winning three-in-a-row last year, a run that began following Hindman's standout drive here 12 months ago when he beat the highly rated Jeroen Bleekemolen in the same car.
As impressive as Hindman's adaptation to his second sports car team, the 2014 GS class champion having shifted from the Fall-Line Motorsports BMW team to Bodymotion at the start of last season, seeing his Canadian co-driver Cassels come to form has been just as cool to witness.
Cassels, out of Coldsteam, British Columbia, didn't enter the series with much racing experience at all, only a bit of stock car racing in his home country. Watching Cassels' growth has been rewarding to Hindman, who wouldn't have been in winning position had his co-driver not turned over the car to him in contention and in one piece.
"We laughed at the track walk, can you believe it's been 12 months to the day since we started racing in the Conti series?" Cassels told NBC Sports. "For me, it was almost the start of my racing, period, other than some stock car stuff! Trent's great at setting the car up so it's easier for me to drive."
Hindman said of his co-driver, "I think it's something where I've been lucky to work with someone like Cameron, who is so driven. But he's doing this himself though. I can teach him different techniques. I can't teach the motivation to want to improve, drive, and get more consistent as a driver. That's something that makes my life a lot more enjoyable."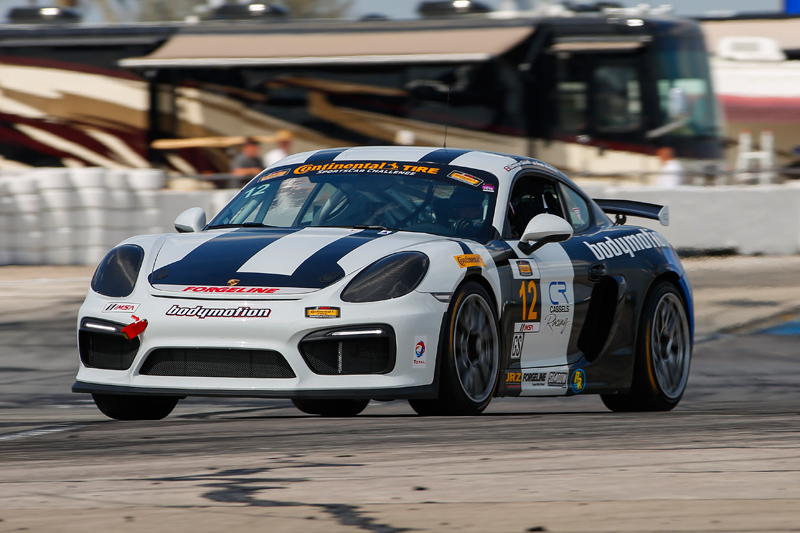 The win at Sebring spring-boarded Bodymotion into the three-race win streak, having also edged the Wilson team at Mazda Raceway Laguna Seca in May and Watkins Glen. So for a period of four months, Bodymotion was top of class in GS despite missing the first race at Daytona.
"It was absolutely incredible," Cassels explained. "Coming in we had very low expectations, and Sebring was a very busy weekend; I had all my family – wife and four children all here. Balancing that and race car stuff, we knew as we got closer to race day we had something for them.
"A lot of the paddock underestimated us. That made it all the more interesting. As the race developed, we had more of a shot at it. My job was easy, just keep the car on the lead lap and have the weapon to fight with at the end. It was a speed ship for him to drive."
For Bodymotion as well as the rest of the Continental Tire Challenge field, the challenge this week is adapting to the series' first two-hour race. The series ran two-hour, 30-minute races last year and a four-hour mini-endurance race at Daytona, but drops to two hours this weekend. That changes the game from a strategic standpoint.
"I prefer the longer format to be honest. But for me as a driver, I like the fact we split the time," Cassels said.
Hindman added, "It changes our strategy a lot. It goes from a solid, two-stop race to potentially one stop. It might be two for us with our fuel consumption/capacity. At end of the day, there's less time to make up for errors."
The field is different now, a largely single-car class now up to 17 cars with a mix from Porsche, Ford, McLaren and Aston Martin all going for the victory.
How well the likable pairing gets on today will determine whether their Daytona win was a one-off, or if they have the sustained potential to contend for this year's GS championship. And, a win today would give them their first repeat as a pairing.