Today marks five years since the first and only time the FIA World Endurance Championship and American Le Mans Series raced together, in the same race, but as separate series, in what was the 60th running of the Mobil 1 Twelve Hours of Sebring in 2012.
The trajectories of the two championships since – and of the participants in that race – has been fascinating to document in world sports car racing history.
Consider in that race, you had nine total classes comprising 64 cars. The same designation of car, a Ferrari F458 Italia, was entered in three different classes. There was a No. 55, 055 and 155 in the race. There were 23 different car specifications and five different tire manufacturers (Michelin, Dunlop, Pirelli, Falken, Yokohama).
And then you had the winners. This meant there were nine pole winners, then nine class winners, and a total of 27 of 64 cars eligible to score podium finish. Since all cars had three drivers, that meant you had to be ready to have 81 trophies ready… and that was before you got to the separate Michelin Green X Challenge winners, with a separate trophy awarded both for ALMS and WEC participants.
Fittingly, it was run on March 17 – St. Patrick's Day – a day where everything is done to excess.
If ever there was a race in recent times that lived up to the joke of "everyone gets a trophy," 2012 Sebring was it.
—
THE CLASSES
Most sports car races over the last decade or so have had between two or five classes. So how, you might ask, did this Sebring end up with nine?
The logistics of launching a new FIA World Championship – the relaunched FIA WEC – meant that their race was treated as independent of the ALMS race happening at the same time, on the same track, with more or less the same cars. But, the classes could not be combined.
The FIA WEC launched with its four classes: LMP1, LMP2, GTE-Pro and GTE-Am, the same four that exist to this day, five years later.
Meanwhile ALMS carried on with its five classes: P1, P2, PC, GT and GTC. The P1, P2 and GT classes ran cars that could have been considered part of the LMP1, LMP2 and GTE-Pro classes but could not be combined. Meanwhile the spec PC and GTC classes added an extra 18 cars to the field – nine cars apiece – all of whom had mixed levels of talent behind the wheel.
The combination of cars also created a numbering issue where if there were duplicates, a 0 or 1 was added to ALMS numbers. The quirkiest situation here was that an FIA WEC car carried No. 55, and with Level 5's ALMS P2 car carrying No. 055, the BMW Team RLL No. 55 BMW M3 had to add a 1 in front of it to be No. 155 in this race.
Another quirk came with the TV presentation, and this wasn't anyone's fault but added to the degree of difficulty from a presentation standpoint. The ALMS' five classes had five "color codes" associated with them – red, blue, purple, green and orange, respectively – for P1, P2, PC, GT and GTC. But because additional color codes couldn't be added in graphics, the classes did have to be combined on the "hat" – the running order across the top. So P1 and P2 included WEC LMP1 and LMP2, and GT included WEC GTE-Pro and GTE-Am.
—
THE POLESITTERS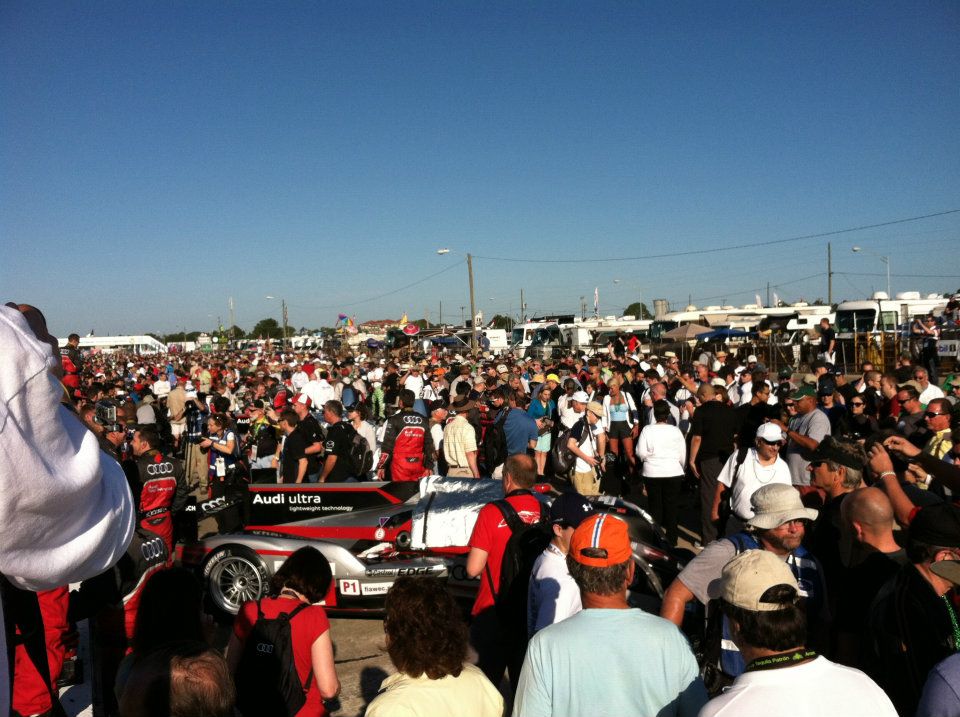 The race had to begin with polesitters, and while in most races you have one, in this one, you had nine.
Andre Lotterer set the overall pole in the No. 1 Audi R18 TDI, which debuted in 2011 and ran at Sebring prior to Audi's debut of the R18 e-tron quattro later that year. This was in LMP1, and a lap of 1:45.820 is still several seconds faster than what you'll see for pole today in the new DPi/LMP2 cars.
Klaus Graf had the P1 pole – best of two new cars debuting in the ALMS' top class – in what was the No. 6 Muscle Milk Pickett Racing HPD ARX-03a. Graf's pole lap was stunning because it was fourth overall between all the combined P1 cars, and at a 1:47.536, was more than seven seconds quicker from the other debuting ALMS P1 car, the No. 16 Dyson Racing Lola B12/80 Mazda qualified by Chris Dyson, which was only good enough for 23rd overall.
The two P2 polesitters were Olivier Pla (WEC LMP2, No. 24 OAK Racing Morgan Judd, 1:50.467) and Christophe Bouchut (ALMS P2, No. 055 Level 5 HPD ARX-03b, 1:52.129). Bruno Junqueira took the PC pole for RSR Racing at 1:54.510 in the No. 9 Oreca FLM09.
The FIA WEC got ahead of the ALMS in the GT qualifying ranks, too. Gianmaria Bruni took the No. 51 AF Corse Ferrari to a lap of 1:58.427 for the WEC GTE-Pro pole, while Jan Magnussen had the ALMS GT pole in his No. 03 Corvette C6.R at 1:58.996.
Remaining polesitters were Dominik Farnbacher (WEC GTE-Am, No. 58 Luxury Ferrari, 2:00.184) and the late Sean Edwards (ALMS GTC, No. 30 MOMO NGT Porsche 911 GT3 Cup, 2:06.674).
—
THE RACE ITSELF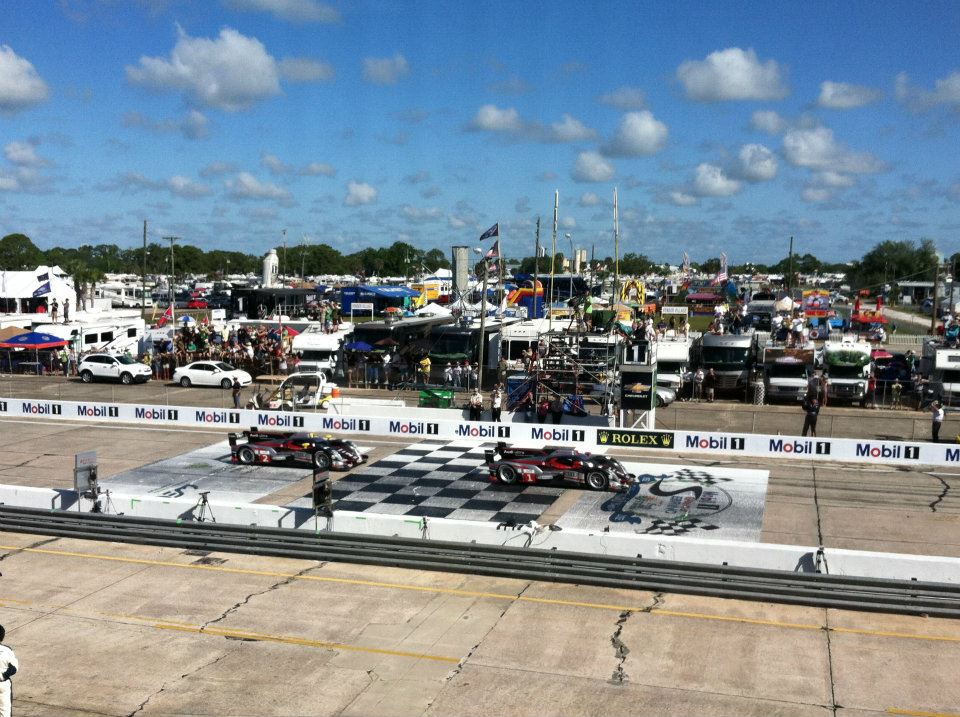 Although there were 64 cars, a number reduced by one when one of two Gulf Middle East Lolas in LMP2 was excluded before the race because it didn't meet a minimum pace standard, the race was remembered for a high amount of cautions (11 for 55 laps, for several hours of the 12)  and a bit of drama and heartbreak towards the end of the race.
Audi cruised to the overall victory with the veteran trio of Allan McNish, Dindo Capello and Tom Kristensen in the No. 2 R18 TDI. Audi led all but two laps of the 325 completed overall between its three cars.
But two other class wins were less certain. Muscle Milk Pickett, poised for an overall podium finish to go along with the LMP1 win, slowed in the final hour with a fueling issue on its final stop. It was a gut-wrenching loss for the trio of Graf, Lucas Luhr and Simon Pagenaud, and opened the door for Dyson, Guy Smith and Steven Kane to score the class victory despite the pace deficit.
It was the GT classes where the drama took center stage towards the end. Joey Hand beat Olivier Beretta after a door-banging battle to be top GT car, and Hand's No. 56 BMW M3 he shared with Dirk Mueller and Jonathan Summerton finished ahead of Beretta's Ferrari. Yet because this was a race of two series, Beretta's No. 71 AF Corse Ferrari he shared with Marco Cioci and Andrea Bertolini actually won the WEC GTE-Pro class… yet dropped to third on the road among GT cars behind the Magnussen/Antonio Garcia/Jordan Taylor Corvette. Taylor was making his debut as a Corvette Racing driver this race.
HPD, which lost the ALMS P1 win it deserved, then won both ALMS P2 and WEC P2 in the same race with the P2-spec HPD ARX-03b. It was Peter Baron's Starworks Motorsport, in the team's WEC debut ahead of an eventual world championship-winning season, that won Sebring with Ryan Dalziel, Stephane Sarrazin and Enzo Potolicchio and came third overall. Level 5 came fourth with Bouchut, Scott Tucker and Joao Barbosa.
The other class winners were CORE autosport (ALMS PC) with an abnormal lineup of Alex Popow, Burt Frisselle and then-IndyCar driver E.J. Viso, Team Felbermayr-Proton (WEC GTE-Am) with Christian Ried, Paolo Ruberti and Gianluca Roda and Alex Job Racing (ALMS GTC) with Dion von Moltke, Bill Sweedler, and sports car debutante Townsend Bell. Bell and Sweedler have been paired together continuously through various teams, cars and series in the years since.
Among other quirky or notable moments from this race:
FIA President Jean Todt was present at this race for the launch of the FIA WEC, notable because the Australian Grand Prix was taking place in Melbourne on the same weekend.
Conquest Racing made a pre-race driver change, race morning, swapping in Jan Heylen for Francesco Dracone. Heylen's only pre-race running came in the morning warmup; the car eventually finished third in ALMS P2 with Martin Plowman and David Heinemeier Hansson.
Team Falken Tire lost an engine of its Porsche 911 GT3 RSR in the pre-race morning warmup, but the Derrick Walker-led team got the car back out with mere seconds to spare before the green flag after an engine change.
A Dempsey Racing-entered PC car completed a pirouette at Cunningham corner where the car went airborne with Henri Richard driving after colliding with another PC car. Richard was OK but the car he shared with Duncan Ende and Dane Cameron was out.
The original Nissan DeltaWing was revealed during race week, ahead of its race debut at the 24 Hours of Le Mans. By the next year, all of the original partners – Michelin, Nissan, Ben Bowlby, All American Racers and Highcroft Racing – all moved on from the program and ALMS founder Dr. Don Panoz pressed on with the effort on his own!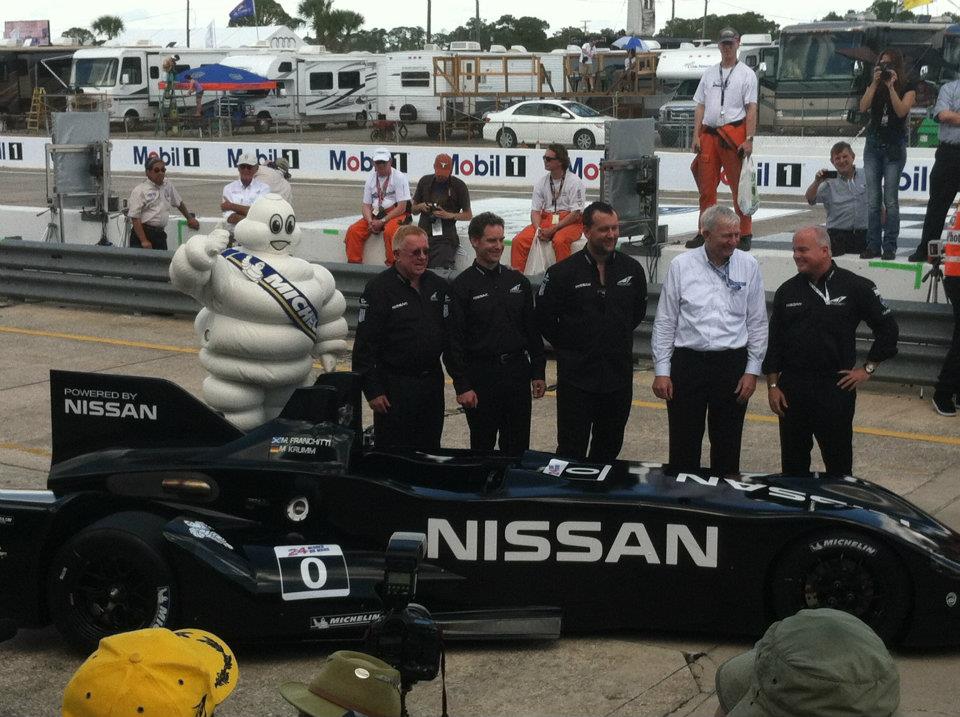 —
HOW SPORTS CAR RACING HAS MOVED ON SINCE
The 64 cars entered for that year's Sebring were split 30 FIA WEC entries and 34 ALMS entries.
Here are the teams still active five years later as full-season entrants within the FIA WEC or the ALMS' successor, the IMSA WeatherTech SportsCar Championship:
FIA WEC: Rebellion Racing, Signatech (as Signatech Alpine), AF Corse, Team Felbermayr-Proton (as Proton), Aston Martin Racing, Larbre Competition*
IMSA: CORE autosport, Starworks Motorsport, PR1/Mathiasen Motorsports, Performance Tech Motorsports, Merchant Services Racing (as BAR1 Motorsports), RSR Racing (as 3GT Racing), BMW Team RLL, Corvette Racing, Paul Miller Racing, Extreme Speed Motorsports (as Tequila Patron ESM), Alex Job Racing*, TRG
There are other teams from that race still active in other series, such as Black Swan Racing and GMG, for instance. Starworks and ESM have both made WEC trips but now are focused solely Stateside in IMSA. Larbre and Job have not confirmed their 2017 race schedules beyond a handful of endurance races.
Because of the rate of development, the only cars still active in 2017 that were active in 2012 are the Ferrari F458 Italia, Aston Martin Vantage and Oreca FLM09. The Aston has been heavily revised over five years. The Ferrari is in the hands of privateer JMW Motorsport, who race in the European Le Mans Series and will race at Le Mans. The Oreca, the PC class stalwart, will be retired along with the PC class from IMSA at year's end.
The FIA WEC enters its sixth year overall in 2017 with a reduced full-season entry (at least for this year, although it figures to spring back in 2018) while IMSA is in its fourth year as a combined entity following the ALMS/GRAND-AM Rolex Series merger.
Audi's absence will be felt within the WEC but two LMP1 manufacturers that weren't at the first WEC race – Toyota and Porsche – will battle between themselves. The remaining privateer teams from that Sebring race have either moved on or dropped out entirely.
OAK Racing was only a team back then but Jacques Nicolet's emerging business presence in racing has since his company grow into a new overall parent company, Everspeed, with the Onroak Automotive line of chassis a key part of that business. Nicolet's team ran open-top Morgan chassis at the time; the Ligier JS P2 hadn't even been conceived yet and now the new-for-2017 Ligier JS P217 is Onroak's latest LMP2 offering.
Six of nine LMP2 cars in the FIA WEC were open-top cars, with the new Lola B12/80 chassis the lone coupes. Now, all DPis and LMP2s are coupes.
The FIA WEC's GTE-Pro class has grown from humble beginnings. The series has eight full-season entries in class now, two cars apiece from Porsche, Ferrari, Ford and Aston Martin. The GTE-Am class has a slight dip for 2017.
In IMSA, it's crazy to think exactly zero P1 and P2 teams from that race are left. Pickett and Level 5 dropped out in early 2014, Dyson didn't continue into the merger, and Conquest didn't last past 2012. It's only Black Swan, which made its P2 debut that race, that still stands today, and that's after Tim Pappas has raced multiple GT cars in the years since. But it's the PC teams that have endured, all but Dempsey Racing and Pickett again still active today.
Factory participation in the GT classes have persisted while GTC's loss is lamented a bit because of some of the dynamite battles that took place between professionals in the spec-Porsche class.
We could get to the drivers in this race, but we're already pushing 2,000 words.
Suffice to say Sebring, 2012, was memorable. And long. And confusing. And a catalyst for the change that's followed in both championships in their respective trajectories.