SEBRING, Fla. – A year ago, Ford Chip Ganassi Racing and its pair of Ford GTs merely looked for reliability in the Mobil 1 Twelve Hours of Sebring after a nightmare debut at the Rolex 24 at Daytona when issues that hadn't arisen during preseason testing all popped during the race itself.
A year later, the team, and the car, stands on the precipice of winning endurance racing's "triple crown" of major endurance races all in a row.
Ford dominated the 24 Hours of Le Mans with Joey Hand, Dirk Mueller and Sebastien Bourdais emerging as the trio that delivered Ford a win 50 years after their famous 1-2-3 victory in the 1966 race, a goal that Ford outlined that it wanted to complete.
Then at this year's Rolex 24 at Daytona, Ford won again, but this time in a dogfight against three of the other four manufacturers entered in the field. All of Chevrolet with the venerable Corvette C7.R in its fourth season, the emerging No. 62 Risi Competizione Ferrari 488 GTE in its second, and the new mid-engined Porsche 911 RSR on its race debut, put up a threat to the Fords, but the Blue Oval emerged with its second win in a row, and with the same trio of Hand, Mueller and Bourdais. Mueller's pass of James Calado in the Ferrari into Turn 1 in the final half hour was the ultimate pass for the win, and Mueller held on against Patrick Pilet's Porsche to the flag.
This driving trio has a chance to become the first trio in major endurance sports car racing history to be the same three drivers to hold those three race titles at the same time, even though Ford would not be the first manufacturer to complete the endurance race triple at the same time.
In fact, Corvette Racing pulled off the feat with five consecutive major endurance race wins in 2015 and 2016. Corvette won Daytona and Sebring with the trio of Jan Magnussen, Antonio Garcia and Ryan Briscoe – incidentally, the last of whom drives for Ford now. Then following Magnussen's crash in practice, that car was withdrawn from Le Mans before it even had the chance to complete the triple. But Oliver Gavin, Tommy Milner and Jordan Taylor scored an emotional win at Le Mans with the sole remaining Corvette left.
Corvette then won at last year's Daytona and Sebring with Gavin, Milner and Marcel Fassler. Gavin's win in a photo finish over Garcia at the 2016 Rolex 24 will live in sports car racing lore. But Ford's dominance at Le Mans stopped the Corvette win streak in its tracks.
It's with that setup that Ford, with partners Chip Ganassi Racing, Multimatic and Roush-Yates Engines, can now match Corvette in holding the Le Mans, Daytona and Sebring titles all at once. Ford looks to win 50 years after Mario Andretti won here in 1967. And Ford has three cars with which to do it.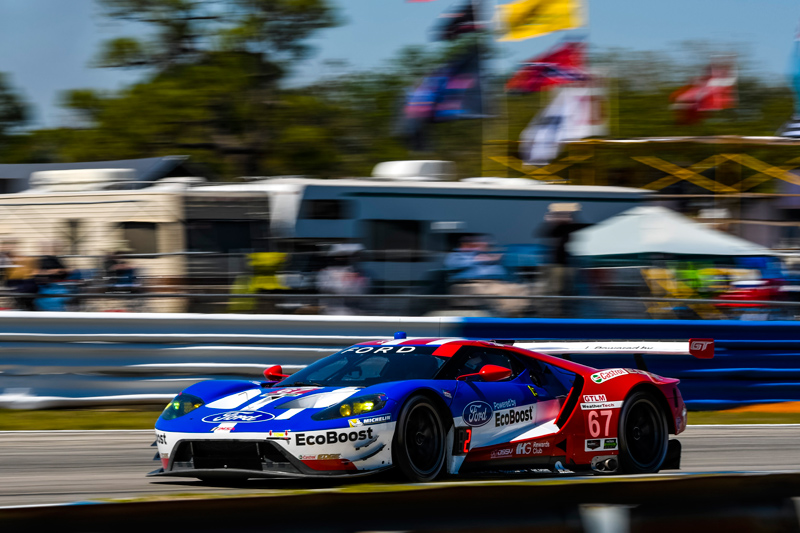 Hand, Mueller and Bourdais are going for their own hat trick as well. Briscoe, Richard Westbrook and Scott Dixon will look to stop them in their tracks in the No. 67 Ford, which qualified on pole position. Then a third Ford, the UK-based No. 68 car for Olivier Pla, Stefan Muecke and Billy Johnson, will look to play spoiler from a bit further back in the grid.
"The journalists have told us it's a 'triple sweep,' but we can't think about that," Ganassi managing director Mike Hull told NBC Sports. "We're just doing our job at Chip Ganassi Racing.
"Working for Chip over the years, having Ford, Multimatic, Roush-Yates and Michelin have provided us the opportunity to do this the right way. I can't tell you how much fun that is to do. I love the history of Sebring. From a historical significance, and being a fan of Sebring, a fan of racing, it's just an honor to be part of and terrific opportunity for us."
The funny thing is, if Corvette stops them, Corvette will have completed its own hat trick, with a third straight win at Sebring.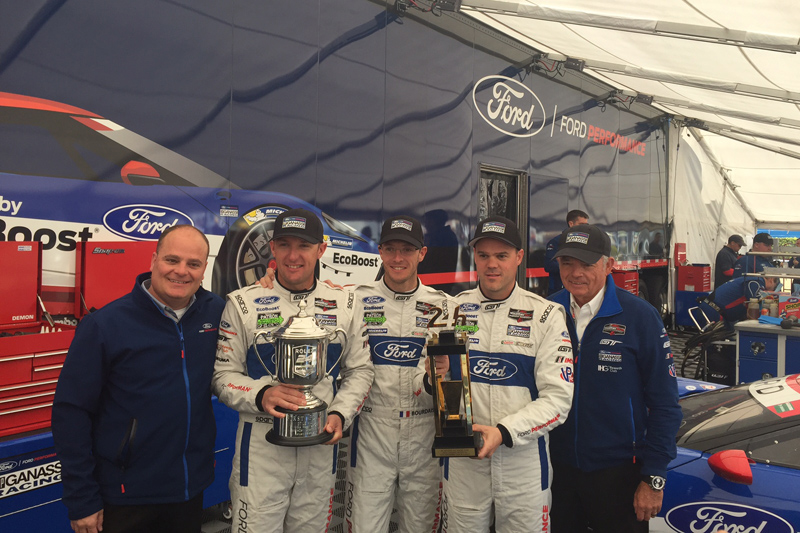 All three of Hand, Mueller and Bourdais have won at Sebring before, with the first two having had class wins and Bourdais being part of the overall winning lineup in 2015. They downplay the history aspect and instead are more keen to look on the mantra established by team boss Ganassi of his liking winning when it comes down to today's race.
"We always want to win every race. It doesn't change," Hand told NBC Sports. "I was excited to make history at Le Mans. Excited to win Daytona. And to get in the history books again would be awesome. I love the fact my kids will get to read a book about what we've done.
"But of course we want to do it. Dirk and I have won a couple times, and been close others. The team is good here. Compared to last year, we have a much better shot. I feel pretty good about it."
Bourdais, who only races with Ford in the endurance races and has a shot at his own Florida triple crown as well as being a part of Ford's, downplayed how important his own role has been to the success.
"I don't race for stats… but obviously you look back, and these big events mean a bit more than the others," Bourdais told NBC Sports. "I only get to do the big ones so it makes it easier! It's a great honor to be racing the works car and have the chance to contend for wins."
Mueller got the car into this position to begin with, following his pass for the win at Daytona on Calado in the waning stages. That was after he'd won the pole at Le Mans, then started and finished the race.
"Sometimes to the outside it looks like it's just someone is sticking out, when it's about the team," Mueller told NBC Sports. "It's who gets tires. Who's in traffic. Then who does the start. That's what I liked about Le Mans. I was lucky to do the pole on my last lap. It was cool. I started and closed the race, and when I got it all and that's not usually the case!
"(At Daytona), Joey did fantastic in the beginning. Seb and everyone did a great job to keep on track. Then you had everyone who has to finish. It was good fun."
Hand's 2012 heroics against Olivier Beretta's Ferrari will live on in memory and the cool Californian expects a similar ending today, even if the Corvette is known to be very good in cooler evening conditions.
"This track and race is a case where I'm pretty much expecting a dogfight at the end," said Hand.
But it's Briscoe, who won the pole on Friday in the No. 67 car, that had perhaps the funniest line about his colleagues in the No. 66 car going for the triple.
"Those guys don't need to win 'em all," Briscoe laughed.