A friendly warning before you read this piece: prepare to feel old.
As we begin to get ready for the start of the new Formula 1 season in Australia next Sunday, the preseason favorite is Mercedes driver Lewis Hamilton.
With three world titles to his name and more than 50 race wins chalked up, Hamilton is one of F1's modern-day superstars. As well as showcasing devastating speed on-track, he has developed a burgeoning celebrity reputation off it, gracing red carpets all over the world.
There can be little doubt that Hamilton is one of the most famous and talented drivers in F1's history, but there was a time when things were very different.
Ten years ago today, a young kid from the rather unremarkable town of Stevenage, England made his grand prix debut in Australia. There were no piercings; no tattoos; no celebrities on his arm. Only his father and mentor, Anthony, was there to cheer him on in the garage. But the on-track display that was delivered made the world stand up and take notice of Lewis Hamilton.
Hamilton had been under McLaren's wing for the bulk of his junior racing career. Having first met McLaren F1 boss Ron Dennis at the age of nine at an awards ceremony, Hamilton told him there and then he wanted to race for his team one day. On March 18, 2007, it became a reality.
Hamilton had been lighting up GP2 through 2006, enjoying a title fight against fellow up-and-comer Nelson Piquet Jr. Hamilton's season was defined by a charge from 18th to second in Turkey, and the title was wrapped up in Monza.
McLaren had already announced at the end of 2005 that two-time World Champion Fernando Alonso would be joining in 2007, with Kimi Raikkonen bound for Ferrari as Michael Schumacher's replacement. However, Alonso's teammate was still a big question mark through the summer of 2006. Juan Pablo Montoya had sensationally walked away from F1 midway through the year, leaving Pedro de la Rosa to take his seat for the remainder of the season. The Spaniard was a definite contender to continue in 2007.
But Hamilton was able to put a spoke in the works. McLaren did look at parachuting him into a team down the grid for 2007 to give him some racing experience, but after an impressive three-day test in September at Silverstone, Dennis' mind was made up: Hamilton had to be in F1 next year. He would be the man to partner Alonso.
Hamilton once again displayed a rapid pace through preseason, but few expected him to enjoy the debut he did in Australia. Even if he was F1's latest golden talent, the occasion would surely prove too great for him. It was his first race, after all.
Oh how wrong such an assertion proved to be.
Hamilton took the weekend in his stride. Following a wet first practice, he finished third in both FP2 and FP3, establishing himself as one of the main contenders for pole in qualifying. He finished a narrow second in Q1 behind Raikkonen and eased into the top-10 shootout. Raikkonen was able to turn up the wick and score pole for his Ferrari debut, while Alonso secured second. Nick Heidfeld took a respectable third for BMW Sauber, beating Hamilton, who would start P4.
"I'm overwhelmed to be on the second row for my first grand prix," Hamilton said. "This weekend is what I have been preparing myself for during the past 13 years and I'm enjoying every moment."
Despite being one of the leading drivers all weekend long, Hamilton's goals for the race remained casual: "I want to get a good start and then work hard to score as many points for the team and myself. I'm not going to make any predictions because anything can happen but so far so good."
Hamilton's initial getaway from the grid wasn't great. His silver and red McLaren was slow to get moving, allowing BMW's Robert Kubica to swarm him. But no matter; Hamilton thought fast and dived from the inside to the outside, and proceeded to pull off one of the most iconic overtakes of his career.
In the sister McLaren, Alonso was committed to the inside of the corner and had to slow right down, also proceeding to back Kubica up. Now on the outside, Hamilton was able to float around and follow Heidfeld past Alonso.
McLaren's star man had been usurped by his rookie teammate at the first very corner. It would set the tone for a frosty year to come.
As Raikkonen peeled away up front, Heidfeld was able to keep Hamilton at an arm's length, but his low fuel load that had given him such good pace in Q3 forced the German into an early stop, lifting Hamilton to second. With Alonso in tow, Hamilton made it through the first round of stops without any incidents, now running second behind the leading Ferrari.
After giving Alonso first service in the pits earlier in the race, McLaren opted to bring Hamilton in first the second time around. Alonso was able to go far longer on his second stint before coming in, emerging with a healthy buffer to Hamilton.
Come the checkered flag, Hamilton was unable to bridge the gap to Alonso in second, but he remained an easy third, 20 seconds clear of Heidfeld. Race one: podium finish. Not bad for starters.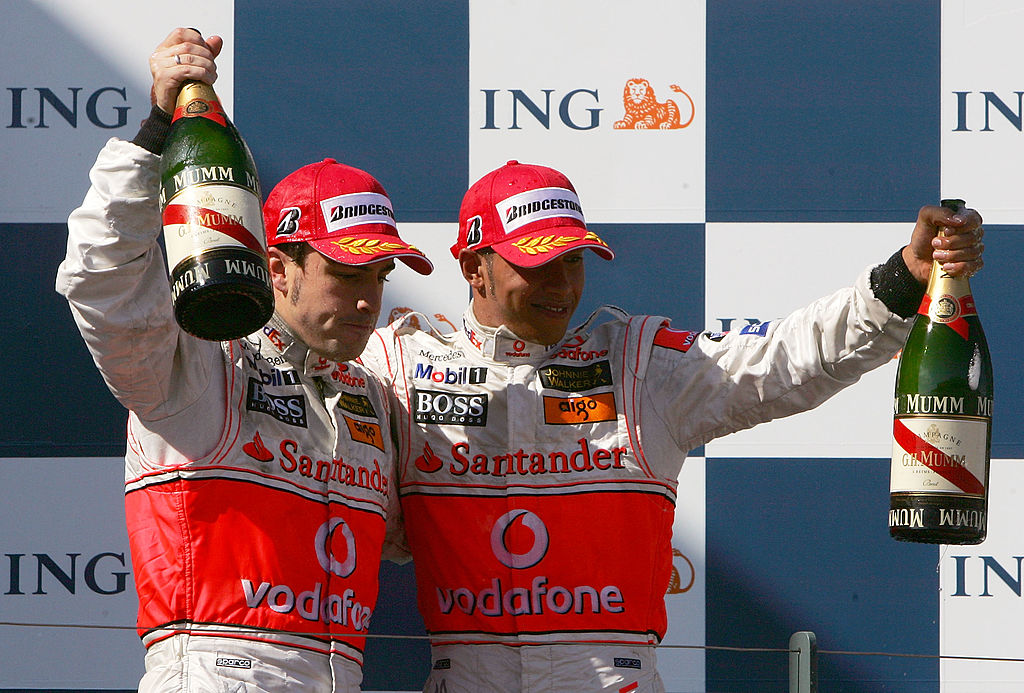 "I'm absolutely ecstatic – today's result is more than I ever dreamed of achieving on my grand prix debut," Hamilton said.
"A big thank you to the team who have worked so hard during the winter to make sure I was as prepared as I possibly could be.
"The race was intense, and I was working very hard. I made a few mistakes but nothing major and really enjoyed myself."
As stunning as Hamilton's debut display was, it was merely the start. He would be a permanent fixture on the podium for the first nine races of the year, including wins in Montreal and Indianapolis, and launched a remarkable fight for the title. And this was all against the backdrop of a bitter rivalry with Alonso that forced the latter out of the team after just a single season.
While Hamilton would fall a point short of the title in his debut season (Raikkonen won with 110 points; Alonso and Hamilton both finished on 109), his breakthrough crown would arrive the following year. A mixed period with McLaren followed before he moved to Mercedes for 2013, starting the most dominant stint of his career that included title wins in 2014 and 2015.
Hamilton is now statistically one of the greatest drivers in F1 history, having more wins than any driver except Michael Schumacher and more poles than all bar Schumacher and Ayrton Senna.
And it all started 10 years ago today.