Renault's return to Formula 1 as a works team in 2016 didn't go well – albeit about as well as expected. With the hangover of the old Lotus operation's financial problem still lingering, movement up the grid was not the goal: stability was.
With the rebuild underway at Enstone and the new technical regulations offering Renault an opportunity to improve this year, can the French manufacturer begin to clamber towards the front in 2017?
DRIVERS
27. Nico Hulkenberg (Germany)
30. Jolyon Palmer (Great Britain)
CAR
Renault R.S.17
ENGINE
Renault R.E.17
TEAM CHIEFS
Cyril Abiteboul (managing director)
Bob Bell (chief technical officer)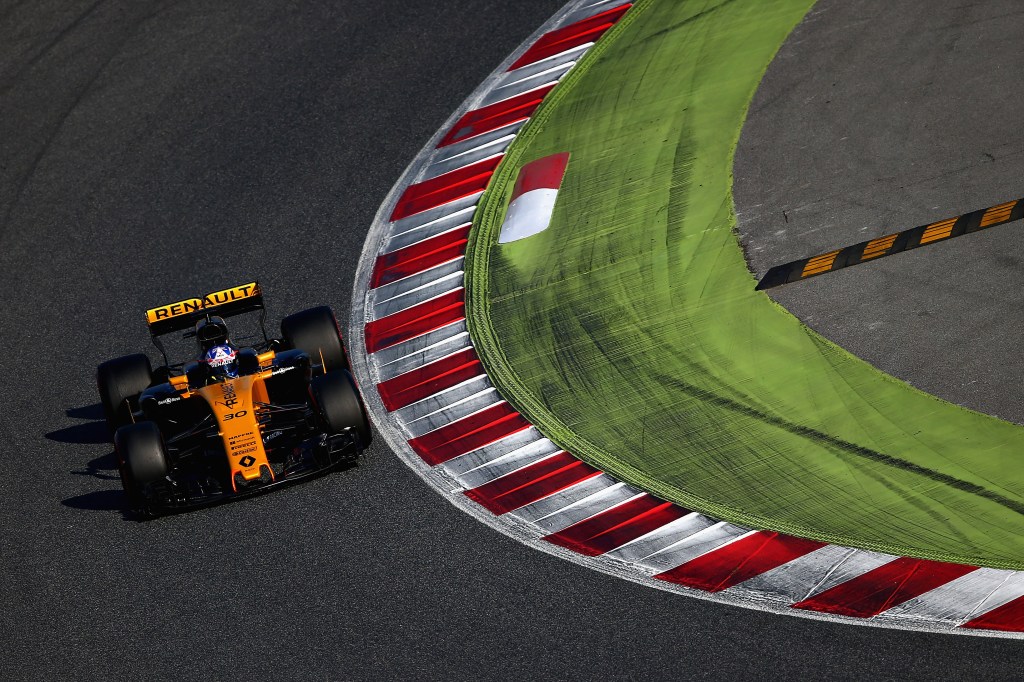 What went right in 2016: If expectations were indeed cooled for Renault's comeback season in 2016, then things weren't so bad. Given the fashion in which Lotus fell apart, for there to be any functioning F1 team at all was something. Kevin Magnussen and Jolyon Palmer regularly featured towards the back of the grid, as should have been expected given the R.S.16 was basically the 2015-spec Lotus with a few updates. Magnussen's seventh-place finish in Russia was a superb showing – but a rare highlight in a tough season.
What went wrong in 2016: First season back or not, to see a factory operation scrambling towards the back of the field never looks good. Magnussen and Palmer managed just three top-10 finishes all year long, picking up nine points to put Renault eighth in the final standings, ahead only of minnows Sauber and Manor. It was very much a year of making up the numbers.
What's changed for 2017: Quite a bit. The loss of Frederic Vasseur as team principal came as a blow to the team over the winter, but it has gone on a big recruitment drive, bolstering staff numbers. Nico Hulkenberg joins from Force India, replacing Magnussen, and will look to support Palmer, who stays on for a sophomore year despite Renault's best – but fruitless – efforts to sign a number of big names. The R.S.17 will be the first true sign of what Renault's revived works team can achieve.
What they'll look to accomplish in 2017: Despite boldly saying at the launch of the new R.S.17 car in London that it would be targeting a top-five finish in 2017, Renault may struggle to hit such lofty heights. Its test running was blighted by a number of engine issues which, despite being promised a fix for Melbourne, could harm the season ahead. This year will certainly offer progress, and Renault should target latching onto the midfield battle before perhaps making an assault on the top five in 2018.
MST PREDICTIONS
Luke Smith: Renault's return in 2016 may have been a difficult one, but things should be better this time around. It's the first real Renault effort in F1 since 2010, and it will be interesting to see just how the team gets on. Hulkenberg will need a big year to justify his move away from Force India, while Palmer needs to prove he deserves a place in F1, because his rookie year was pretty underwhelming. I don't see Renault bothering the top five this year, but should triple its points haul at least. 2018 will be the real focus for a step to the big time.
Tony DiZinno: Here's a hard one to peg. Is Renault capable of making that quantum leap into the top-five in the constructor's championship as they indicated was possible during the launch of the R.S.17? Is Nico Hulkenberg going to be free from his shadow he found behind Sergio Perez in his new role as expected team leader? Will Jolyon Palmer make gains after a solid second half of last year to become a regular points scorer? I think Renault can make some improvement this year but not four spots worth.
Kyle Lavigne: Renault Sport F1 Team experienced a rough 2016 season, scoring only three finishes in the points between Kevin Magnussen and Jolyon Palmer, with both struggling with a chassis that was difficult to drive as well a troublesome power unit. For 2017, the power unit is completely revamped, with the team saying 95 percent of it is brand new. Unsurprisingly, they've experienced some issues with it, although the chassis seems to have improved, evidenced with the third fastest time on the fourth day of testing. Nico Hulkenberg enters the team, replacing Kevin Magnussen, and will partner the incumbent Palmer. It's hard to saddle this team with lofty expectations, but a solid season would see them break into the midfield.