It wasn't just a career-best elapsed time run and a final round victory for John Force at last week's NHRA Gatornationals and Gainesville. It was also the John Force Racing team's 2,500th Funny Car round win, as well.
The full release is below:
—
John Force's Funny Car victory Sunday in the NHRA Gatornationals in Gainesville, Fla., was memorable for many reasons, including yet another milestone over the team's 40-year existence in the NHRA Mello Yello Drag Racing Series.
After winning all four rounds, and coupled with Robert Hight's first-round victory, the team achieved the 2,500-round victory threshold for Funny Cars. Force's final-round win over rookie Jonnie Lindberg sealed the deal.
JFR's first round victory was June 1, 1979, when Force defeated Tom McEwen at the Cajun Nationals in Baton Rouge, La. Force himself has accounted for just over half of those 2,500 Funny Car round victories, as he now stands at 1,269, with six round wins this season. He defeated Del Worsham, Jack Beckman, and Tommy Johnson Jr. before beating Lindberg on Sunday.
Even more impressive is that JFR's 2,500 NHRA Funny Car round wins account for more than 20 percent of wins all-time in the class.
"It was the reign of terror that started it all, with Austin Coil, Bernie Fedderly and John Medlen," Force said. "It was really about a group of guys – it wasn't about me. I just wrote the checks, but I got to drive one of the baddest hot rods on the planet. We won just about everything.
"But those days are gone now. John Force wants to stay in the game, and now we've got Robert Hight, my daughter Courtney, young Austin Prock is coming," he continued. "I'm really excited about this. We put the band back together. Mick Jagger of the Rolling Stones said life's a drag, but today, life's not a drag – it's a drag race, and we won."
Winning races and elimination rounds is one of the things John Force has done best. Overall, nine drivers have won Funny Car rounds with JFR. The total includes:
John Force 1,269
Robert Hight 375
Tony Pedregon 292
Courtney Force 134
Mike Neff 118
Gary Densham 108
Ashley Force Hood 105
Eric Medlen 95
Phil Burkart Jr. 4
Hight added to his total Sunday, besting Bob Tasca III in the first round with career-bests in time and speed, and has two round wins this season. Courtney Force won her first three rounds of the season at Pomona, making it to the final round.
"It's amazing, but what's really amazing is when you look at who has most of those wins," Hight said. "John Force's records – he's so far out in front of everybody else – it's not even achievable. With the competition level and everything else there is today, these records we keep getting will never, ever be broken. I was lucky enough to get the 200th victory for John Force Racing at Topeka (2011), and that was pretty exciting."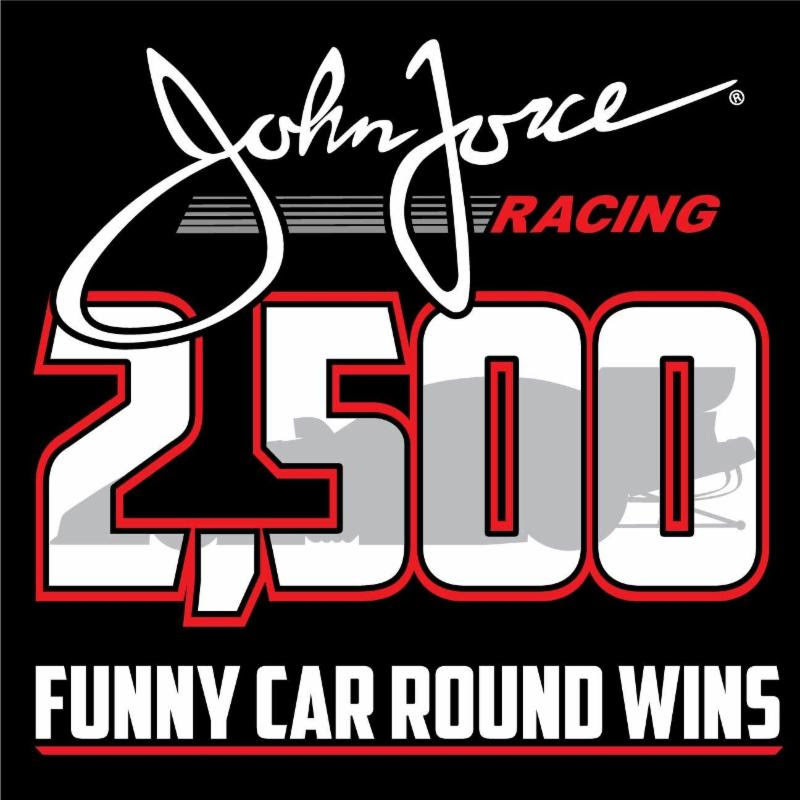 To do it at Gainesville, Hight said, was special. In the 1990s, for example, Force participated in 37 rounds out of a possible 40, and won 33 of those 40 rounds. He just kept winning … and winning … and winning.
"He's had good luck at Gainesville," Hight said. "But I take away from this that all three of our Funny Cars are running good, and we're not searching for faster cars but right where we want to be. We just need to get a little consistency. I'm just happy to be a little part of those 2,500 round wins. We have three good cars now, and we're going to get a lot more wins."
The milestone is more than just a number. It represents tireless efforts by drivers, crew chiefs, team members, fabricators, shop workers, and office staff who have worked with Force since the 1970s.
"If you look at the Tony Pedregons that drove for me, the Eric Medlens, the Gary Denshams, Robert Hight, my girls – if you go down that list, they were all part of that. It wasn't just about me," Force said. "I've done well in the sport, because I've lived it and loved it. I give 110 percent to my sponsors, never 100 percent. We overdeliver, you have to.
"With the cast of characters we have, we're going to keep hitting them with all we've got."
The team earned its 2,500th round victory across all NHRA Mello Yello Drag Racing Series classes last year. Including the team's Top Fuel dragster – piloted by Brittany Force and sponsored by Monster Energy – the team's round victory total stands at 2,593. Brittany Force added another Top Fuel round victory Sunday, and stands at 93 in her career.
The fourth round of the NHRA Mello Yello Drag Racing Series, the NHRA Nationals, is March 31-April 2 at The Strip at Las Vegas Motor Speedway in Nevada. John Force Racing has won five races at the spring race in Las Vegas, most recently with John Force running the table in 2015.