Remember when you occasionally wrote open letters requesting things in hopes they could one day come true? Here's my open letter for May, 2017, which I address to one of this country's most successful racing team owners in Chip Ganassi.
—
Dear Chip,
Hi, it's me, Tony. We've had occasional interactions as part of media roundtables in the past. I'm the young one in these sessions who could probably be misidentified as a PR type.
But because I have had some PR experience in the past, and because I like to think I'm somewhat knowledgeable about options that could try to help move the needle for the Verizon IndyCar Series, I would like to suggest a storyline that I'm sure you've thought of but never fully pulled the trigger on.
Kyle Larson. In a fifth Ganassi IndyCar this May for the 101st Indianapolis 500. Doing "The Double."
You like winners. This is one hell of a winning storyline, and thanks to Larson finally getting his first Monster Energy NASCAR Cup Series win of the season on Sunday in his home state of California, at Fontana's Auto Club Speedway, I think the door should be open for him to do so.
It's one of two big-ticket races that Chip Ganassi Racing Teams participates in that Larson hasn't done yet, the other being the 24 Hours of Le Mans. And with no disrespect to the French endurance classic this summer, Larson's not realistically going to bring as much potential buzz there as he would for a race that needs another spark or big-time storyline this year.
But Indy? Indy needs Larson. And it needs something that will enhance the storylines that are on the verge of happening this year, which are great inside the largely Indiana-heavy bubble of IndyCar observers and fandom, but don't really penetrate the national sphere beyond that.
Larson is at the phase in his NASCAR career where he's just now entering that potential stratosphere – he's finished first, second or third in six of the last seven races, and the only time he didn't was when he was leading the Daytona 500 but ran out of fuel on the final lap.
Like Kurt Busch in 2014, he's got a win early in the season, which also will guarantee his spot in the NASCAR playoffs provided he makes an attempt to start every race (or even if he doesn't, as there have been occasional exemptions the last couple years) and stays in the top-30 in points. Considering he's leading the points right now, he should be fine there. With a win, he can afford to have one or two off weekends results-wise… even if the prospect of him doing the "double" with the Indianapolis 500 and Coca-Cola 600 on the same day means he could still star in both.
Larson is also used to the frenetic travel schedule of racing in one place one day, another place the next day, so on and so forth from his short-track days. It's how he entered the NASCAR radar to begin with and why he entered with as much hype as he did. You already have a partnership with Cessna; getting Larson to-and-from Indianapolis and Charlotte from a logistics standpoint could be organized.
And here's the thing that's really exciting to think about – Larson is an absolute animal in cars with low downforce. It's part of why he's succeeded as much as he has in NASCAR this year, as the package has changed to a primary low downforce setup.
You need to have some downforce in an IndyCar, particularly at Indianapolis, but the prospect of Larson hanging out an IndyCar planted – or sideways – at 230-plus mph is utterly tantalizing. How much would Larson dare to trim out? We can only dream.
He's won races for you in other series before. Beating a field of sports car full-timers at the Rolex 24 at Daytona meant he had to do at least three or four hours of drive-time, if not more, to help carry a car to victory which he did with Scott Dixon, Tony Kanaan and Jamie McMurray in 2015. So he already knows the fabric of what it's like to work with Dixon and Kanaan.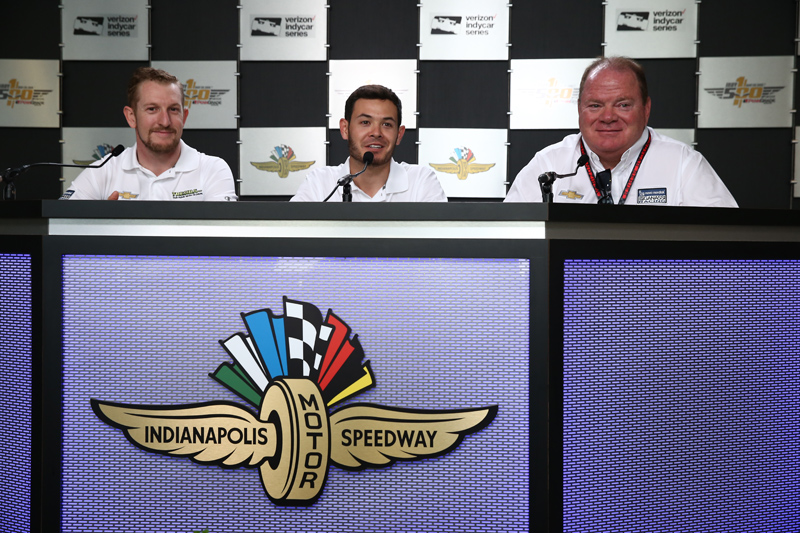 He made a cameo appearance last year on a practice day when Charlie Kimball changed his number from 83 to Larson's NASCAR number of 42 to go along with a promotion for his partner, Tresiba. It was a fun story, but it wasn't nearly as big as if it had been Larson in a 42 car in May. Here's what Larson said at the time.
"I would love to. I was always a big Indianapolis fan growing up. I think mainly because my dad is a huge Indianapolis 500 and IndyCar fan.
"To me, I think this is the biggest race in the world by far. Yeah, I would love to race it someday, you know, be driving for Chip Ganassi Racing. He's got so many different types of vehicles, you hopefully get the opportunity to run someday.
"Been lucky enough to run in the Rolex 24-hour race and win that. It would be incredible just to start the 500 someday in my future. But it's more up to the guy to my left than me.
"He's been a great car owner for me. Hopefully someday, after I win a Cup race, two, or three, a championship, I can run the Indianapolis 500."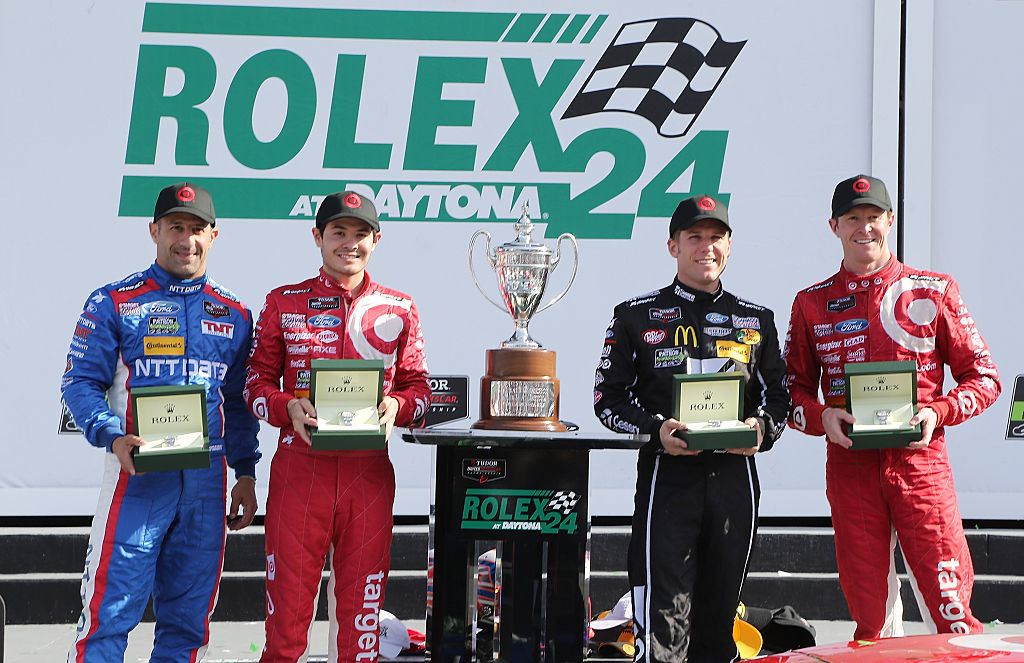 Since the time of that quote, May 16, 2016, Larson's won two Cup races – one last year at Michigan and now one yesterday in Fontana. He could and should well be a championship contender this year.
Here's where we get to the important part of the pitch though: the commercial value in the deal. And the reason you're as successful as you are is that you're good at business, for your partners.
I can tell you it's not good for business that we've talked and written ad nauseum about Scott Dixon – one of the greatest drivers of his generation – not having a full-time sponsor announced yet to replace Target, which left the IndyCar side of the program at the end of 2016 after supporting your team for 27 years. In your words at Mid-Ohio last year, Target was the "greatest sponsor ever." But yet here Dixon's been in a plain white car, which quoting the POTUS if I may, is "Sad!"
Could Target be convinced to come back for one more 'go-round at Indianapolis, with a car that we expect is going to be a better fit for the 2.5-mile Speedway with the Honda aero kit and engine than it was last year with your competitor?
Or could Cessna, which hasn't had its own primary sponsorship effort in an Indianapolis 500, be persuaded to step up as a natural primary backer of an effort that will require many Cessna air miles to make it happen?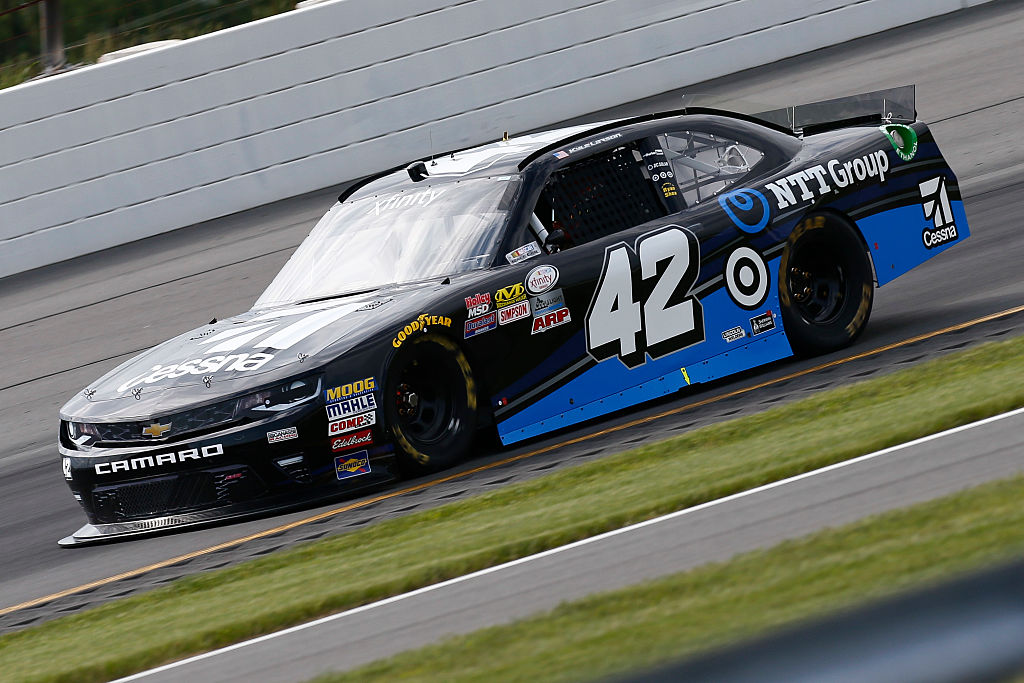 You're already very good at navigating the field to where you can run Hondas in IndyCar, Chevrolets in NASCAR and Fords in sports cars. I don't know how you do it but I'm impressed that you can maintain successful relationships with the manufacturers that allows you to pull this off.
Since Busch ran a Honda in his 2014 Indianapolis 500 outing and a Chevrolet in NASCAR, the driver/manufacturer crossover has been successfully navigated once before. That Rolex 24 win in 2015? That was in a Ford… and Larson drives a Chevrolet in NASCAR, so he's worn different manufacturer gear in the past as well.
And Honda will likely need to run 18 cars to make up the field of 33 this year. You can tentatively pencil in 17 of those 18 cars, but one of the existing teams is almost guaranteed to have to add an extra car in order to ensure there's enough entries.
You've got the crew from your sports car program – your team ran a fifth car as recently as two years ago for Sebastian Saavedra alongside the full-time four. Many of that crew came from the IndyCar side to begin with. Brad Goldberg could engineer the thing because he's helped Kimball to success in the past, including his lone IndyCar race win.
And with no disrespect to Saavedra, Larson would be better for the overall business and buzz of the race.
You guys won this year's Rolex 24 at Daytona for Ford, after having won Le Mans in June, which completed a back-to-back sweep of 24-hour races.
But because a certain old "retired" driver won in a Cadillac, and that overshadowed his own co-drivers, the Ganassi/Ford win at Daytona didn't generate as much ink as it could have.
You like winners. I like writing about winning storylines.
Larson's stock and availability given the factors at play isn't likely to be as high as it is now to run an extra car for this year's Indianapolis 500.
Michael Andretti and Roger Penske can't generate all the attention at Indianapolis this May, Andretti as the defending champion owner and Mr. Penske with five cars for the first time.
They both will be running five cars. Why not you, as well, to match?
If you can make it happen, Chip, it might be the biggest win IndyCar gets this season.
Yours sincerely,
TDZ