Cadillac and Wayne Taylor Racing will get a lot of the accolades for completing the "36 Hours of Florida" sweep to kick off the IMSA WeatherTech SportsCar Championship season.
But another team did so as well, with a less likely cast of characters and after two flawless runs of their own: Brent O'Neill's Performance Tech Motorsports.
O'Neill took a stab at young talent, all of whom have full pro level potential but not full pro level experience yet at the top flight of endurance sports car racing. In James French (24 years old), Pato O'Ward (17), Kyle Masson (19) and Nick Boulle (27), O'Neill had a quartet of young drivers with a combined three Rolex 24 at Daytona starts. What followed was a flawless drive under the miserable conditions en route to deserved win in the Prototype Challenge class.
What better way to follow it up, then, with a second straight star turn at the Mobil 1 Twelve Hours of Sebring? French, O'Ward and Masson pulled off the back-to-back effort themselves after a second successive brilliant run, this time finishing fifth overall.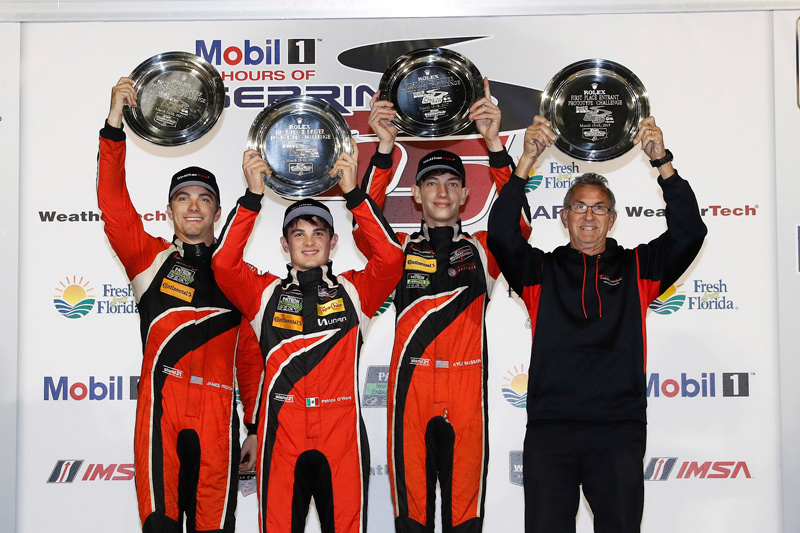 Of the trio, Masson was the busiest at Sebring, and for good reason. The 19-year-old out of Windermere, Fla. was also starting his season in IMSA's Prototype Challenge Presented by Mazda series competition this weekend, also with Performance Tech, in the formerly L1 but now MPC class with the venerable, Elan DP02 open-top prototype (we're trying to make this as least confusing as possible).
This meant he had three races to run at Sebring in one weekend, in two entirely different open-top cars, in two different multi-class series.
And all Masson did was go three-for-three in winning them all, sweeping the pair of MPC races before joining his teammates in the PC class in the big show to complete the Daytona to Sebring double.
As the younger Masson explained, keeping both cars straight was a challenge he had to master.
"Because everything was under the same tent, the time management wasn't that difficult," Masson told NBC Sports. "We entered with the focus of me winning the (MPC) races. The PC car, I could figure out in the race. The Lites was more on edge, and I had to push and figure it out.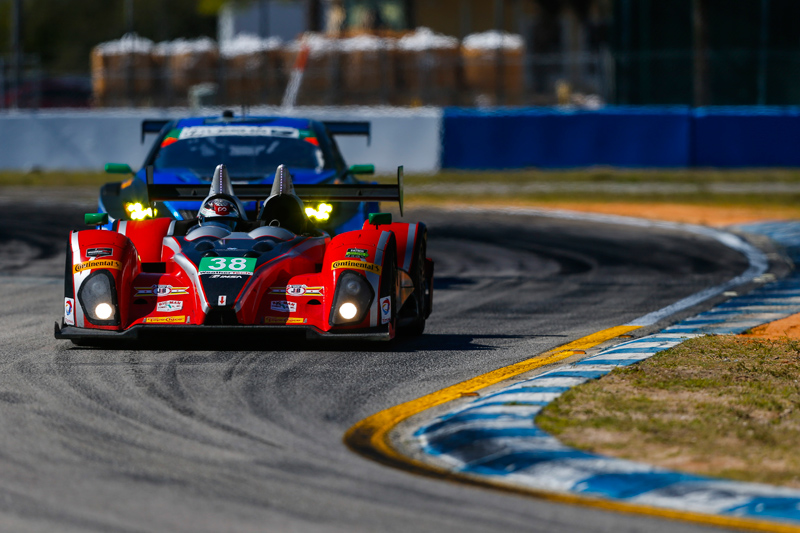 "The biggest difficulty I had was going back and forth from the Lites (MPC) to the PC car, totally different styles. They don't drive similarly at all. The (Lites) car is so planted, it's so physical, you have the muscle it. The PC car is delicate, twitchy, with power steering. When you're going back and forth, it becomes tainted with elements of the other! I was learning how to re-drive the car in middle of the (Lites) races."
There was another element that made the MPC races difficult to master. IMSA has adjusted the former Prototype Lites series to now add LMP3 chassis, which is a separate class from the MPC class, the former top class of the prototype development series when it was called L1. Because the cars have speed in different areas, Masson had to figure out how to race the new cars without them compromising his own race.
"The P3 cars had more speed on the straights and that made it more difficult to pass," he explained. "A P3 car had held me off for a couple laps, would block in the corners and pull away on the straight. That pushed me into the JDC entry in MPC and kept us together to battle and fight. The two classes combined are a bit hectic, but we'll learn how it goes."
Masson had to learn Daytona from the Roar Before the Rolex 24 while at Sebring, he estimated he had more than 1,000 laps at the track a couple hours south of Orlando. For a driver who's only been competing for two and a half years since graduating from Skip Barber, it's already become a track he's learned to master. That track experience made it easier, if not outright easy, to switch between the two cars.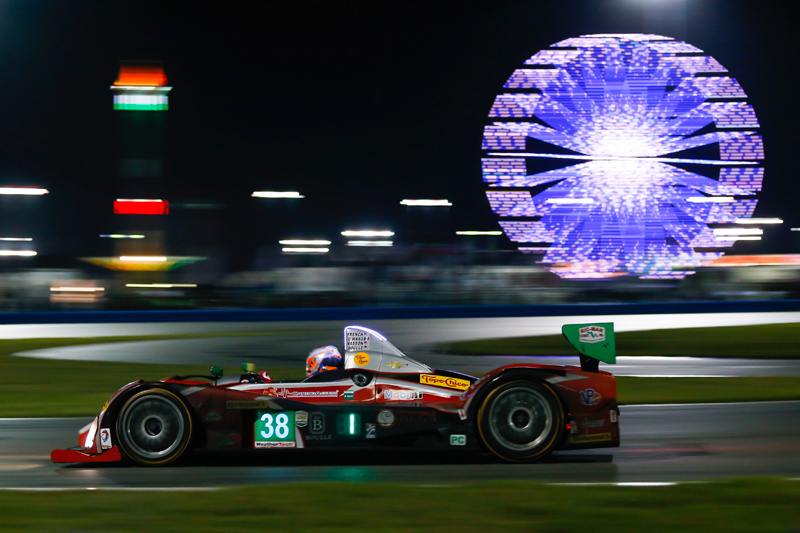 The weather differences between Daytona and Sebring's races could not have been wider apart, either. Daytona was rain-drenched with ambient temperatures barely above 40 degrees; Sebring, sunny in the 70s on race day, actually made it a bonus to be in the venerable open-top cars rather than a hindrance as it was in Daytona.
"Daytona was absolutely miserable. I was freezing… I think I got out with hypothermia!" Masson laughed. "But Sebring, with the cooler air, the open-top and dry weather, allowed us to stay cool in the car."
Masson and O'Ward were the two young proteges under French, the 24-year-old out of Sheboygan, Wis. who has evolved into Performance Tech's undisputed team leader and lead driver the last couple seasons.
Masson and O'Ward gelled from the off having been teammates with Performance Tech in the Elan MPC cars last year at Sebring, and reconnected at the all-Mazda combined Mazda Road to Indy and Mazda Road to 24 weekend at Mazda Raceway Laguna Seca last September. It became natural to be paired up with French, who Masson said has been an invaluable coach and resource.
"It was a daunting task stepping up. I was extremely nervous," Masson admitted. "I know how to drive a car and use the clutch, but hopping into the PC car felt foreign. I knew almost nothing at the Roar. It was such a big jump that it felt like something I hadn't done before.
"But James was a mentor. I always looked up to him. He was like an idol to me! He's helping coach me along. He helps stay calm, cool and collected. He has the experience but we're really close friends."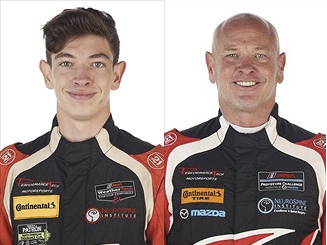 Family is a big word around both the Masson name and the Performance Tech team. Masson's dad, Robert, is a neurosurgeon… who is also Kyle's teammate with Performance Tech in the MPC class this season.
Meanwhile O'Neill's team is a true privateer effort; the Deerfield Beach, Fla.-squad has a family atmosphere that drivers who've been there have hailed before going onto other programs. Prior to his graduation to Mazda's factory prototype team, Tristan Nunez raced here.
"They are an amazing group of guys," Masson said. "I only got into racing 2.5 years ago, fresh out of Skip Barber, and there's so many paths and roads to go down. I could have gone down the Road to Indy or the Road to 24, because there's so many teams and options. I was so lucky to meet up with Brent and Performance Tech.
"They will always be family to me now. They will be always my first family. They're always there for me. They care so much. They want to win races so badly. The performance matters.. it's so serious and you know they won't sacrifice an ounce. It's a great environment."
At 19, there's no knowing how high Masson's career might rise. He's already got a Rolex watch and a Sebring trophy under his belt… and this is in the off time when he's not studying for a double major in business and finance at the University of Central Florida.
But there's already a confidence there that this is just the start of great things to come for the rest of his burgeoning career.
"I had a feeling signing up for this that if everything went well, we could dominate," he said. "We're so consistent. Realistically, we are a team without any 'am' drivers, lap-time wise. We're all running 'pro' times. We're all up there on the sheet. Having that as a cushion, we don't need to push to our limit, which keeps the car to its limit. Having that as a team in endurance racing is a big advantage.
"Since it's my second year in these cars, my confidence has skyrocketed. Now I know how to push myself to my limit and get the most out of the car. Last year, for the JDC guys (Austin Versteeg, Clark Toppe) it was their second year and my first year in any real car on slicks.
"Now it's a completely different story. I picked up a lot of new skills. I'm able to translate that and put it all together as best I can, thanks to the people around me."