In 2012, things were different in the world of the Verizon IndyCar Series when the Toyota Grand Prix of Long Beach date arrived on the calendar.
Among other notable differences, the series title sponsor was IZOD, not Verizon. Randy Bernard was still at the helm of the series. NBCSN had only just changed to the NBC Sports Network after being Versus prior to that. The Dallara DW12 chassis had only just premiered. Chevrolet and Lotus had entered in as engine manufacturers. Dario Franchitti was in search of his fourth consecutive series title. Rubens Barrichello had arrived from Formula 1, and the series had two full-time female drivers in Simona de Silvestro and Katherine Legge.
And a then-unheralded 21-year-old rookie out of Hendersonville, Tenn. named Josef Newgarden – the Indy Lights champion whose name was known only to the select few diehard super fans or insiders at the time – was about to make his first stamp on the series. This was five years before the realization he might become a Team Penske driver ever occurred.
A regulation at the time meant that if a car changed engines before the race, it would incur a 10-spot grid penalty. The Chevrolet teams all swapped their engines before the race, creating a grid that was vastly different from the qualifying order.
What that meant was Franchitti, who'd qualified fourth and Newgarden, who'd qualified seventh, would leap frog onto the front row for Sunday's race.
Franchitti, 38 at the time and Newgarden, 17 years his junior at 21, represented the polar opposites of the birth spectrum on the grid or close. Franchitti was – and still is – one of IndyCar's biggest stars and a driver that is among the best of his generation. Newgarden has the potential to be there with time, but again, at that time, almost no one knew who he was.
It made for a perfect opportunity to premiere an off-the-wall video called "Newgarden Incognito," where Newgarden went undercover to talk to fans to ask them who their favorite driver was and if they'd ever heard of a driver named Josef Newgarden.
It was perhaps no surprise that Franchitti got the plaudits as the most commonly mentioned favorite driver while Newgarden received a lot of quizzical looks.
"It's crazy looking back now and how things have changed," Newgarden told NBC Sports. "The incognito stuff was fun because no one knew who I was… I might be able to get away with it again, now. A lot of folks come to Long Beach race. They're here to look at race cars. If I wanted, I could probably do another video to rehash it! Now though, being in a Penske car, and having a sixth chance to run at Long Beach, is incredible."
And then the green flag dropped on Sunday, and Newgarden made one of the ballsier moves in recent memory on a driver who is a historian of the sport and would know how to play the move correctly.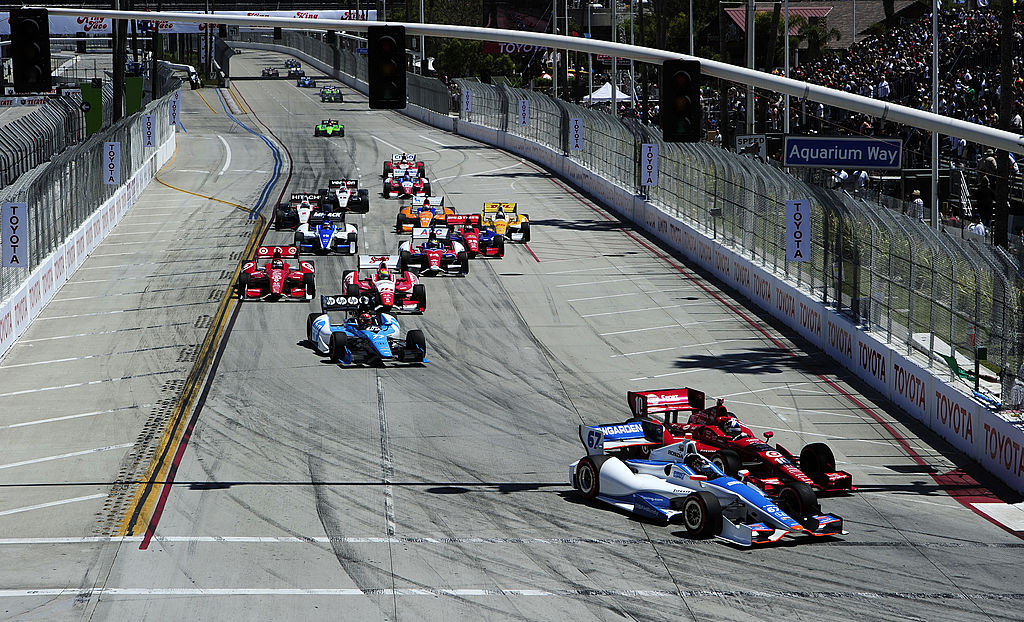 Newgarden attempted a pass for the lead around the outside of Franchitti on the run to Turn 1. Going into the corner though, Franchitti was cagey enough to have left enough room to tempt Newgarden – the rookie in only his third start – to go for it.
Newgarden promptly got in the marbles and crashed into the wall. He'd finish 26th and last; Franchitti eventually retired with a gearbox failure and ended 15th.
But five years on, as Newgarden is now the widely considered face of IndyCar's next generation and one of its key drivers in its season-long 'NEXT' marketing campaign, the daring attempt performed that day still lives on as a key moment in his career.
"With Dario, I learned that as a rookie, Dario wouldn't be happy about someone doing that type of move," Newgarden said. "It was a mistake in how I analyzed it. But that was OK. I have no regrets on doing that move. It was probably the wrong thing."
So, chalk Long Beach 2012 up as the weekend where Newgarden properly "arrived" on the series, via his first quirky video and his first serious passing attempt of note.
Two years later though, a more refined Newgarden was in the midst of his best weekend yet in the series, in his third year of his rookie contract with Sarah Fisher Hartman Racing.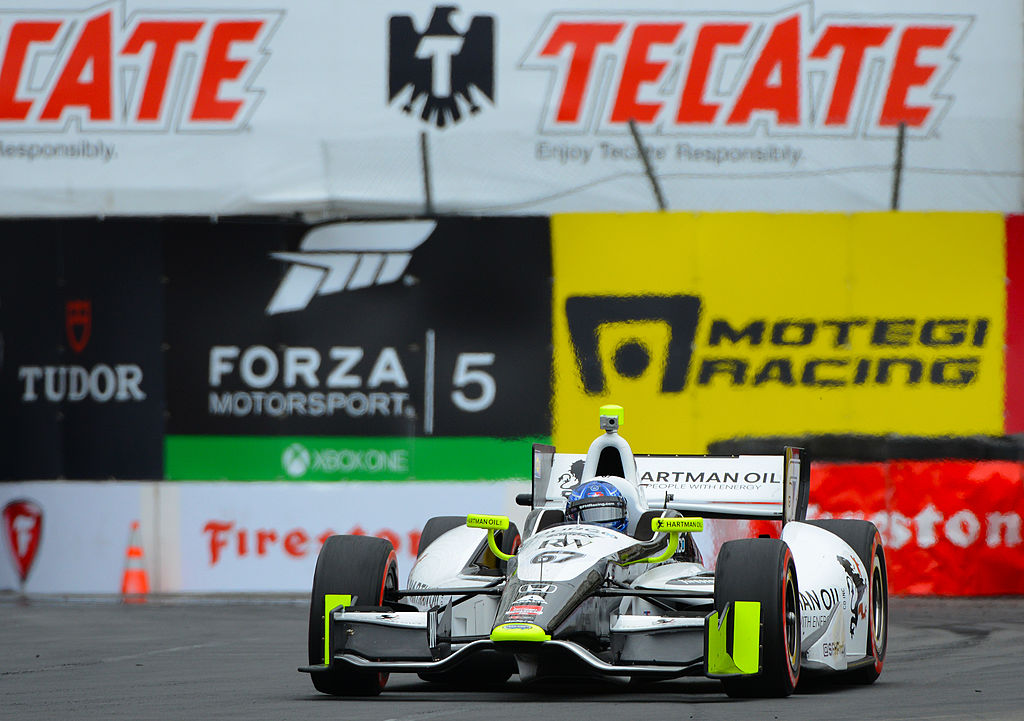 He'd qualified fourth and was in the lead battle with Andretti Autosport teammates Ryan Hunter-Reay and James Hinchcliffe. Once Newgarden emerged from the pits in front on his last scheduled stop, his potential first win was right there for the taking.
Yet Hunter-Reay saw an opening at a spot on the 1.968-mile street course where passes rarely occur successfully, Turn 4, and promptly speared Newgarden which took them both – and innocent bystander Hinchcliffe – all out of the race. These three drivers had started in the top four; none would see the checkered flag.
"The Hunter-Reay deal was more unfortunate for everyone involved," Newgarden reflected. "It's hard to put the blame anywhere. It's hard racing at the wrong point of the track. It ended up being a bad break. We've been close here."
Those two DNFs stand out more in Newgarden's Long Beach career more than his other nondescript results of seventh, 10th and 13th.
For a driver who's been good, if not great on street courses thus far in his career, coming to Long Beach with Team Penske presents him his best chance yet at being the story line here for a different reason.
The magnitude of this race stands out and it's one Newgarden would like to have a better weekend at in his No. 2 Verizon Team Penske Chevrolet.
"Once you go for the first time, you gain an appreciation for the atmosphere around Long Beach. Indy we all rave about, but it's something you have to go and see here," he explained. "It's such a spectacle. For street course racing, you get that atmosphere in a different way. It's kind of rare. The atmosphere draws me in. It's my favorite street course we go to from a layout standpoint. It has a lot of high-speed corners for street courses.
"It's been a tough place for me! We've always found speed around Long Beach. I know we'll have that. So this year, it's just a matter of getting it done."
And winning here for Penske, or getting a result higher than seventh, will help to avoid the "Incognito" memories from coming back once more.