To say that Andretti Autosport struggled at last year's Toyota Grand Prix of Long Beach would be an understatement. Carlos Munoz was the only driver from their camp to qualify in the top ten (Ryan Hunter-Reay was 11th, Alexander Rossi 16th, and Marco Andretti 21st). Things only got worse on race day when Munoz could do no better than 11th, while Hunter-Reay faded way back to 18th. Andretti and Rossi ended the day 19th and 20th to cap what was a miserable weekend for the Michael Andretti-led squad.
What became apparent as the season progressed was that the Long Beach performance wasn't much of a fluke. While they secured the occasional strong result on street courses, they remained a bugaboo for the entire team as they struggled to get their setups to handle the notoriously bumpy circuits.
Fast forward to 2017 and things look much better for the Andretti outfit. Ryan Hunter-Reay rebounded from a tough weekend at the Firestone Grand Prix of St. Petersburg to finish fourth, just ahead of teammate Takuma Sato, while Marco Andretti drove well to finish seventh. An untimely caution hurt the strategy for Alexander Rossi, who finished 11th, but an eighth-place qualifying effort demonstrated a vast improvement in overall speed for him.
The Toyota Grand Prix of Long Beach (today, 4 p.m. ET, NBCSN) is serving more proof that the Andretti team has regained their mojo on street courses. Although Takuma Sato languished back in 18th, both Hunter-Reay (third) and Rossi (fifth) qualified in the Firestone Fast Six, while Marco Andretti made it three Andretti cars in the top ten by qualifying tenth.
Hunter-Reay emphasized the sense of relief he feels with the knowledge that last year's problems appear to be gone. "This is just nice after the season that we had last year, on street courses, for us to come back," he said in the post-qualifying press conference. " (We) worked really hard in the offseason to take a new direction, all new angle at street courses to be strong at St. Pete, come here to Long Beach, it's nice again."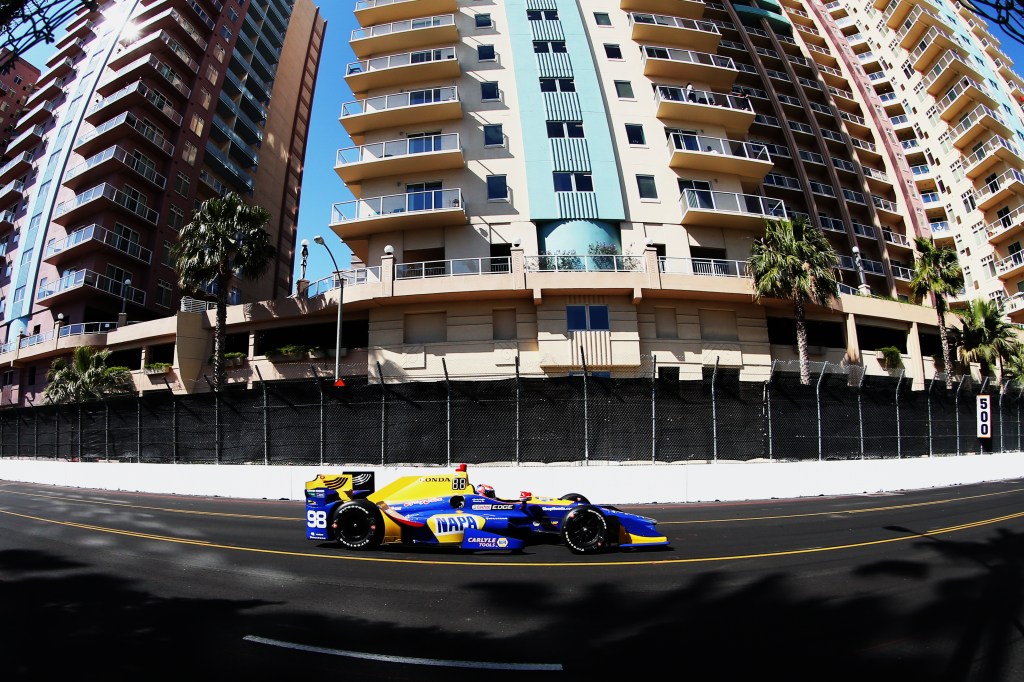 Rossi echoed similar sentiments, further complimenting the efforts of the entire organization. "I think the turnaround that we as a team at Andretti have had since last year has been pretty unbelievable, especially (at Long Beach)," he asserted. "Huge credit to them, the belief they had in the offseason they were going to resolve the issues. That's very cool to see and be a part of."
Hunter-Reay also emphasized Honda's engine developments have also been critical to the team's uptick in form. "Honda has done a great job working over the offseason. We've been stepping up through specs. Each introduction of the next engine spec has been sometimes a small improvement, sometimes a chunk. It's definitely made a difference," he explained.
The former champion and Indy 500 winner also credited engineering additions, such as Eric Bretzman and Jeremy Milless. And, while he knows it's still very early in the season, he added that it's always nice to start off on the right foot. "The entire team has done a really good job, with Eric coming on, Jeremy, Alexander's engineer. All of us really working together in the same direction has been beneficial so far. Early days still. We've only been to St. Pete. We just qualified for the second round of the season. Long way to go. I really won't say much other than that. It's a good start."