LONG BEACH, Calif. – The gold rush that lives in California historical lore occurred up the coast in San Francisco, but it came a few hours south this weekend to Long Beach.
Because there was a pot of gold at the end of the rainbow for James Hinchcliffe and his gold and black No. 5 Arrow Electronics Schmidt Peterson Motorsports Honda team, who won Sunday at Long Beach, to provide the second great story line to emerge to kick off the 2017 Verizon IndyCar Series season.
The team's street course program has improved by leaps and bounds in Hinchcliffe's three seasons with the team, and you only need to look at the qualifying improvements at St. Petersburg and Long Beach from 2015 to 2017 to note the tweaks.
At St. Pete, Hinchcliffe has improved from 16th in 2015 to eighth last year to third this year. Long Beach is similar; 13th in 2015 to seventh last year to now fourth this year.
The crew led by engineer Allen McDonald – a setup wizard whose nickname is "Squirrel" – and Hinchcliffe's strategist Robert Gue have helped propel the No. 5 car forward, back to regularly threatening the leaders as they did when Simon Pagenaud was their lead driver from 2012 to 2014. McDonald even jumped in the water behind the pit lane after the race Sunday night to pay off a pre-race bet.
A two-stop strategy call was key to Hinchcliffe's victory Sunday, but he still needed the pace over the stints while saving fuel to be able to pull it off.
"Yeah, it's always a tough call here, you know, because one caution falling at the right time or the right length of laps can throw everything for a loop," Hinchcliffe said post-race.
"You know, when (Scott) Dixon dove into the pits there, kind of predicting the yellow coming up for whoever was off in Turn 8, for Marco (Andretti), a smart move. It didn't pay off, but especially after what we saw in St. Pete, they're protecting against that. It was kind of a good idea.
"At that point now you're second-guessing, maybe did we do the wrong thing. Luckily it played into our favor. When those cautions fell at the end, I thought a caution was going to ruin my day. Luckily we had the car to hold them off."
Hinchcliffe was caught out on the wrong end of that in St. Petersburg, where he led 21 laps but was trapped when the yellow flew. He ultimately ended in ninth.
Today though was all about the comeback, and the story line of the guy who entered the national consciousness again via his fun and entertaining run on "Dancing with the Stars" going one spot better, and doing so in the Los Angeles market.
And that inevitably brings back the whole comeback story to the fore once again, from his accident in practice in 2015 before the Indianapolis 500 that then sidelined him for the rest of the year. It's been told repeatedly in the now two years since, but this was still a case of "completing the comeback" as it was.
"I mean, last year the (Indianapolis 500) pole was a unique set of circumstances, return to the scene of the crime, so to speak. To do what we did there, what we accomplished as a team, all throughout the entire month, but especially on qualifying day, was huge.
"This does feel different. I feel like we're back. I feel like we've been back for a while now. To finally do what was goal number one when we set out at the start of the season, to get back into winner's circle, to do as as early in the season as we have, as convincingly as we did, it was a great race."
The win is Hinchcliffe's second for SPM, the first for both himself and the team since NOLA Motorsports Park in 2015, one of the goofiest races in recent memory. He pitted on Lap 13 in an ultimately rain-shortened, 47-lap, one-off race thanks to Gue's strategic call, and while he appreciated that win, he explained why this one feels so much better.
"I mean, winning like this means so much more than wins like NOLA. At the same time you take wins like NOLA because I've lost way more races because of situations like that than I've won," he said.
"When I watched the race in NOLA afterwards, I thought, Man, celebrating a little bit too much for a guy that pitted on lap 13 and won the race somehow, you know.
"But you got to take 'em. This series is so competitive. Like I said, we got a lot of wins ripped away from us for a lot less weird circumstances, you know, so…
"As much as winning is nice, everything it like this definitely feels a lot better."
Putting aside his celebrity value, Hinchcliffe and Long Beach have had a torrid love affair from the track being so good to him in his career anyway.
He got his first ever Atlantics podium here in 2006. He won his first Indy Lights race here in 2010. He got his first IndyCar top-five with fourth in 2011, and his first IndyCar podium with third a year later in 2012.
In 2014 he was so close to a possible victory before getting taken out by Ryan Hunter-Reay at Turn 4, when the two were Andretti Autosport teammates.
He would have had to hold back Hunter-Reay Sunday, before Hunter-Reay's car seized up with an electrical issue he determined was the same one that cost him a likely win at Pocono.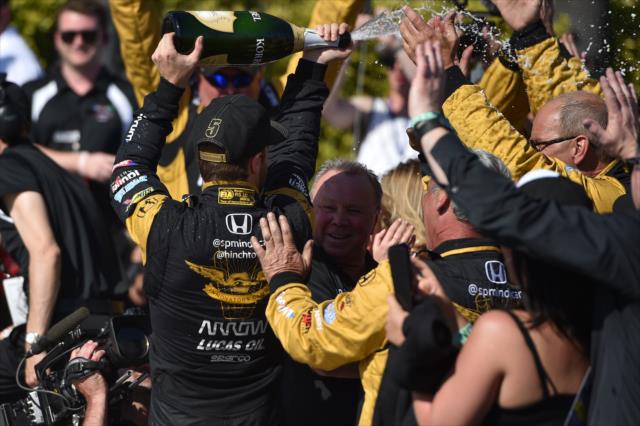 So winning at IndyCar's second "major" – the most prestigious event on the calendar other than the Indianapolis 500 and the biggest road or street race on the calendar – was always going to mean a lot to him. The fifth win also sees him tie his countryman and hero, the late Greg Moore, with career wins.
"If someone told me after NOLA last year that five wins was the number Greg had, the number Jacques Villeneuve had, and I believe the number Patrick Carpentier had. Only PT is higher than that in the list of Canadians in in Indy car racing. To drive at a level with those guys, I mean, it's tough to put into words," he said.
"Greg was a huge motivation and a huge inspiration to me as a child. I followed Jacques' career religiously. When Pat and Greg were teammates, followed Pat as well, to now be level with those guys is incredible.
"You know what, when I came into this sport, I felt a huge responsibility, to be honest, to keep up the good name that Canadian drivers had in Indy car. There haven't been a ton of us. The ones that have been here have been race winners, they've been contenders week in and week out. I wanted to maintain that, you know, record for Canada, not be the guy that let us down."
And about the Long Beach prestige?
"To do it here and finally at this place, a track that I love so much, a track that's been very good to me in my career, one that I think is the Indy 500 of street tracks, it's the second longest running race after the 500.
"I think because of that history, it makes it a very special event, one that every driver wants to win. The greats have all raced here, the greats have all won here. To get in the winner's circle was huge."
A classic Hinchcliffe deadpan summed it all up:
"Well, you put your face in the ground when you win, which is amazing. Who wouldn't want that?"