LONG BEACH, Calif. – Two drivers, Bryan Sellers and Ryan Dalziel, have histories at the Toyota Grand Prix of Long Beach dating to 2002. Dalziel made his first U.S. start in Atlantics there in 2002 but crashed out on the first lap. Sellers, who'd debut in Atlantics a year later in 2003, then scored his first podium of his career there in his first Long Beach start in 2004 – a race Dalziel happened to win.
Since their respective debuts more than a decade ago, they've been busy in-and-out of various series and cars but have carved successful sports car careers. And this weekend, they were the two busiest drivers of the weekend split between the IMSA WeatherTech SportsCar Championship and Pirelli World Challenge races, with both drivers pulling "double duty" racing in both marquee series.
Sellers was split between the No. 48 Paul Miller Racing Lamborghini Huracán GT3 in IMSA's GT Daytona class and the No. 6 K-PAX Racing McLaren 650S GT3 in PWC's GT class. For Dalziel, it was the No. 2 Tequila Patron ESM Nissan Onroak DPi in IMSA's Prototype class and the No. 2 CRP Racing Mercedes-AMG GT3 in PWC GT.
And for both drivers, they were in and out of luck this weekend because wins were possible but instead they were each left to settle with podium finishes shy of the ultimate top step.
IMSA RACE
In Saturday's 100-minute BUBBA burger Sports Car Grand Prix, Sellers captured his and the PMR team's third pole with the Lamborghini in GTD, while Dalziel's teammate Scott Sharp qualified sixth in class.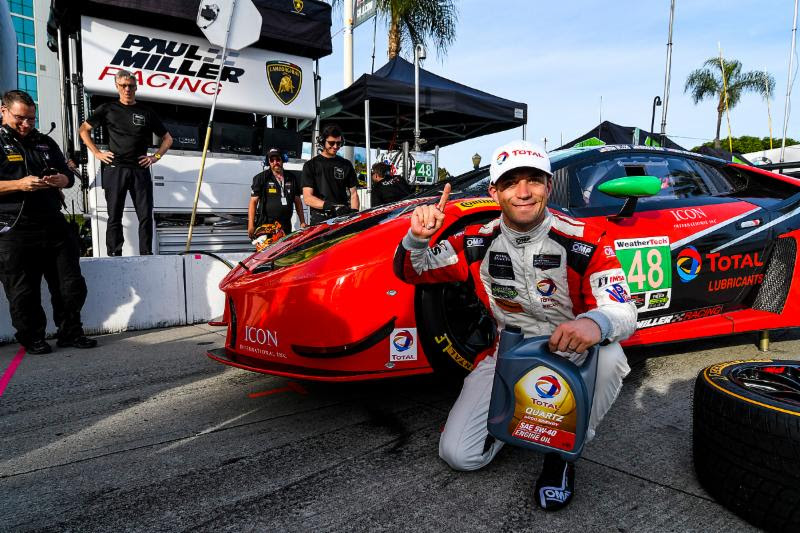 A strategy gamble saw Sharp get out early and hand over to Dalziel. The way the cautions and pit stops worked out, the GTLM and GTD cars were ahead of the faster Prototypes on the road because all cars were on the same lead lap, and that meant Dalziel restarted 19th on the road with just under 40 minutes remaining, and would need to pass all those GT cars for position to get to the overall lead.
You can live by the traffic but you can also die by it, and in Dalziel's case, that's what happened to him. Despite the Scot stealthily scything through it to get to the overall lead with less than 20 minutes to go, it was in the final 10 minutes when lapping more traffic that a surefire win went away.
Dalziel was trying to hold back Jordan Taylor's No. 10 Konica Minolta Cadillac DPi-V.R, but then came upon Wolf Henzler's No. 991 TRG Porsche 911 GT3 R and Sage Karam's No. 14 3GT Racing Lexus RC F GT3. Karam and Henzler were battling for a top-five position in class and to not get lapped, but whereas Andy Lally in his No. 93 Michael Shank Racing Acura NSX GT3 made it easy for Dalziel and Taylor to get past, the two blue cars run by Kevin Buckler and Paul Gentilozzi just ahead were not.
While it was fair to expect Henzler and Karam to scrap over the position, it was unfortunate timing it occurred directly in front of Dalziel. Karam and Henzler both moved right on the straight, with Henzler then moving back left a split second later, and that forced Dalziel to the wall in a three-wide position. That created a draft for Taylor, who saw Dalziel's getting boxed in as his opportunity and seized it. Taylor drafted Dalziel around the outside past the two GT cars, then shifted to his outside to complete the pass going into Turn 1 – all while braking later in the process.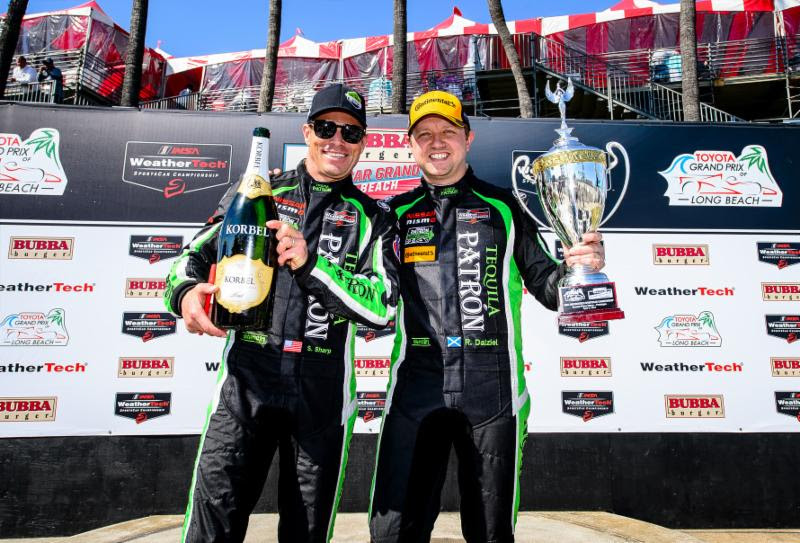 Yes, Dalziel and Sharp had a season-best second place after a rough Sebring where both that car and the No. 22 car both failed to finish, but this second was a bitter pill to swallow for the entirety of the Erin Gahagan-managed team.
"If we came in this weekend thinking we were going to lead laps, be competitive and finish second, we would have been thrilled. But to have led so many laps, see how strong we were, and just get ruined by lapped cars driving like morons is frustrating. We did everything we could do," Dalziel lamented. "I'm beyond gutted on the inside. I thought for sure we had it in the bag. Our strategy was to turn the car out, go in a straight line. It was perfect until I came up to a couple of guys, maybe not looking in their mirrors.
"I had a lot of fun, there was one part we got clear of everyone. and I took a tenth and I felt like the gap was getting better. Then as the runs went long, it was a quick car. Then we came up on the gaggle of cars and my smile turned into a frown. There were plenty of race moments where things went well for me and bad for Jordan, but not always. I hit the brakes, went one way, it was the same as the GTD car. I tried to go the other way but saw a big black Cadillac drive right by me and that was the end of it."
Incidentally, Dalziel's third place finish in the crash-filled PWC race here in 2015 also came with a caveat – he was assessed a points penalty for what the series (under a previous CEO) deemed "unsportsmanlike conduct."
Sellers' day was no better. He and co-driver Madison Snow were pinged with a race-killing stop-and-hold penalty after the car entered pit lane when the track and pits had yet to be declared green. Ultimately, the car completed the unfortunate first-to-worst finish of 16th in GTD.
"Unfortunately, it was not the day we were looking for," Sellers said. "Sometimes it goes your way, and sometimes it doesn't. Today was not our day. That's all we can do. We had a great effort, and it is true to say you win and lose as a team. We have to go back and look at what happened and make sure it doesn't happen again."
PWC RACE
After the chaotic affair that Saturday's 100-minute affair was, Sunday's 50-minute PWC Roar by the Shore race offered a bit of a reprieve for both drivers.
Sellers and Dalziel would both finish where they started, third and sixth, respectively. This marked Sellers' first PWC podium in his second race weekend, and completed a double podium for the K-PAX Racing McLaren team as Alvaro Parente won overall for the second straight year.
The only thing that was abnormal was when a water main pipe broke over the back straight, which caused a mid-race red flag to clean it up.
"It was a good and fun weekend," Sellers said. "Normally track time is limited on a street course but that certainly wasn't an issue for me this weekend. I felt like that's all I was doing was on-track and didn't have a lot of time for anything else. I think that everybody at K-PAX Racing is happy to have two drivers on the podium. The level of competition on this side doesn't cease to amaze me and it's pretty impressive. You can never let down for one lap. They say that endurance racing is qualifying laps every single race, and then you come over here and it truly is qualifying laps in every single race."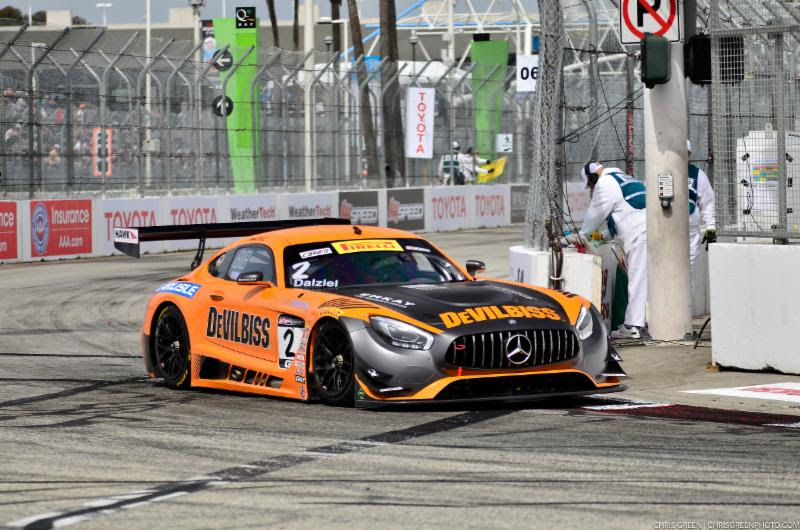 Dalziel said of his day in the CRP Mercedes, "It was a positive weekend for us. We definitely learned what direction we need to go in with the Mercedes AMG GT3. From the minute we rolled off the truck, we were good. It was a relatively dull race for us. We may have had something for a top five, but we had some damage to our car. We learned a lot in this last race. I'm glad we are leaving the street courses because this car will excel on road courses."