Prior to the Toyota Grand Prix of Long Beach weekend, we wrote that there's a surplus of things to cover and trying to wrap them all is rather impossible. Post the weekend, we think the same.
This was my 12th Long Beach weekend and I can't recall a weekend that was crazier or more bizarre in terms of story lines. But as ever, here's some thoughts, musings and observations to follow:
INDYCAR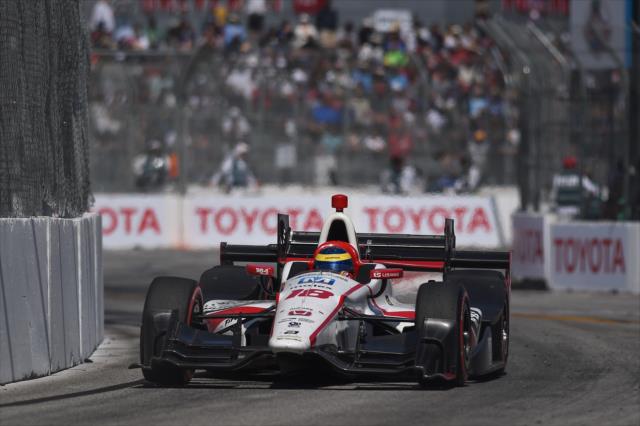 When the Verizon IndyCar Series form book is thrown out, the air of unpredictability in IndyCar is one of the best aromas. Sebastien Bourdais for Dale Coyne Racing and James Hinchcliffe for Schmidt Peterson Motorsports winning the first two races, and Honda having already matched its 2016 win total in two races, is proof positive of that. Team Penske and Chip Ganassi Racing Teams will get their victories, as will Andretti Autosport, but for now seeing these first two winners arise provided a solid start to the year.
This was a good balance of strategy versus pace, and had it not been for Alexander Rossi's mechanical break on Lap 63, the three-stoppers likely could have run harder to catch the two-stoppers, who would have needed to save fuel. The longer yellow took that strategy out of play and freed up the two-stoppers to run harder, later.
Andretti Autosport should be thankful to be in a position where now, it's late-race heartache from mechanical woes stopping them from good finishes rather than poor setup and direction as it was last year. The engineering enhancements made over the offseason appear to have clicked nicely. In terms of Firestone Fast Six appearances, the team already has three in two races – only one shy of the four total in 2016, and one clear of the two total in 2015. Ryan Hunter-Reay and Rossi made it two Andretti cars in the Fast Six in one race for the first time since 2014, pre-aero kits, when Carlos Munoz and Hunter-Reay qualified fourth and fifth at Mid-Ohio.
The last two series champions, Scott Dixon and Simon Pagenaud both have two top-five finishes to kick off the season in two crazy ways. Dixon has finished third and fourth but felt aggrieved in both races, caught out by a yellow flag in in St. Petersburg and a misjudged strategy play in Long Beach. Dixon's usually a slow starter but is still in very good shape… Pagenaud meanwhile has somehow turned 14th and 21st grid positions into second and fifth place finishes. Pagenaud hasn't yet been the story this season – he generated headlines after his qualifying penalty to impede polesitter Helio Castroneves – but he's doing what he needs to do the longer the season goes on to stay well on form in terms of title defense.
Good to see IndyCar's youth movement bank some results Sunday at Long Beach. Ed Jones, Carlos Munoz and Spencer Pigot all ran very solid races and were deservedly rewarded with sixth, seventh and eighth place finishes. Munoz and Pigot seem to be starting stronger than their teammates, Conor Daly and JR Hildebrand, with Pigot stuck in only a road/street course race situation for Ed Carpenter Racing and thus able to impress in fewer opportunities. With recent Indy Lights graduates Zach Veach, Jack Harvey and Gabby Chaves all confirmed for the Indianapolis 500 over the weekend, and Matthew Brabham present in Robby Gordon's SPEED Energy Stadium Super Trucks series, it feels as though the next generation of IndyCar drivers and Mazda Road to Indy alumni is starting to establish a presence at the next level. Pigot's interaction with Instagram celebrity dog Loki the Wolfdog was a fun nugget this weekend.
By contrast, Tony Kanaan and Helio Castroneves have had slow starts to their 20th seasons. Yes, Castroneves uncorked a flier at Long Beach – he has a fantastic knack for one qualifying lap there. But his start was rough and he dropped to seventh, and then pressed in the race with two penalties assessed. He ended ninth, after coming sixth from a poor grid spot at St. Petersburg. "TK20" meanwhile has kicked off with Mikhail Aleshin colliding with him twice, leaving him with finishes of 12th and 15th to start 2017. Their results need to turn, soon.
Similarly, Will Power must wonder where his luck has gone. Nightmare starts at two races he's won at previously, albeit not since 2014 (St. Petersburg) and 2012 (Long Beach) respectively, see Power part of a three-way tie for 17th in points with series sophomores Rossi and Max Chilton, at just 30 points. Power is 63 behind points leader Bourdais and after his heroics to come from 137 back to within 20 of Pagenaud last year, he does have some wiggle room, but not much left if he is to re-enter the points discussion.
The toughest start of 2017 undoubtedly goes to Charlie Kimball. Two first-lap incidents in as many races has left Kimball buried 21st and last in points, already eight behind 20th place and 72 behind points leader Bourdais, who's finished first and second. One of the worries I had for Kimball this year is that his aggressive nature might get the better of him and he'd press to compensate. He's qualifying fine – ninth and seventh are good spots for him – but those have become 18th and 21st place finishes. Kimball's made methodical improvement over 100 starts and six seasons but has regressed badly to start 2017; he needs to recapture last year's more consistent Charlie, ASAP.
Long Beach head man Jim Michaelian and his staff continue to put on one incredible weekend, the event's 43rd. Although crowd estimates were not released, Michaelian told reporters he expected a similar crowd to last year – a three-day weekend turnout pushing 180,000 fans. The challenge, as ever, is seeing how well the race does locally versus how it fits into the greater sports landscape. Sunday's race was head-to-head against the final round of The Masters and the Monster Energy NASCAR Cup Series race at Texas.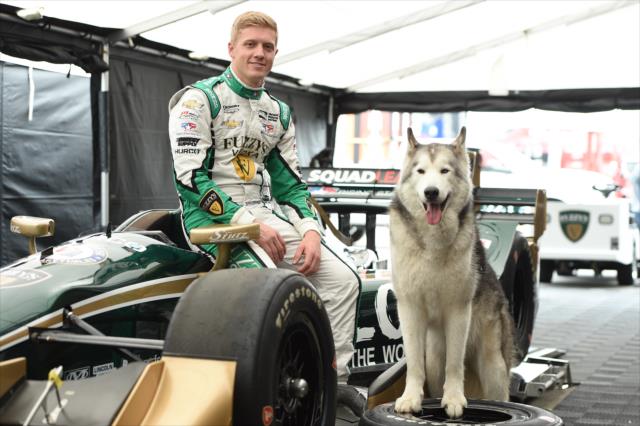 IMSA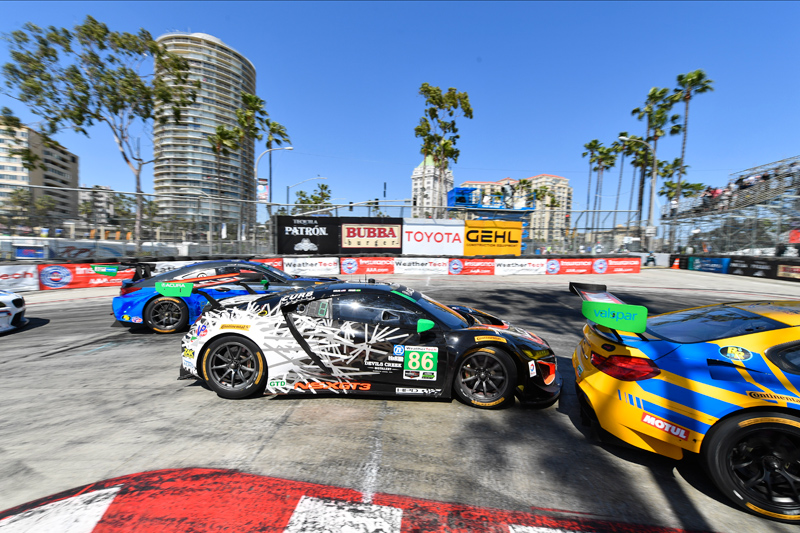 I'm still trying to figure out exactly what happened in the 100-minute BUBBA burger Sports Car Grand Prix race. Because it was quite a lot. Once I get through all the team post-race releases and the lap chart, I'll fill you in. That should come later this week.
Haven't yet done a proper breakout on them, but for Mercedes-AMG, the U.S. debut with its next generation GT3 couldn't have gone much better. The No. 75 SunEnergy1 Racing car won the pole and podiumed at Sebring; the No. 33 Riley Motorsports-Team AMG car has won Sebring and finished on the podium in all three races and the No. 50 Riley Motorsports-WeatherTech Racing car parlayed a strategic gem to win at Long Beach.
How Corvette Racing forges ahead after its bizarre finish remains to be seen, as the win changed hands for them as a result of the three-wide contretemps between the BMW, Acura and Lexus that eventually put Robert Alon on probation in the Lexus.
Great to see all three of the manufacturer DPis share the podium at Long Beach, with the Cadillac DPi-V.R ahead of the Tequila Patron ESM Nissan Onroak DPi and the Mazda RT24-P. The No. 10 Konica Minolta Cadillac is three-for-three despite several BoP changes – for Long Beach, it was adjusting the lower gear ratio – and continues to win despite the sanctioning body's adjustments. They also have a big points lead, as well.
For both the No. 85 JDC-Miller Motorsports Oreca 07 Gibson and No. 52 PR1/Mathiasen Motorsports Ligier JS P217 Gibson, top-five finishes were great results on these streets for the privateer teams running the only LMP2 chassis in the field, after VISIT FLORIDA Racing was forced to withdraw its No. 90 Riley Mk. 30 Gibson.
So rare to see an off day for Action Express Racing, with the No. 5 Mustang Sampling Cadillac having been spun out and Dane Cameron making a mistake and sustaining a heavy crash in the No. 31 Whelen Engineering Cadillac. The No. 5 and No. 31 cars finished seventh and eighth in class. Here's how good they've been results-wise since the IMSA merger began in 2014. This was only the second race, in a total of 34 races since the 2014 Rolex 24 at Daytona, where a single Action Express car has missed the top-five in class. The only other was at Detroit in 2014, when Christian Fittipaldi and Joao Barbosa finished sixth, that after last-lap contact with the Taylor car. There were four races (one in 2015, three in 2016), where one of the team's cars missed a top-five, but a second car made it.
PWC
By "PWC at Long Beach" standards, it was a typical weekend because something completely out of the ordinary happened. What I and many others thought was a water main break was actually a fire hydrant being hit on the intersection of E. Ocean Blvd. and S. Hart Pl. So the concern when this happened was that the race might not get restarted after the red flag. It spoke to the great collaboration and cooperation between PWC President Greg Gill and his team, Michaelian and the Grand Prix of Long Beach team and the City of Long Beach itself that the track was quickly cleaned up and the race resumed. Of course, it was also great driving by the series' competitors that they ran through the wet track on slick tires without incident.
In terms of incidents, the water running was actually the biggest one. There weren't the crashes or chaos that have peppered Long Beach's PWC race in the past. Johnny O'Connell had a rough afternoon as he wracked up right side damage on his No. 3 Cadillac Racing Cadillac ATS-V.R he ran for the whole race, then picked up a loose sign late in the going (above). Mike Hedlund spun his No. 98 K-PAX Racing McLaren 650S GT3 out of the hairpin to cause another yellow, a rare mistake on his part. And St. Petersburg aggressor de jour Daniel Mancinelli had a cleaner weekend in his No. 31 TR3 Ferrari 488 GT3, although he still speared Tim Pappas during a practice session.
With Alvaro Parente and Patrick Long having split the three Sprint race victories so far, they're only separated by one point in that championship. And they will be for more than two months, until the next Sprint weekend at Road America in June. The next three weekends are SprintX, at VIR, Canadian Tire Motorsport Park and Lime Rock Park.
REMAINDER OF THE WEEKEND
As ever, the SPEED Energy Stadium Super Trucks, Robby Gordon's series kept the fans engaged and entertained for their pair of sprint races. Gordon and Matthew Brabham were among those that came into the media center during the weekend. The series also races with IndyCar at later events in Detroit, Texas and Toronto later this year.
Can Am cars were added in place of the Toyota Pro/Celebrity Race but while the noise was louder and the sounds perhaps better, the racing was not as existent.
Several drivers made notes about the Formula Drift rubber, which heavily populated the track in the back portion of the 1.968-mile circuit.
IndyCar races next at Barber Motorsports Park on April 23, IMSA at Circuit of The Americas on May 6 and PWC at VIR on April 29-30.