Chip Ganassi has a reputation of not mincing his words. The highly successful team owner is rarely ever shy and his success means that people often listen, and possibly should listen, to his opinions.
As such, Ganassi let his opinions fly during a roundtable interview at Long Beach, during which he addressed the state of the Verizon IndyCar Series. As he explained, Ganassi is firm in the belief that things are going in the right direction.
"I think it's on an uptick," he asserted. "I like the job that management's doing. I like the new car. I like the new attitude. I see a lot of buzz on social media about it. The ratings are obviously a little better, I think that's good. All the signs are pointing in the right direction."
In particular, Ganassi is thrilled about the renderings of the 2018 universal aero kit, and is particularly happy that the series took the teams' ideas to heart.
"I think the input the teams had came a long way," he said. "You have an IndyCar that I think is very apropos as to what an IndyCar should look like. Everything that an IndyCar should be, I think that car represents. It's a new look, yet it's a look that people look at and say 'Hey, that's an IndyCar.' I'm excited about it."
Keeping that momentum and building on that it will be crucial as the month of May approaches. Ganassi is confident that will happen, but he doesn't want outsiders too worried if unforeseen variables, such as Mother Nature, make things difficult.
"Obviously, we have to have a good May, and part and parcel is having good weather in May!" he quipped. "We went through a period when we had so many bad years of weather that it sort of brought things down a little bit. It didn't have the buzz that IndyCar usually has. So, if we have some good weather in May, I think we're going to have a good summer."
Still, specific to his own team, there is an area of concern. As of writing, no full-time sponsor has been announced for Scott Dixon. While his car has carried branding from GE Light LED (St. Pete) and NTT Data (St. Pete and Long Beach) during the first two races of the season, no full-season plans have been confirmed.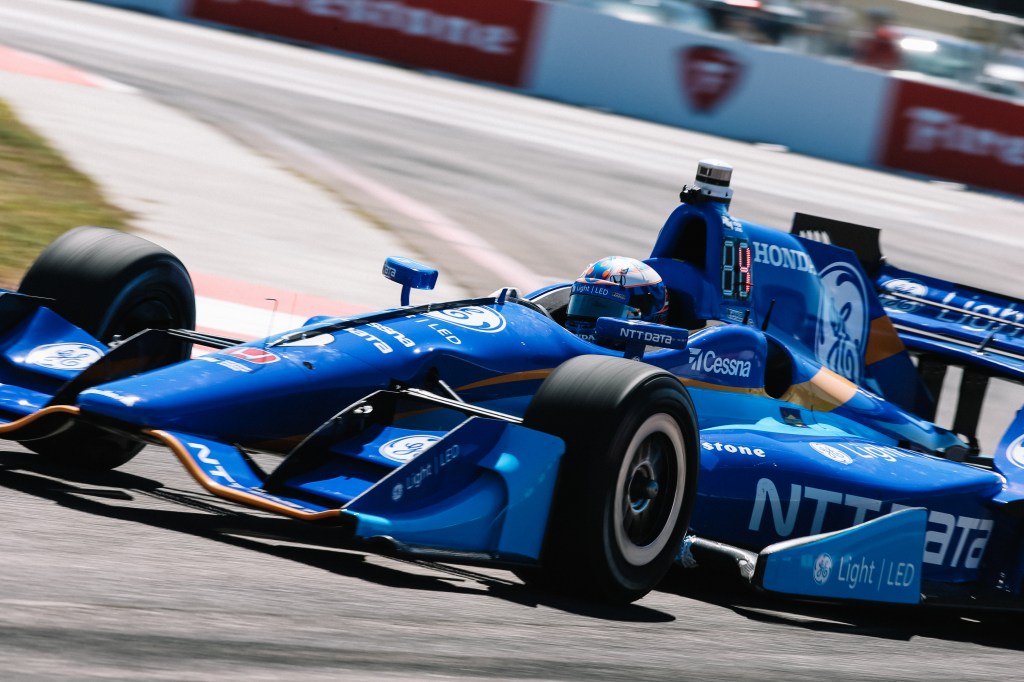 Though he wouldn't offer specifics, Ganassi explained that deals are in the works and that the team is not hurting for funding.
"We have some good partners that have stepped up to help. I can't thank them enough. Cessna, NTT Data, and we have a couple others you'll hear about in the next few days. I'm quite happy with that. We're not where we want to be, but we're damn close and we have a couple things we're working on that are more long-term. So, I'm optimistic," he asserted.
Further, he added that the business mindset of a potential sponsor is different from the model in which motorsports stereotypically operates. "We look at (sponsorship), inside the sport, as season-to-season. And I don't necessarily think companies look at it that way. They look at it as when it's a good time for them, or if they have a product coming, or a season or specific date that they're interested in."
Setting aside the sponsor challenges, Ganassi repeatedly affirmed his confidence and optimism for the Verizon IndyCar Series, highlighting the leadership of Mark Miles and the stability he brought to the series, following the removal of Randy Bernard at the end of 2012. "I think he came in at a time when the series needed a combination of stability and calmness and professional management and leadership. I think he's brought all those qualities to it."
And, now that the series has been in a position of stability for while, Ganassi thinks it's ready for more. "There's stability in the tracks going forward. There's stability in the current manufacturers. These are all things that are really good seeds to build a solid foundation to grow on. For a long time, we didn't have the foundation of stability. Now that we have the foundation of stability, we need to make the transition from stabilizing the foundation to building the house on top it."
Follow Kyle Lavigne.