Much the same as in December when I got the Facebook message from my colleague Luke Smith that said simply "Rosberg's retired!" I had to a double take this morning when I saw the "Mate, you're not going to believe what happened!!" message.
Fernando Alonso. Running the Indianapolis 500. This year.
Really? Seriously? Yes.
Details of how the out-of-left-field deal came to be reality emerged a bit during conference calls with Alonso, Michael Andretti and Zak Brown today. Taking a long story and condensing it, Honda had an 18th engine lease available for this year's 101st Indianapolis 500 presented by PennGrade Motor Oil that wasn't filled, it was later determined Andretti Autosport would be the best fit, and Stefan Wilson had the inside line on the seat.
But just in the first two Formula 1 race weekends, Alonso and Brown had some meals, the two-time World Champion decided he wanted to run Indy and mountains moved between various parties to make it happen. Wilson, ironically, gets better PR value out of being the sidelined driver this race than he probably would have had he got the seat. Alonso was always going to be a bigger story and Wilson, much like his late brother Justin, is the bigger man for stepping aside as part of the process. It's a hope he will be rewarded properly in the long run.
It matters not who was first in reporting the news when the news is this big, except for those who need the glory of saying so.
What matters instead is that the story is in fact real, not a belated April Fool's prank, and that suddenly a race that didn't have a magic story line has one.
Frankly the big question for the 101st Indianapolis 500 was going to be what was the big thing the race needed. Last year's 100th running was always going to have the extra hoopla and drama associated with it. That the race was sold out and had a dramatic finish featuring a rookie's unheralded shot at glory didn't hurt, either, and Alexander Rossi has more than proven a worthy champion.
Without a new car though (that comes in 2018), or a big-name star driver though, the race fails to extrapolate much beyond its standard sphere of influence – this is to say in Indianapolis and Indiana locally, to the core fan base of the Verizon IndyCar Series, and the one-off extra fans that come to watch this race either on television or on site.
Alonso at Indy though? That's as Earth-shattering as it gets in the motorsports world. It's on par with Nigel Mansell's arrival in 1993 and the first occasion for a younger generation of a driver from Formula 1 actively leaving their day job for a shot at the single biggest race in terms of a one-day spectator total.
If Indy didn't matter in the world sphere, Alonso wouldn't have come. Period, point blank. And how he does will dominate the headlines beyond us usual web minions who cover the series full-time.
"I think the interest is very clear. It's one of the best races in the world," Alonso said during a teleconference today. "It's very prestigious. If you want to be considered the best, you have to drive all type of cars. So after successfully winning F1 championships, I think the opportunity to race in Indy 500, then one day in the future in Le Mans, that dream of the Triple Crown is very attractive, together with McLaren and Zak."
Zak Brown knows a thing or two about marketing; JMI was his baby and he needs a way to turn opinions back the way of positive press given the current struggles his new baby, McLaren, is having in Formula 1. And what better way to do so than with a stunner like this, which was remarkably kept quiet?
"I had a desire for McLaren to come back to Indianapolis," said the American, who understands the magnitude of his brand. "It is a great part of our history. But we didn't think the timing would be right to try to put together the effort.
"We started flirting with Fernando on the topic and he started flirting back. In Australia, we had breakfast with Honda, and he stated his desire to race triple crown of Monaco, Indy and Le Mans. He said I'd love to race with Honda at Indianapolis 500. We didn't know the timeline. He had a real desire to race there.
"But we spoke the Monday after Australia. Hey you mentioned you wanted to do Indy… he said very. Let's talk at China dinner. You thinking this year? Was it doable? He was very serious.
"We had dinner Friday in China and I laid it out in the table, he wants to do it, we think we could make it happen. He told me Saturday morning after sleeping on it 'I want to do it.'
"We signed it last night from the airport, and here we are announcing it. We could not be more excited to run the McLaren Honda Andretti entry with Fernando Alonso. It's an incredible day of motorsports."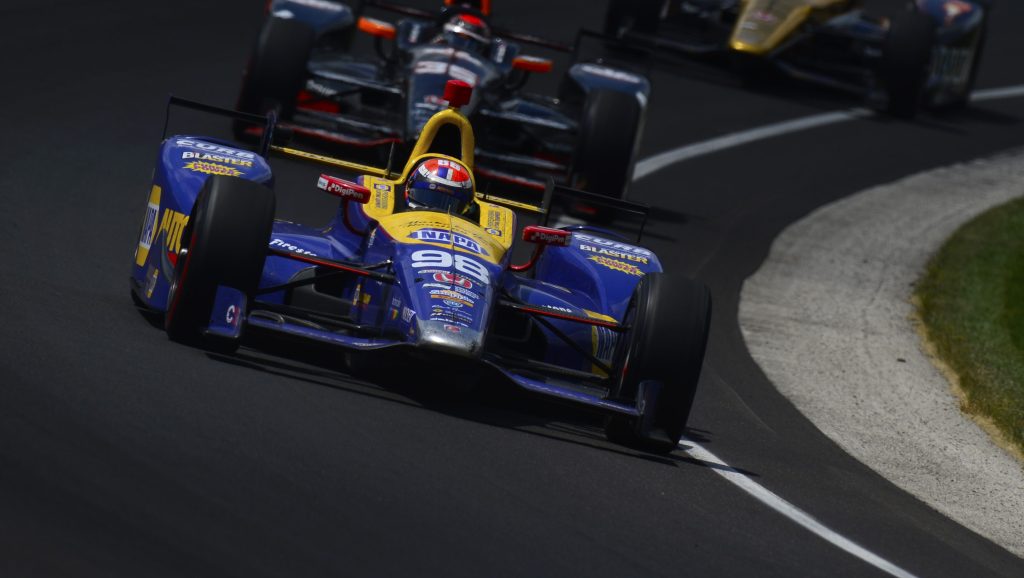 Andretti Autosport has six entries on its own, all of whom already had incredible stories anyway before today's news.
To wit:
Rossi, surprisingly, goes for a repeat of last year.
Ryan Hunter-Reay seeks his second '500, after losing last year thanks to contact with his teammate in the pits.
Takuma Sato has been stealthily good at the Speedway, despite a lack of results. Few forget his daring, if failed, attempt trying to pass Dario Franchitti.
Marco Andretti, going to break that eternal Andretti curse, nearly 50 years on from Mario's famous 1969 win.
Jack Harvey, a talented rookie making his debut with Mike Shank, a popular team owner, making his Indy debut.
And now they add Alonso to this? If the old axiom of "a rising tide lifts all boats" is true, then all five of those other entries will be buoyed by the prospects of having one of the greatest drivers of his generation now needing to draw on them to help his debut, while all getting the extra PR value out of it.
Alonso racing Scott Dixon, Will Power, Simon Pagenaud, Ryan Hunter-Reay, Sebastien Bourdais, Tony Kanaan and Juan Pablo Montoya? That means he's going up against seven IndyCar series champions.
And he'll be competing against at least six other Indianapolis 500 winners in Dixon, Kanaan, Montoya, Rossi, Hunter-Reay and Helio Castroneves (seven if Buddy Lazier makes the race).
Plus, from a rookie-of-the-year standpoint, suddenly the trio of previously confirmed rookies in Indy Lights Presented by Cooper Tires graduates Harvey, Ed Jones and Zach Veach can say if they win rookie-of-the-year honors, they beat Fernando Alonso to do so.
It's hard to see this as anything other than a massive positive for a race where one extra driver can make a big difference.
And for Alonso, it's a masterstroke in terms of writing a chapter of his career where he knows he's going into a big challenge, is taking it with open arms, and has the support of his team, his engine manufacturer, and one of the most famous last names in motorsport all at his side.
We don't know where he'll finish in May, but in terms of an announcement, Alonso, McLaren, Honda, Andretti and Indianapolis have already won.