Tomorrow morning, I'm likely to roll out of bed, shower, get dressed, make some breakfast, and then realize that today actually happened.
Fernando Alonso will actually race in the 101st Indianapolis 500 for McLaren.
Days like this come a handful of times each in motorsport. The most recent one was Nico Rosberg's shock retirement announcement just five days after he claimed his maiden F1 world title in Abu Dhabi. The tremors from the earthquake it caused in racing continued to be felt through the entire winter; for Mercedes, most probably through the whole 2017 season.
Alonso's news today had a similar effect. It sent motorsport media into hyperdrive, scrambling for every detail going and hastily jumping onto calls and into press conferences with the parties involved to work out just how such a historic deal came to be.
But now we know the details, we can really begin to look at the impact and effect of Alonso's decision. Just what does Alonso's presence in the Indy 500 mean for F1? For McLaren? For IndyCar? For racing as a whole.
For F1 and IndyCar, it marks a rare opportunity for both to get some headlines in one fell swoop. Alexander Rossi's debut success at the 100th running of the '500 last year did the trick, but to have one of F1's biggest stars to rock up at America's biggest races is a game-changer for all involved.
But what does it mean for McLaren, the team that has agreed to let its star driver miss the Monaco Grand Prix, F1's most visible and celebrated race, to go and race in a car he's never driven before against an entirely different grid?
Today's announcement was the biggest chunk of proof thus far that McLaren's mindset has changed dramatically in the last six months. It is quickly becoming a very different team from the one that Ron Dennis presided over for more than three decades.
Dennis was instrumental in turning McLaren into the multi-championship-winning operation and successful team and company, creating dynasties with the likes of Ayrton Senna, Alain Prost, Mika Hakkinen and Lewis Hamilton. But towards the end of his tenure, it felt like McLaren was stuck reflecting on its past glories instead of trying to build towards new ones. It wasn't looking outside of the box.
This is where Zak Brown came in. Brown was tipped as being a possible successor for Bernie Ecclestone as F1's commercial chief, only to be drafted in as McLaren's new executive director last November. Changes have already been made, with a handful of top staff – Jost Capito and Ekrem Sami for two – leaving, but the bolder statements have not been with personnel.
I called it the 'de-Ronification process' at the time, with the biggest diversion from the Dennisian ways being the color and name of the MCL32 for 2017: it was made papaya orange, just like the classic McLarens raced by Bruce McLaren were when he formed the company in the 1960s.
It showed Brown's willingness to embrace and encourage change, being dynamic in his thinking. And getting Alonso a ride at the Indy 500 is just the latest step in that.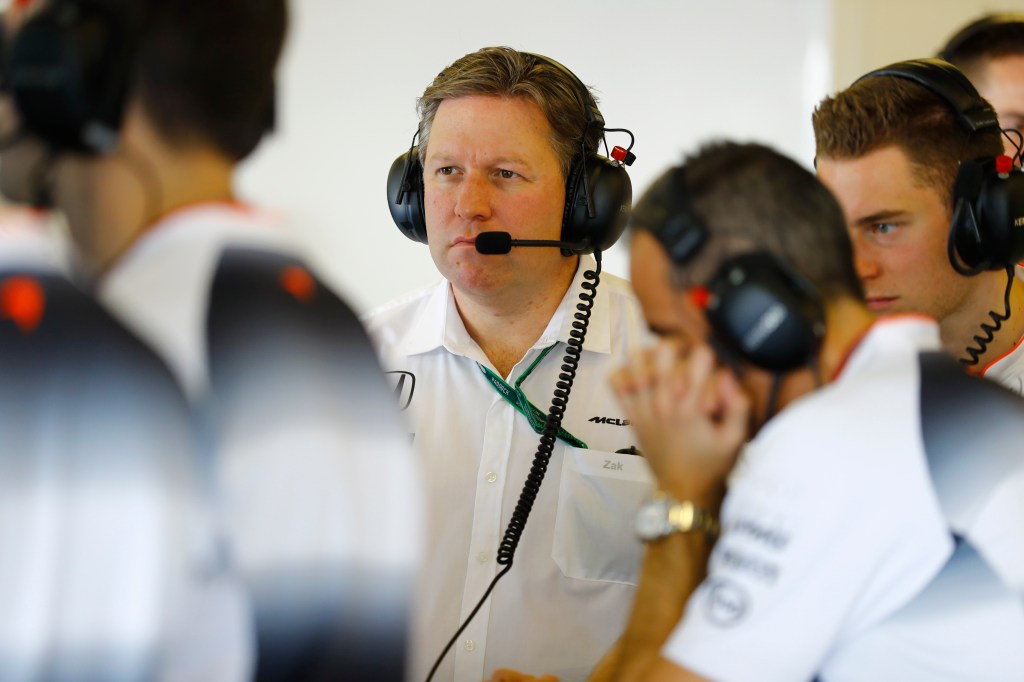 Things aren't good for McLaren and Honda right now. The power unit has left Alonso and teammate Stoffel Vandoorne brewing with frustration, with the team sitting last in the constructors' championship after two races.
Yet on Sunday in China, Alonso seemed upbeat, almost happy, despite retiring from the race early on. The fact he'd agreed to race in the Indy 500 less than 24 hours earlier is probably why.
"I'm new to McLaren, getting to know [Alonso]. I had a desire for McLaren to come back to Indianapolis. It is a great part of our history. But we didn't think the timing would be right to try to put together the effort," Brown explained.
"We started flirting with Fernando on the topic and he started flirting back. In Australia, we had breakfast with Honda, he stated his desire to race triple crown of Monaco, Indy and Le Mans. He said I'd love to race with Honda at Indianapolis 500.
"We did this with highest degree of secrecy, and had Mark [Miles, Hulman and Co. CEO] fish around. When Mark came back and said there's a way we can do this with Michael [Andretti], I called Michael directly, at this point it was let's do this with Michael. Michael went to work. Stefan Wilson has had a bigger picture in the interest of INDYCAR and he must be commended for this. It was a difficult decision for him.
"We had dinner Friday in China and I laid it out on the table, he wants to do it, we think we could make it happen. He told me Saturday morning after sleeping on it 'I want to do it'.
"We signed it last night from the airport, and here we are announcing it. We could not be more excited to run the McLaren Honda Andretti entry with Fernando Alonso. It's an incredible day of motorsports."
Brown has pulled a masterstroke here. Alonso may be missing the Monaco Grand Prix, but let's face it: he wasn't going to win it. But he could win the Indy 500 in a McLaren. With support from Andretti Autosport and guidance from Andretti and Eric Bretzman, Alonso is in very, very good hands.
It is the kind of move that would never have happened under Ron Dennis. The very idea of McLaren racing elsewhere besides F1 with a factory interest was rarely discussed, such was the doubt people had. Yet within weeks of Brown arriving, there were already talks about Le Mans and even Formula E. McLaren has an open mind. It is so, so refreshing to see.
The move could also prove instrumental in getting Alonso to further his commitment to the McLaren-Honda project, something that a week ago seemed unlikely, such are the issues faced by the F1 team. Alonso needs a good reason to stay on for 2018, with the promise of progress not being enough.
The promise of further Indy 500 run-outs and – who knows – maybe even a shot at the 24 Hours of Le Mans to try and complete his Triple Crown just might be.
"Sometimes you have to seize opportunities and move quickly," Brown said. "This is something that we had a window of opportunity to do it right. We jumped all over it.
"Between Michael's team, McLaren, Fernando and Honda, he's already studying Indianapolis, we have two races, Bahrain and Russia, his head is completely into the Indianapolis 500 and he'll pick up Canadian Grand Prix. We will attend Barber next weekend. Then we'll visit Michael's shop. We'll get him some simulator time and here we come Indianapolis 500."
One of those corny motivational posters you see floating about Facebook says that the optimist sees the glass half-full, the pessimist half empty – and while they were arguing, the opportunist drank it. It's true here with Brown. This is a deal that has moved along supremely quickly, in a matter of days, and Brown made it happen.
Had it been Dennis and the 'old McLaren' ways, it would have been a definite no. To have Alonso racing anything but a McLaren would have been unthinkable. The Spaniard's request to race something else would likely have been vetoed, likely as it reportedly was with Porsche at Le Mans in 2015.
What Brown has done is not only give F1 and IndyCar a huge boost, but also McLaren. People may remember McLaren's woes with Honda in 2017 for years to come, but it's more likely to be recalled as 'that awesome year McLaren went back to the Indy 500 with Fernando Alonso.'
And beneath all of Zak's decision-making is the fact that he is deep-down a massive fan of both racing and McLaren. When I met him for the first time back in January to interview him for a feature in which I dubbed him 'The Busiest Man in Motorsports', he exuded love and passion for the team he was now in charge of, but all with an open mind.
So as well as being the busiest man in motorsports, today's bombshell gives credence to Brown also being one of the smartest and canniest. Because he has done something that no-one could have seen coming a month or so ago – not even Fernando Alonso.
More strikingly though, Brown has made clear that McLaren is changing and changing fast.
A lick of orange paint can only go so far but if that orange were to return to Victory Lane at the Brickyard on May 28 with Alonso lifting a bottle of full fat milk to celebrate, it would surely go down in motorsport folklore.