Toyota Gazoo Racing has won the first race of the post-Audi FIA World Endurance Championship era, albeit after a strategic battle with Porsche Team with a sprinkling of rain in-between spicing up the season-opening 6 Hours of Silverstone, and adding a gamble on tires to the equation.
The single Toyota TS050 Hybrid left running, the No. 8 car of past World Champions Sebastien Buemi, Anthony Davidson and Kazuki Nakajima took the victory following Buemi's late pass of Brendon Hartley's No. 2 Porsche 919 Hybrid. Hartley's fuel only stop near the end of the race got the Porsche out front, but was unable to hold back the faster Toyota as the race neared its conclusion.
Buemi adds this win to his earlier wins in the current FIA Formula E Championship season to continue his recent top run of form, in what was his and Davidson's first FIA WEC victory as teammates since 2014 at Shanghai.
Hartley shared the No. 2 Porsche with Earl Bamber and Timo Bernhard to finish second, ahead of the No. 1 Porsche driven by Neel Jani and his new teammates, Andre Lotterer and Nick Tandy.
With Porsche running a low downforce kit and Toyota a high downforce one, Toyota had the pace edge all weekend but a shorter amount of time in the pits and different strategy helped keep Porsche in the game to even have a shot, and a double podium was a deserved result.
Toyota's second car went out of the race after an accident for Jose Maria Lopez in the fourth hour. Lopez limped the wounded Toyota back to the pits and the damage was further compounded when he needed a quick hospital trip, although was later released. That car had the pole for the race as Lopez shared the No. 7 entry with Mike Conway and Kamui Kobayashi.
Jackie Chan DC Racing took the first win of the now-all Oreca 07 LMP2 class, the lone exceptions being the Alpine A470-badged Signatech Alpine entries, with its No. 38 entry driven by ex-Audi man and new "Bentley Boy" Oliver Jarvis, Thomas Laurent and Ho-Pin Tung.
Vaillante Rebellion was second with the Nico Prost/Bruno Senna/Julien Canal trio in its No. 31 car with the No. 28 TDS Racing entry of Mathieu Vaxviere, Emmanuel Collard and Francois Perrodo in third.
The polesitting No. 67 Ford Chip Ganassi Team UK Ford GT entry of Harry Tincknell, Andy Priaulx and Pipo Derani, the latter in his debut with the team and the car, took GTE-Pro class honors, thus providing Tincknell and Priaulx a win on home soil.
With the No. 51 AF Corse Ferrari 488 GTE of James Calado and new AF driver Alessandro Pier Guidi second and the No. 91 Porsche GT Team Porsche 911 RSR of Richard Lietz and Fred Makowiecki in third, it made for three different manufacturers in the top three positions in this class. Defending GTE-Pro champions Aston Martin Racing had a race to forget on home soil, ending only sixth and seventh.
Last lap contact between Pedro Lamy's No. 98 Aston and Miguel Molina's No. 54 Spirit of Race Ferrari cost them both the GTE-Am class win and opened the door for series debutantes Clearwater Racing to win that class, its No. 61 Ferrari shared by Matt Griffin, Mok Weng Sun and Keita Sawa. The Aston was second with the Dempsey Proton Porsche in its new lineup of Matteo Cairoli, Marvin Dienst and Christian Ried in third.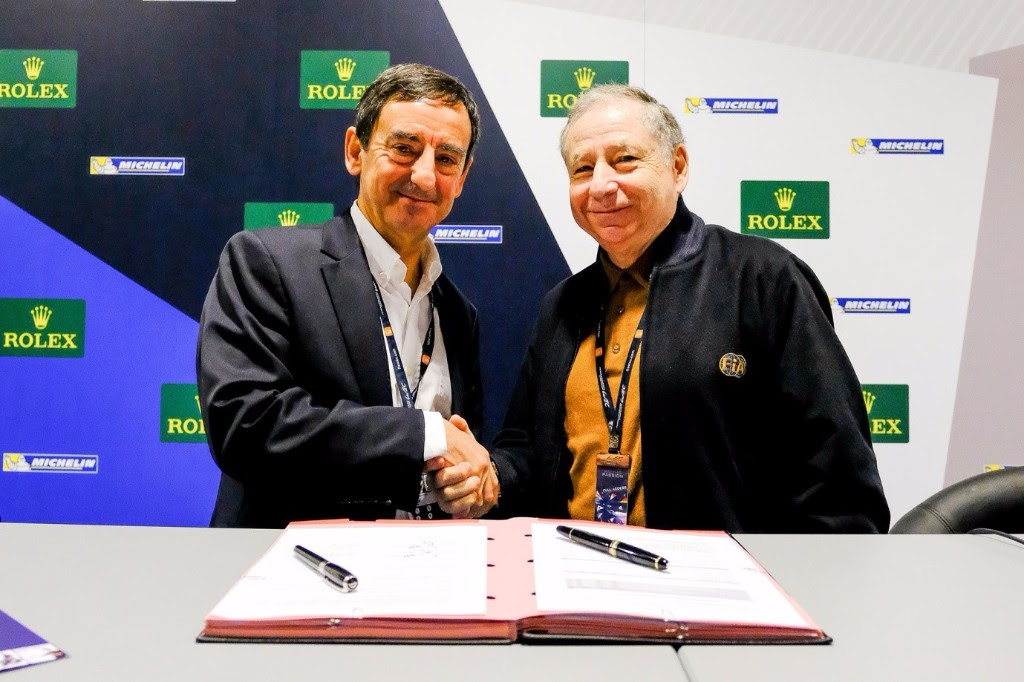 The race capped a news-heavy weekend for the WEC. Winds of potential changes to the GTE-Pro class for 2018 emerged, as did more information about LMP1 privateers for 2018 with Ginetta having made a presentation about its upcoming chassis. This morning, as well, perhaps most importantly FIA President Jean Todt and ACO President Pierre Fillon announced the series' formal extension of WEC's next three-year contract through to 2020.
"I am delighted by this announcement of the extension of the cooperation agreement with ACO as promoter of FIA WEC. Endurance racing is a fundamental part of the history of motor sport and I look forward to furthering the strong cooperation between the FIA and ACO teams," Todt said in a release.
Fillon added, "When we announced this partnership in 2011 a lot of people were sceptical. I think we can say today, after five successful seasons and at the beginning of the sixth, this partnership is a success. We have a strong championship, the teams at the ACO and the FIA work together in a very constructive spirit. I want to thank Jean Todt for all he has done to create this championship. It is with great pleasure that I sign the extension to this partnership on behalf of the ACO."