The Mazda Road to Indy is only slightly less busy at Barber Motorsports Park than it was at St. Petersburg back in March. With the Pro Mazda Championship Presented by Cooper Tires not competing this weekend, that leaves two of the three rungs on the ladder in competition this weekend.
Of course, this is in no way an indication of a lack of action. Friday featured practice for the Indy Lights presented by Cooper tires, while the Cooper Tires USF2000 Championship Powered by Mazda featured qualifying and race action. And the young guns of open wheel racing continued to shine.
Askew Makes it Two-in-a-Row
Oliver Askew made it back-to-back wins in the early portion of the 2017 season (he won Race 2 at St. Petersburg) with a commanding drive on Friday at Barber Motorsports Park. The 20-year-old native of Florida started from pole, bolted away at the start, and led all 19 laps on his way to victory. On the surface, it was a dominant performance, at least until one looks at the margin of victory. Askew beat second-place Kaylen Frederick by a scant .227 seconds, with the 14-year-old keeping Askew honest while on his way to his first career podium.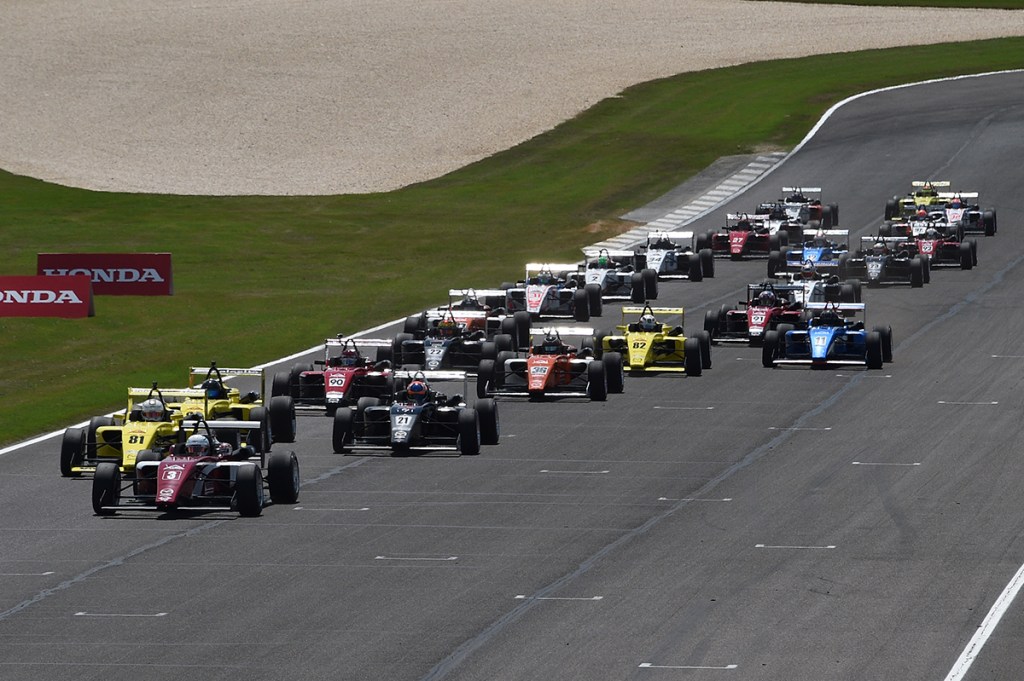 Still, Askew kept the youngster at bay to secure a well-earned victory. "I trick myself into thinking it's just a practice session, because if you think too much, that's when mistakes happen – and I couldn't have that with Kaylen right behind me," Askew said of his battle with Frederick.
The victory extends Askew's points lead (he leads Rinus Veekay by 31 points after three rounds), but he was quick to deflect credit to his Cape Motorsports team for the early success. "The Cape Motorsports guys are doing a great job and I'm learning every time I'm at the track," he detailed. "I really appreciate the opportunity from Mazda. This is everything I've ever hoped for. I've waited for this opportunity for several years so to be where I am right now is really special – hopefully we'll just keep doing what we're doing."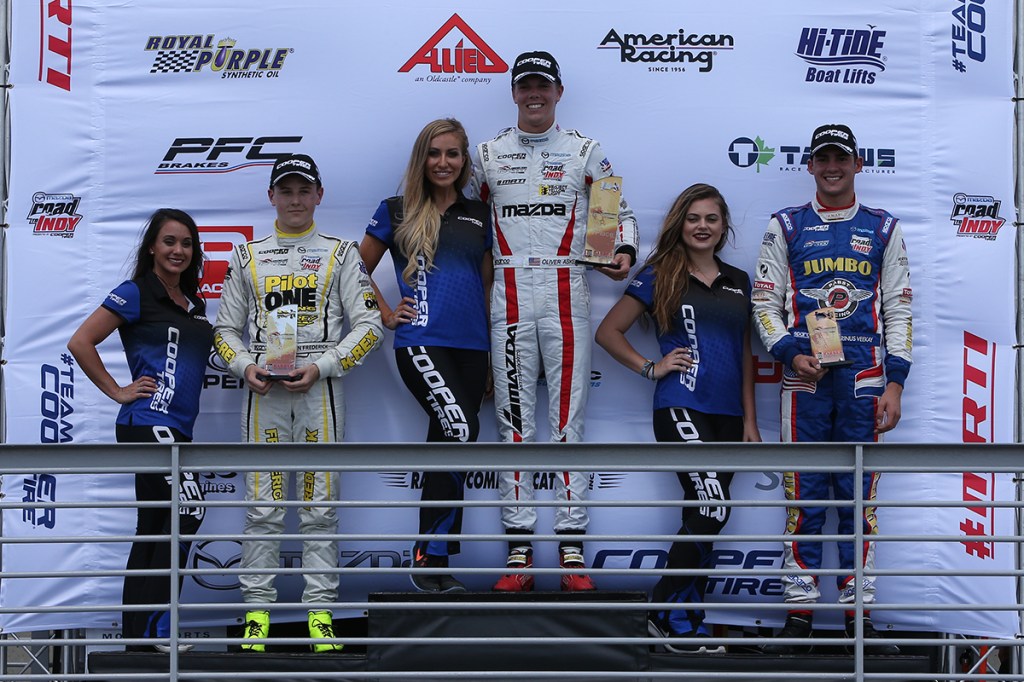 For their part, Frederick and Veekay are enjoying strong starts to their own campaigns. Frederick has finishes of fourth, fifth, and second in the opening three races, while Veekay has not been off the podium, with finishes of third, second, and third.
As a result, both Frederick and Veekay are positioned nicely to challenge for the championship. "It's a cliché but I hope this is the first of many more to come!" Frederick said of his first podium. "Hopefully we can get the pole tomorrow so I don't have to work so hard to get around Oliver. I struggled at St. Pete since it was (my) first street course. I had to learn a lot and improve a lot but the team definitely gave me a good car there and here as well."
Veekay was slightly frustrated, noting that a poor start left him playing catchup, but he expressed optimism going forward. "It's good as a rookie to be in the top three in the championship after three races, so I'm happy with that," he said of the result. "I didn't have a great start but I think it was the best I could get out of my position. It is hard to pass here but I was one of the quickest cars so that bodes well for tomorrow."
The USF2000 Championship continues tomorrow with qualifying for Race 2 at 10:25 a.m. ET (9:25 local time) while the race rolls off at 5:45 ET (4:45 local time).
Blackstock tops practice for Indy Lights
Belardi Auto Racing's Shelby Blackstock led the opening Indy Lights practice, bettering Carlin's Garth Rickards by five hundredths of a second to do so. Zachary Claman De Melo, Kyle Kaiser, and Colton Herta rounded out the top five. Aaron Telitz, who won Race 1 at St. Petersburg, was mired down in 11th, just behind Santi Urrutia. The entire Indy Lights field was covered by 1.1 seconds, and the close grid will put a premium on qualifying well for both races.
Indy Lights leads things off on Saturday with Race 1 qualifying at 9:40 a.m. ET (8:40 local time), with the race seeing the green flag at 3:00 p.m. ET (2:00 local time).
Follow Kyle Lavigne.