Jamin Rolls to Indy Lights Win as Chaos Reigns on the Start

Nico Jamin added his name to the list of drivers who have won in all three of the Mazda Road to Indy championships by securing his first career Indy Lights Presented by Cooper Tires victory. The Frenchman dove inside polesitter Kyle Kaiser for the lead entering turn five on lap 4 and went unchallenged from there. Kaiser held on for second while Neil Alberico completed the podium. His Carlin teammates Matheus Leist and Zachary Claman De Melo completed the top five.
"It was just incredible – when I got to Victory Lane and everyone wanted to talk to me, I didn't know what to say! I was so emotional," said an elated Jamin, who joins Sage Karam, Spencer Pigot, Matthew Brabham, and Aaron Telitz as drivers who have won in all three of the MRTI series.
Jamin added that he needed to be on the attack immediately, since it can be difficult to pass at Barber Motorsports Park. "Here, you can start on pole and get away or you have to get it done early, so I was in attack mode right away. I went on push-to-pass, broke late and made the pass stick," he said of his move on Kaiser.
The race was not without controversy. Kaiser jumped slightly early on the initial start, forcing officials to wave it off. When Kaiser subsequently slowed, outside pole sitter Colton Herta tried to dive inside of Kaiser to avoid him, but clipped the left-rear of Kaiser's car. "I saw the start was waved off so I slowed up and I felt a little nudge from behind. I feel bad for Colton but these things happen," Kaiser said of the incident.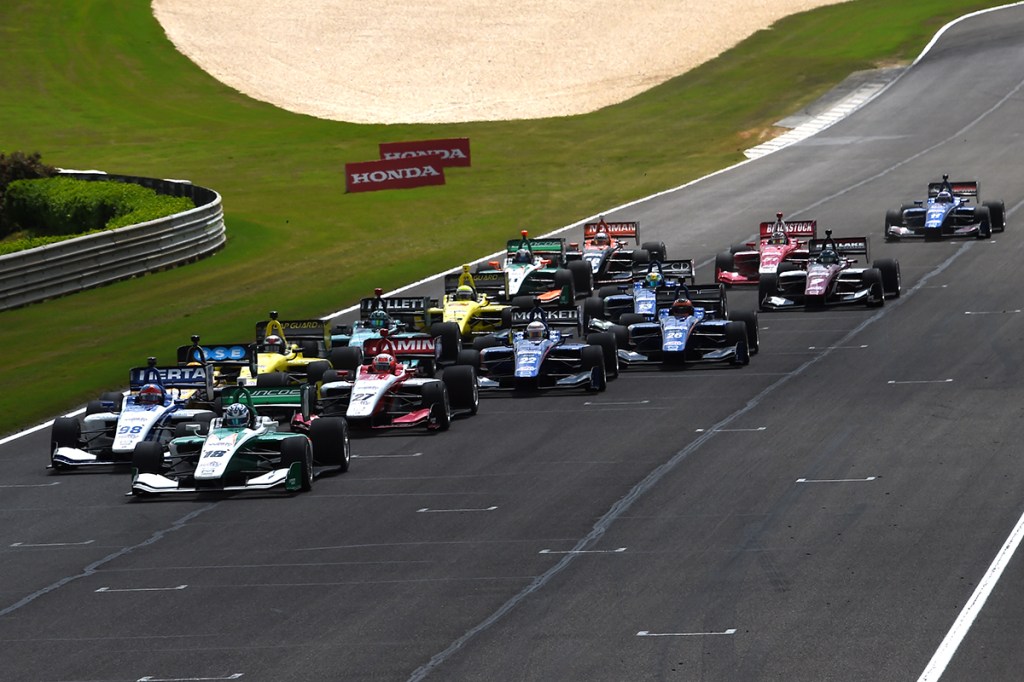 The contact damaged Herta's front wing and forced him to pit for repairs. He also received a penalty for not adhering to pace car speed and had to restart at the back of the pack. He eventually rebounded to finish tenth.
Further, the incident saw Pato O'Ward get hung up on the back of Santi Urrutia's car while Aaron Telitz clipped the back of teammate Shelby Blackstock. O'Ward and Telitz suffered a damaged front wings, while Urrutia had a broken rear wing and damaged suspension. O'Ward and Telitz resumed after repairs, finishing eighth and 13th respectively, while Urrutia lost several laps in the pits before rejoining the fight. He eventually pulled off with more suspension problems.
Herta retains the points lead, but now leads Kaiser by 10 points and Aaron Telitz by 13. Race 2 rolls off at 12:45 p.m. ET (11:45 a.m. local time) on Sunday.
Results from Race 1 are below.
—
Askew Dominates USF2000 Race 2
While chaos hit Indy Lights, the Cooper Tires USF2000 Championship Powered by Mazda saw continued domination from Oliver Askew, who again led every lap on his way to victory in Race 2 to record a weekend sweep of poles and victories in USF2000.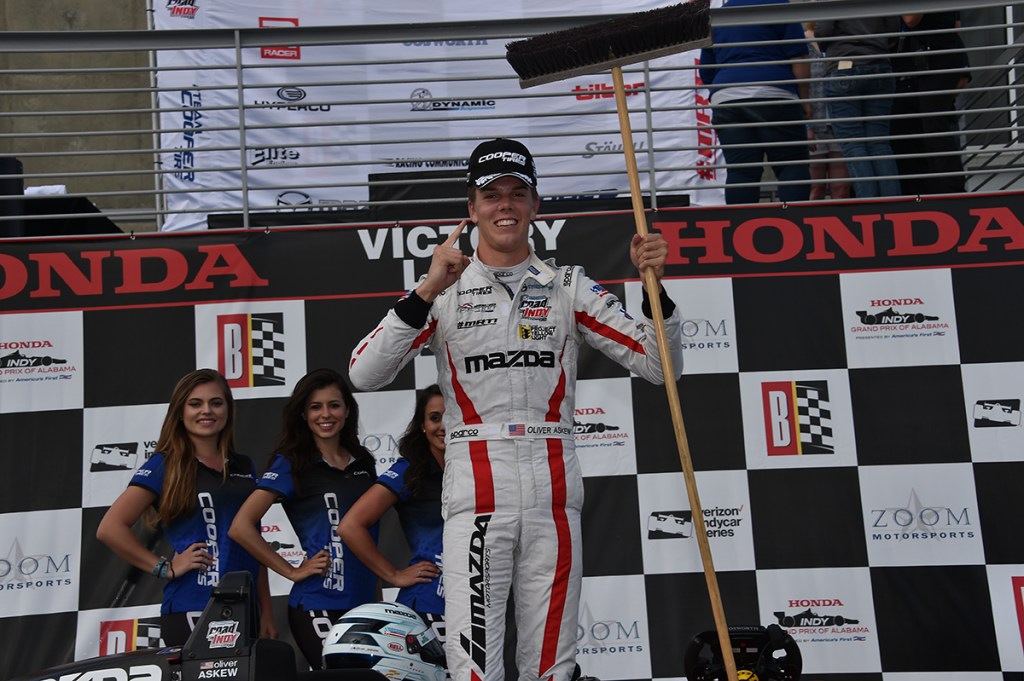 He led second-place Kaylen Frederick, who also finished second to Askew on Friday, by nearly three seconds, while Parker Thompson was able to beat Rinus Van Kalmthout for the final spot on the podium.
"It's a dream come true. We had a fantastic car so we had the chance to do well this weekend and I just took it," Askew said of the weekend.
He also added that his winning streak (he has won three races in a row dating back to St. Petersburg) does not undermine the rest of the USF2000 field, and he pretends he is always qualifying in order to force himself to drive at his maximum. "The main goal is the championship but a win pays the most so this is fantastic. I'm probably the most anxious for qualifying because, as close as the field is, that can be the race right there. Again today, I pretended it was a qualifying session and just put in the laps," he detailed.
Askew's win puts him 36 points clear of Frederick and Van Kalmthout, who are currently tied for second in the championship standings. Results from Race 2 can be found below.