Zach Veach had called Ed Carpenter Racing simply to check in on a fellow injured driver.
But, since he was on the phone and there was a temporary vacancy, Veach figured he may as well let general manager Tim Broyles know he was available and "more than happy to help out" if there was a need.
Carpenter and Broyles eventually took him up on the offer, meaning the 22-year-old from Ohio will make his IndyCar debut five weeks earlier than expected. He is filling in this weekend at Barber Motorsports Park in Birmingham, Alabama, while JR Hildebrand recovers from a broken left hand sustained in a last-lap accident at Long Beach.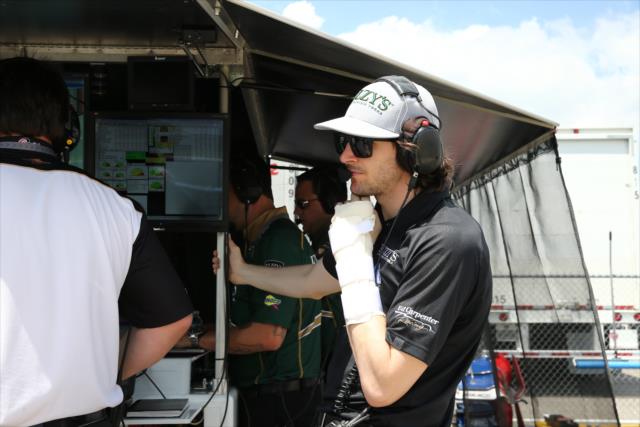 "It's like being thrown into the fire a little bit," Veach said, "but it's a good fire to be in."
Veach, who was already slated to run the Indianapolis 500 for A.J. Foyt Racing, was offered a ride in the No. 21 Chevrolet for Sunday's Indy Grand Prix of Alabama earlier this week. Filling in for an injured driver is not the way he wanted to land his first IndyCar shot, but it was coming soon anyway.
This gives the young driver a chance to get acclimated to the Indy cars before getting behind the wheel at the signature race next month. He won the 2014 Indy Lights race at the 17-turn, 2.38-mile permanent road course in Alabama.
"In a way, I'm very thankful I can make my IndyCar debut before the Indianapolis 500," Veach said. "It's good to get familiar with the engine and the characteristics of the car itself as well as getting used to pit stops. I definitely think I'll be a lot more prepared going into the month of May with this opportunity."
Broyles had seen Veach come up the ladder from lower series to Indy Lights, where he had six wins and six poles in three seasons. This is just the next rung. Spencer Pigot, who will be Veach's teammate at Barber, was the 2015 Indy Lights champion.
Veach's first run in an Indy car, perhaps not so coincidentally, was in the No. 21 Chevy during a testing session at Sonoma Raceway last September. Clearly, Broyles and Carpenter liked what they saw.
They still do. Broyles said Veach has been asking the right questions and making good observations.
"He's one of those guys that you can't base his experience on his age," Broyles said. "His experience probably outweighs his age. He's very mature, and he does have a pretty good understanding of how things operate in the IndyCar series. He's been around it enough and he's watched and he was paying attention."
Veach said he plans to be a sponge this weekend, soaking up advice from the team and other drivers. He got a mid-week call from friend James Hinchcliffe, the winner at Long Beach, with a track tutorial.
"He painted a pretty clear picture for me," Veach said.
Broyles said the team's goals still include remaining competitive and making it at least out of the first round of qualifying, but they also want the rookie driver to stay on the track and avoid contact when possible.
"Mainly just giving him laps and keeping his nose clean," he said.
—
More AP racing coverage: http://www.racing.ap.org