Fernando Alonso was a busy man today at the Honda Indy Grand Prix of Alabama, as he prepares for the 101st Indianapolis 500 presented by PennGrade Motor Oil and made the rounds of media and promotion in doing so as part of his joint entry into the race thanks to McLaren, Honda and Andretti Autosport.
The two-time Formula 1 World Champion arrived on pit lane for Sunday's morning warmup and set up in Ryan Hunter-Reay's No. 28 DHL Honda pit, where he'd interact with Michael Andretti and the rest of the team.
Alonso had a quick sit-in in Marco Andretti's No. 27 Honda:
Alonso then made it to the media center for a formal press conference with Andretti, McLaren F1 executive director Zak Brown and Hulman & Co. CEO Mark Miles, the head of INDYCAR's parent company. Alonso was high on life through most of the press conference and had a few playful jabs at some of his competitors.
Before the race, Alonso signed some autographs for fans, who were pleased he was on site.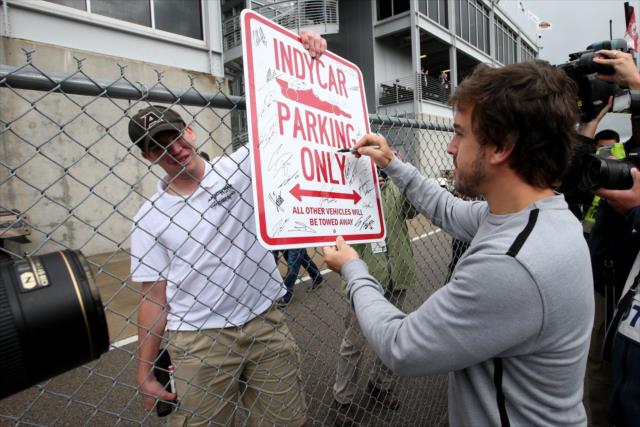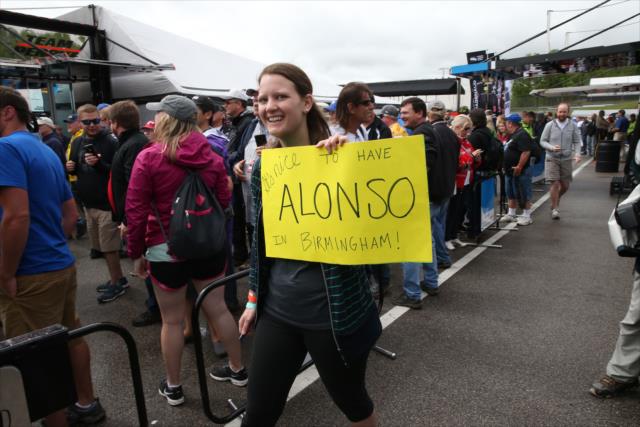 From there, it was a chance to head to the grid and speak with NBCSN IndyCar analyst Townsend Bell.
Alonso's day wasn't done, as he visited both the NBCSN booth and the Advance Auto Parts IndyCar Radio Network booth for further interviews. A portion of the NBCSN interview is below.
Alonso will now head to Indianapolis with the team this week for a seat fit and further preparation for his May 3 test at the Indianapolis Motor Speedway, his first run in the car. He'll then be off to Sochi, Russia for next weekend's Russian Grand Prix, which you can see on NBCSN (times here).