Having not been at the Honda Indy Grand Prix of Alabama this weekend at Barber Motorsports Park, the usual post-weekend column is a shorter one by my usual loquacious standards, and comprises some thoughts, musings and observations from both the open-wheel and sports car races held there:
INDYCAR
Josef Newgarden's win in his third start for Team Penske was aided by Will Power's bad luck and puncture, but it's still a warning shot to the rest of the field because of how early it comes. Power, in a part-time role, didn't win his first race for Penske until his fifth start, at Edmonton in 2009. Helio Castroneves scored his first win for Penske at Detroit in his seventh, at Detroit in 2000. Simon Pagenaud took the longest, in his 19th start at Long Beach last year. With the first win out of the way, more should follow, and quickly for the driver that's highly touted and now just seven points out of the points lead after three races.
Scott Dixon and Simon Pagenaud are maximizing their results as best they can without winning. Neither driver has gotten the headlines they've deserved but they're finishing smart from a championship perspective. And for good measure, they head to Phoenix next week having gone 1-2 there last year… although we expect a Dixon encore to be harder as the Honda aero kit is not expected to be as strong as Chevrolet's on the short ovals.
By contrast, Will Power can't buy a break. Here's Power's last 12 finishing positions in order, dating to Detroit race two, last year: 1, 1, 2, 1, 2, 1, 8, 20, 20, 19, 13, 14. In a series where finishing in the same positions or close is so hard given the competitive nature of the field, quite how Power has alternated a sublime stretch of first or seconds and then been hit by this recent run of five straight sub-13th place finishes is a damn statistical anomaly.
Dale Coyne Racing is human. The four top-10s in four combined starts for Dale Coyne Racing between Sebastien Bourdais and Ed Jones to start 2017 was impressive as hell, and also unsustainable. Coyne came down to Earth slightly with Bourdais rallying to a hard fought eighth place despite a weekend off pace by his desired standards, while Jones' race was compromised on the first lap out of his control. Phoenix will be a tough test for these guys next week, and a pair of top-12 finishes would be excellent results there.
Fernando Alonso was everywhere. As could be expected, the Spaniard dominated the media landscape, broadcast booths and cameras on cellphones Sunday at Barber. With "Alonsobama" in the books, the balance between covering the excitement over his arrival – which is real, justified and awesome – and not overlooking the other full-timers and one-off entries will be something to monitor over the next month.
Barber's crowd uptick: From the track: 3-day attendance of 82,745, ticket revenue increase more than 10 percent over '16. That's good news.
Other quick thoughts… Good on Alexander Rossi pulling a fifth place rabbit out of his hat after starting 18th, while it was tough going for James Hinchcliffe to lose a possible podium with an off-course excursion and drop to sixth. The fact both drivers could be disappointed with those results speaks volumes of how strong their teams are…. Mikhail Aleshin maintained his aggression with yet another hard battle today on the last lap, this time with Ryan Hunter-Reay. Some in the paddock rate the "Mad Russian" as overly worthy of that nickname and while Charlie Kimball got all the flack after Long Beach, it's worth noting how many incidents Aleshin always seems to find himself in. Not that that's a bad thing for a series in need of a "bad guy…" speaking of Kimball, good to see him survive the first lap without incident but it was hard to figure their off-sequence strategy late. They were always going to need another stop for fuel… tough end for Spencer Pigot to lose a potential top-10, while Zach Veach ticked the right boxes on debut… starting to worry Max Chilton has adopted a Harry Potter-esque "invisibility cloak" through three races.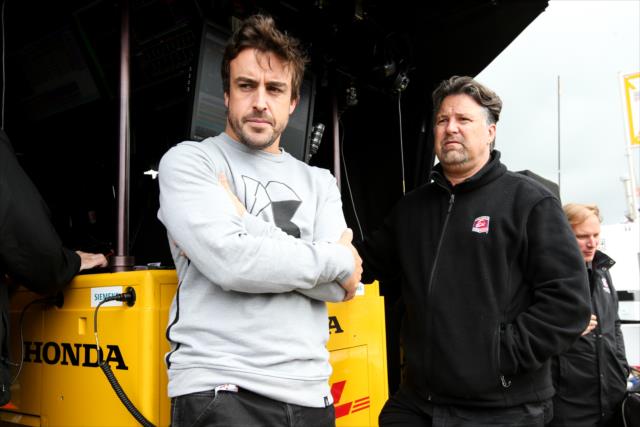 MAZDA ROAD TO INDY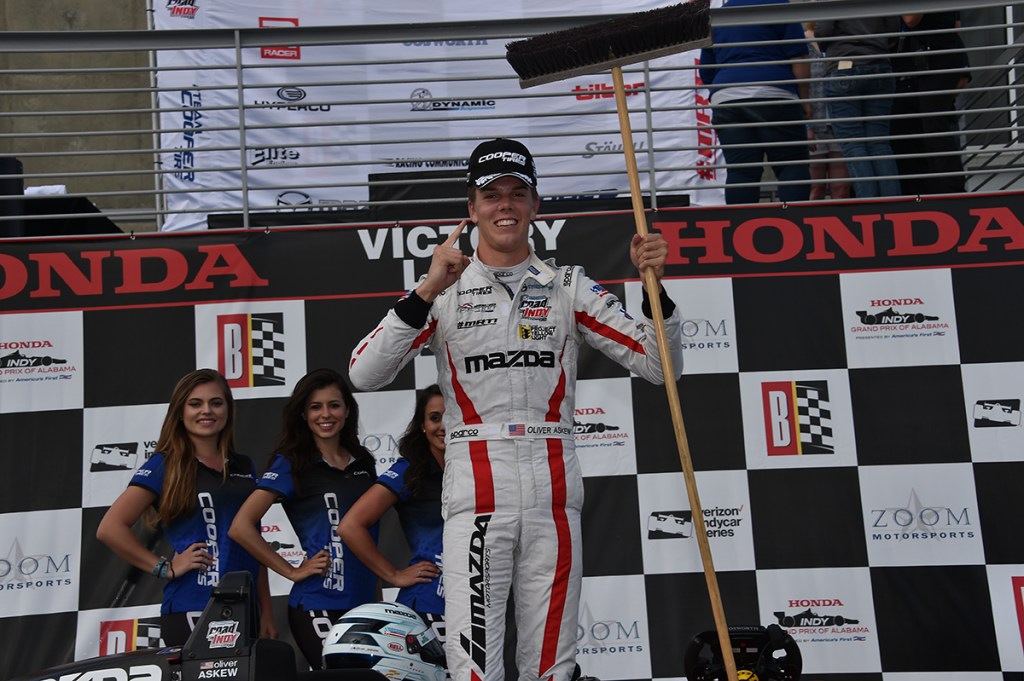 With three straight wins in USF2000, it's fair to call Oliver Askew's run of form an "Ask-kicking" on the rest of the field. The new Tatuus USF-17 chassis was meant to level the playing field and Cape Motorsports hasn't had it all its own way; Team Pelfrey, Exclusive Autosport, Pabst Racing, Newman Wachs Racing and even DEForce Racing are showing signs of podium potential. But Askew has been next level good so far, both in terms of his raw pace in qualifying and racecraft and defending from the front. You can tell the coaching and integration working with JJRD, Inc. is paying dividends for one of open-wheel's best prospects in years.
Even despite Askew's dominance, the top-five have been consistent in USF2000. Askew, Team Pelfrey's standout 14-year-old Kaylen Frederick, third-year driver Parker Thompson and Dutch rookie Rinus Van Kalmthout all have four top-five finishes in as many races. Only Robert Megennis (St. Pete winner), Luke Gabin and Toby Sowery (Benik debutante this weekend) have cracked the top-five beyond those four.
Seeing Andretti Autosport's improvement in Indy Lights is excellent. For a team lost with the Dallara IL-15 Mazda two years ago and only able to occasionally punch above its weight last year with Dean Stoneman, what Andretti has done out of the gate has been very solid, thanks to its engineering strength. Colton Herta looks the real deal with a dominant win Sunday while Nico Jamin flaunted his unquestioned pace and racecraft on Saturday. The Frenchman has now won three races in just over a month, having also swept the first two LMP3 class races in IMSA Prototype Challenge presented by Mazda at Sebring in March (more on that series in a minute). Sophomore Dalton Kellett has been closer to the front and rookie Ryan Norman is showing signs of growth.
Another driver with a better start to 2017 is Carlin's Neil Alberico. The Californian added a solid third and fourth weekend in Barber to his first career podium at St. Petersburg. Between working with engineer Geoff Fickling and driver coach Jack Harvey, it looks like Alberico's nightmare rookie season is behind him.
Other quick thoughts… Kyle Kaiser raced smart this weekend with a pair of seconds, but he needs to find that last fraction more speed to get back to winning… Belardi Auto Racing came down to Earth a bit. Four top-fives in St. Petersburg ceded to just one for Aaron Telitz on Sunday, with fifth, and even that one felt a bit lucky. Santiago Urrutia can't seem to catch a break on the first laps. Shelby Blackstock, to his credit, banked solid seventh and eighth places and has started nicely with four top-10 finishes in as many races… similarly Juncos rookie Nico Dapero has four quiet top-10s and no major mistakes…. DEForce did well to bank its first double top-10 in USF2000 race two as Kory Enders and Moises de la Vara were seventh and ninth in race two…. Pelfrey's third driver, Ayla Agren, banked a pair of eighths in Barber but she still is fractionally behind her two younger and less experienced teammates…. Sowery, Darren Keane and Flinn Lazier impressed in their debut weekends, while Bayley Mickler had a tough go of it. Bruna Tomaselli also acquitted herself well in her step up to the new Tatuus USF-17.
SPORTS CARS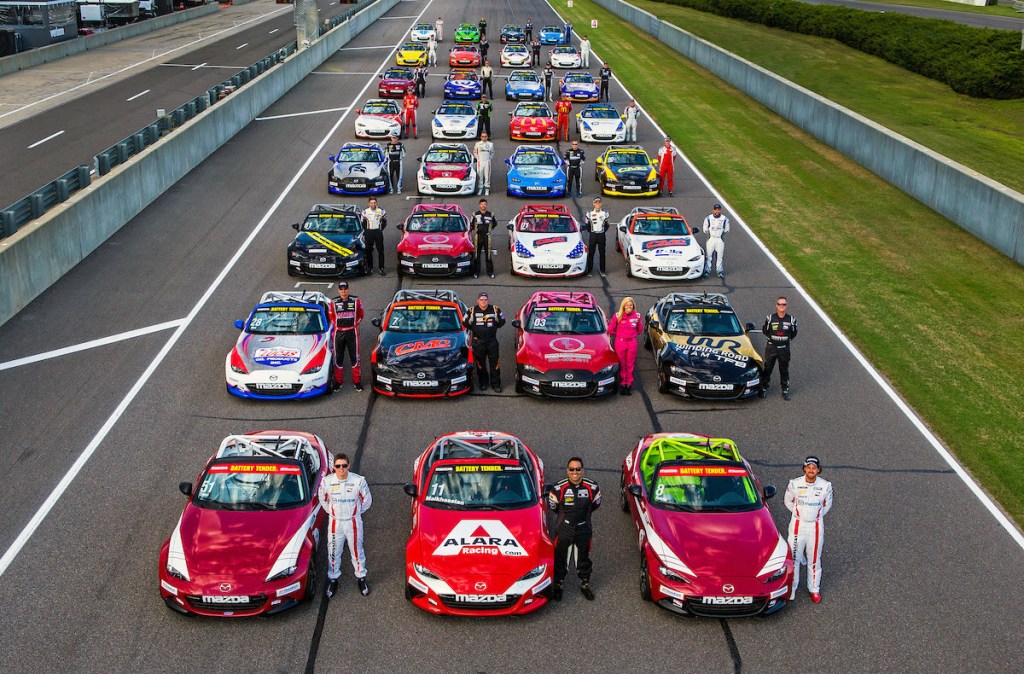 Patrick Gallagher swept the pair of Battery Tender Global MX-5 Cup presented by BFGoodrich Tires races. The veteran out of Thornville, Ohio executed well in both races and seized his opportunity for the McCumbee McAleer Racing team, in its No. 29 MX-5. Gallagher has won a season opener before, at Mazda Raceway Laguna Seca.
It was a new weekend for MX-5 in a way, as the series made its debut under INDYCAR sanctioning and Andersen Promotions umbrellas. More than 30 cars competed during the weekend and despite a few heavy accidents, the series did put on its traditional form of close, wheel-to-wheel, bumper-to-bumper racing. There were a couple inevitable first-weekend hiccups and it took a bit of adjusting to hear IndyCar Radio venture into calling the oft-complex world of sports car racing, but they figure to come up to speed more on MX-5 as the year progresses.
Like Gallagher, another Mazda Road to Indy alum in Jake Eidson swept the weekend in IMSA's Porsche GT3 Cup Challenge USA by Yokohama series. The talented driver and Haywood Scholarship recipient out of Littleton, Col. was racing with a special cause on his No. 24 Kelly-Moss Road and Race Porsche 911 GT3 Cup car, Racing for Children's, which raises money for The Alabama Center for Childhood Cancer and Blood Disorders, along with other Children's initiatives.
IMSA's Prototype Challenge presented by Mazda races saw lanky star Kenton Koch win for P1 Motorsports in his series return in race one, while Andres Gutierrez took a win for Performance Tech Motorsports in race two within the LMP3 class. Kyle Masson continued his incredible start to 2017 with two more wins for Performance Tech in the MPC class, the former P Lites cars, which Koch drove to the series championship in 2015.
The busiest man on the ground this weekend might have been my colleague and friend Ryan Myrehn, who wound up shifting from not planning to attend to the race to getting a call-up for two sets of announcing calls. When Zach Veach got his IndyCar call, it left the aforementioned Advance Auto Parts IndyCar Radio Network needing to find its own fill-in and they found one in Michigan U.P. veteran-turned-Indianapolis resident Myrehn, who had done a one-off at Road America last year (coincidentally, a weekend when I called Veach's Indy Lights win). Myrehn wasted no time in getting acclimated calling IndyCar and Indy Lights sessions for IndyCar Radio all weekend, then shifting back to his natural habitat of sports car racing with last-minute calls in the booth of the IMSA.TV web stream for the PC and GT3 Sunday races. Myrehn's developed rapidly as a writer and podcast co-host for Sportscar365.com and he seized his opportunity on the ground this weekend from a radio standpoint.
IndyCar is back in action in just five days at Phoenix, while the Mazda Road to Indy is off until the IMS road course weekend in mid-May. MX-5's next race is also at the IMS road course, but in mid-June with SVRA. For IMSA, Porsche runs next at COTA in early May and PC runs next at Watkins Glen in July.