The amount of words written nationwide and worldwide about Alexander Rossi's win in the 100th Indianapolis 500 presented by PennGrade Motor Oil are probably in the millions.
The number of words written about Rossi in two pivotal races leading up to that win at Phoenix and the INDYCAR Grand Prix? It's probably only in the hundreds, by specialist media only.
Yet it was those two races – at Phoenix's oval and the Indianapolis Motor Speedway road course – that laid the groundwork for Rossi's eventual win at the '500 because of the progress he and the No. 98 Andretti-Herta Autosport Honda team made in a finite amount of time.
Rossi didn't get to test at the series' official open test at Phoenix in 2016 because his deal was struck with the team so late in February. Outside of a rookie day, his first real running at his first ever oval race came that weekend in April, which was a couple weekends earlier in the month.
Yet Rossi drove smartly in his first ever oval race, climbing from 14th on the grid up to seventh before needing to pit for low fuel under a closed pit lane. A quick washout in Turn 4 near the end of the race from a puncture brought out a full-course caution and left him in 14th at the finish, a result unrepresentative of his pace and performance.
"At Phoenix we were a lot stronger than 14th," Rossi told NBC Sports. "We were in a position to take the last restart in second or third, but we had the pit miscommunication and we had to start at the back.
"Phoenix was so strong for us – which was a surprise for myself and the team. It gave us a big confidence boost because the next oval was the big one. At the time, I took on what was a terrifying experience and made it through the weekend, to fight through something positive. It took the anxiety away from everyone that I'd be OK."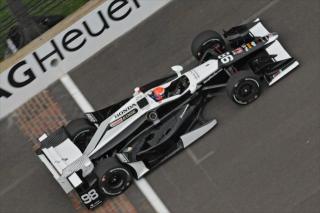 The INDYCAR Grand Prix in mid-May then, three races later after tough Long Beach and Barber weekends, saw Rossi take the lead on setup and direction within the Andretti Autosport quartet for the first time.
As at Phoenix, the box score didn't tell the story. Rossi started 12th and finished 10th. But he had the fastest race lap and was well-poised for his first career top-five finish before falling back.
"Indy GP – that was the first time where it clicked for me in an IndyCar," Rossi explained. "I was able to lead the team in terms of car setup. We were the quickest Andretti car throughout the weekend. I think we could have been top-five. Considering the start, that would have been a strong result. Those were two of my strongest tracks that people don't really know about."
That weekend allowed Rossi to find his footing within the engineering meetings, which has come through in every race since that point.
"Kind of from the Indy GP on, I knew what the car needed – and that was the big thing we needed as a team," he said. "Prior to that, I didn't know what it needed for lap times. It was difficult to contribute too much because I hadn't figured it out myself. But it's progressed pretty quickly.
"The great thing about this team is it's such an open book. It's counterintuitive to a lot of teams. These guys work as well as they do because of that. I struggled at Barber, but it wasn't down to lack of information. We couldn't find something that worked for me. It was a lot of brainstorming sessions with the other engineers. Sunday afternoon it clicked, and that's how it all works."
Rossi had what could be perceived as a setback in this year's Phoenix open test, held in earlier February. He crashed on his first flying lap on Saturday on a qualifying simulation, which to this point is his only accident in an IndyCar (he got hit during the pits at Pocono last year in a freak incident).
But Rossi explained how that accident actually came as a result of a confidence boost to begin building up to the limit, and some sage advice from his co-owner, Bryan Herta.
"The test was actually positive. Day one was really good and what happened in the qual sim was a combo of a couple things, "Rossi said.
"The biggest advice I got from Bryan last year was , 'If anything feels wrong, just pit.' And that makes sense, right? It's so difficult to drive around issues on an oval. Phoenix is the one track where you trim out so much from qualifying downforce to race downforce. The car is on edge.
"I'd never pushed the envelope on short ovals last year, so I didn't really know how much of an abnormal feeling was OK. I'd never had an incident, so… I didn't know. But now I know! I felt it was pretty loose on the warmup lap coming to speed. To be up front at Phoenix, the car has to be on a knife edge. Then, it was clearly too much. So in a way, it was almost good it happened, and it was great it happened at the test and not the race weekend to avoid it happening again."
With qualifying shifting from Friday afternoon to Friday night this year, it figures to mirror conditions much closer in Saturday night's race (9 p.m. ET, NBCSN).
"I'll miss the nighttime practice; that was a bit of a shame," Rossi admitted. "But night qualifying is great. It's way easier because the temperatures are down; when you trim out it's not as hairy. It's the same conditions as nighttime. You can still learn about the car setup and keep a development direction."
It's been a funny start to the 2017 season for Rossi, who moved up from 18th to 10th in points after finishing fifth in Barber last week. Rossi started eighth and fifth at St. Petersburg and Long Beach, while at Barber, he advanced from 18th up to fifth.
"It hasn't been great because we haven't had a super smooth weekend yet. Qualifying was good, then the races weren't. Then Barber it was the opposite. Now, we're due for one at Phoenix," he said.