Several NASCAR Camping World Truck Series drivers got to see how the other half lives – namely, their counterparts in the NHRA – on Thursday at Charlotte Motor Speedway and across the street at zMax Dragway.
To say it was an eye-opening experience is putting it mildly.
Top Fuel drag racers Shawn Langdon and Troy Coughlin Jr., as well as Funny Car driver J.R. Todd – all from one of the top teams in the NHRA, Kalitta Motorsports – are in Charlotte for this weekend's 4-Wide Nationals at zMax Dragway.
Thursday, they invited NASCAR drivers Ryan Truex, Christopher Bell, Grant Enfinger and Noah Gragson to show how it's done NHRA-style.
Todd, Langdon and Coughlin started the day taking Toyota Camry pace cars around the 1.5-mile CMS oval.
Then everyone moved across the street to see some real horsepower, namely, 10,000 horses worth – which is roughly about 13 times the power they have under the hood of their race trucks.
Truex and Bell got a chance to "warm up" Todd's Funny Car, while Enfinger and Gragson did the same with Langdon's Top Fueler.
Meanwhile, Todd and Langdon both did smoky burnouts that, if the Truck guys thought they could do burnouts, they learned a lot to the contrary.
"It was a cool to do a big smoky burnout," Todd said. "It was cool to see the guys reactions. We had a great time today and I think we created several new fans."
Added Langdon, "Days like today is what makes me love our sport even more. Bringing these guys over here and letting them hit the throttle and sit in the car when it warms up gives them a look at what we do. To see the smiles on their faces after a badass burnout and how excited they are, just gets me pumped."
Here's what the NASCAR guys thought about the experience.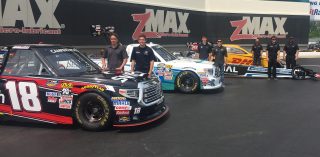 Bell: "J.R. Todd let me sit in his Toyota Camry Funny Car and they even cracked the throttle open for me when we were warming up the motor. It is something that I will remember for the rest of my life. It is a feeling like none other."
Enfinger: "Just a crazy experience, something I have never done. Been able to do a lot of cool things with Toyota, but it is not every day that you get to make your dad jealous."
Gragson: "This was awesome. It was the experience of a lifetime. It was great to hang out with J.R. Todd, Shawn and Troy Jr. Definitely a cool experience; one that I will remember forever."
Truex: "This has probably been the craziest experience that I have ever been a part of. I got to sit in a Funny Car; they hit the throttle, which really scared me. When I was outside the car, I jumped about three feet in the air. It was cool to get inside and experience that. The nitro was all in my face, and I think they gained a new fan with me today."