The second race debut of one of sports car racing's newest – and perhaps coolest – models comes to life this weekend at Circuit of The Americas.
The Chevrolet Camaro GT4.R of course has already been seen in action at the first two Pirelli World Challenge weekends with longtime GM competitor Blackdog Speed Shop, at entirely separate circuits from the streets of St. Petersburg to the fast, flowing VIRginia International Raceway.
The car's full technical specs from its reveal are linked here, but of note, it is rear-wheel drive, unitized body with 2-way adjustable struts & dampers and front & rear anti-roll bars, featuring a 6.2L V8 naturally aspirated direct injection engine and a six-speed sequential transmission with paddle shifters.
Now, the car swaps its boots – Continentals replace the Pirellis – as a third different Camaro GT4.R chassis makes its race debut in IMSA Continental Tire SportsCar Challenge competition with Stevenson Motorsports.
The difference in series and tires also comes with a change in the driver lineup. Lawson Aschenbach is committed to Tony Gaples' Blackdog's Camaro program in PWC's GTS class, but although he competes with Stevenson in IMSA, it's actually in the IMSA WeatherTech SportsCar Championship's GT Daytona class sharing an Audi R8 LMS with Andrew Davis.
That leaves Davis' longtime co-driver and past Continental Tire Challenge co-champion, Robin Liddell, to share the No. 57 Camaro GT4.R with Aschenbach's past co-driver, one of the series' most successful qualifiers in Matt Bell. As you can see below, Bell and Liddell are already up to antics…
ASCHENBACH, GAPLES, BLACKDOG LAY THE GROUNDWORK
It's a switched-up lineup but with Aschenbach as the guide to the car's performance from his first two PWC weekends, hopes are high for the latest first race for the new car this weekend.
He's driven the new GT4.R in addition to the previous generation Z/28.R, which he raced the last time Stevenson ran a Camaro in Continental Tire Challenge competition in 2015 and also with Blackdog in PWC last year, and the previous generation Camaro SS in PWC in 2013 and 2014, both years where he won class championships.
"The GT4.R is a step forward compared to the previous generation race car," Aschenbach told NBC Sports. "We were able to compile all of the information, and knowledge learned over the past few years with the Z/28, and carefully put that into the development of the new car.
"The handling characteristics aren't extremely different, but they are much more refined. We were able to keep the braking performance and stability, along with the high speed corner grip. However, we now have better aero balance, and a lighter, more nimble car.
"I feel the GT4.R will be competitive on any track, and on any tire, which is important when it comes to a customer based program."
CUSTOMER-BASED FOCUS
The key phrasing outlined there is customer-based. GM's road racing portfolio in recent years has centered on its factory or factory-supported efforts but in 2017, times may be changing on that front.
The flagship Corvette Racing team in WeatherTech has only run with one longtime Corvette chassis customer in Larbre Competition, Jack Leconte's French team. Cadillac's PWC GT effort has never seen customers for its CTS-V.R and now ATS-V.R models.
However Cadillac supports multiple teams in WeatherTech now, with the Konica Minolta (Wayne Taylor Racing) and Mustang Sampling and Whelen Engineering teams (Action Express Racing) the first two teams to acquire the new Cadillac DPi-V.R models; the potential is well there for that car to be available to others down the road.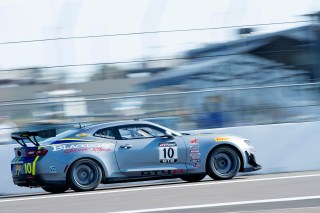 And beyond Blackdog and Stevenson, the goal for the Camaro GT4.R long-term is for it to be sold to customers. The previous generation Z/28.R had only one additional customer in Mantella Autosport, with the Canadian team running those for only one season in Continental Tire Challenge before going to PWC and running KTM X-BOW GT4s from 2016.
"We anticipate this being a customer car program," Mark Kent, Director, Motorsports Competition – Chevrolet, told reporters at the car's St. Petersburg debut. "We're still working out the process and pricing, but that is our long-term intention. This year we're focusing with Blackdog here, and a team (Stevenson) in the Continental Tire SportsCar Challenge series. After that would be when we turn it into a customer program.
"It's based off the Camaro ZL1, but you'll also see a lot of resemblance to one we introduced at Daytona. It was developed with Pratt & Miller. The engine is built and supplied by our own manufacturers."
Shawn Meagher is a name you may well get to know more as the year progresses, as the program advances. He is the Camaro GT4.R Program Manager – Chevrolet, and praised the development the teams have done to get the car to this point this early in its development life cycle.
"We have such a high performance car. It makes a lot easier when you work very closely with the production team," Meagher told reporters at St. Petersburg. "In turn we have a lot of data or background with the production colleagues. We move very quickly and aggressively with such a good background.
"There's some similarities to the Camaro. This new car is an evolution. That's one of the reasons why Blackdog Speed Shop which ran the old cars in the past, can execute very well."
QUICK START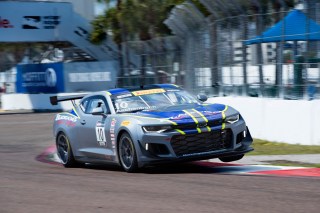 Aschenbach proved the new car's potential right out of the box – literally – as he took a debut pole at St. Petersburg in the same week the team took delivery of one of its chassis. Aschenbach, who is teammates to Blackdog team principal Tony Gaples, finished second in both races.
"To be able to roll out of the trailer, and qualify on the pole was a massive feat for the new GT4.R. Not to mention two podiums!" Aschenbach said. "I was impressed by how well the car handled the tight, twisty parts of the circuit, something we struggled with in the past. It seems that we have a more complete car this year."
As in St. Petersburg, Aschenbach completed a double podium at VIR, coming third in both races. The second third proved the car's durability under duress as Aschenbach fought hard with Ian James' Panoz Esperante Avezzano, the likable James later issued a post-race penalty for driving conduct and docked one position from third to fourth.
So that's four podiums and a class points lead for Aschenbach in the one series where the car will complete a full season this year. Aschenbach also thanked Gaples for a selfless act done in the betterment of the team after a parts issue arose.
"I believe we achieved the maximum result possible. The balance was spot on all weekend, and we worked hard to make sure the car wasn't going to abuse the tires too quickly," Aschenbach explained.
"We had a differential issue in qualifying, but Tony was very kind to allow us to swap parts so I could compete in race one. It was hard for all of us to see him sit it out, but fortunately we were able to fly some parts in so he could partake in race two.
"All-in-all it's been an incredible start to the season with the new Camaro GT4.R. I feel we have the car, team, and pace to battle for a championship. Although we are pushing hard to win races, execution has become the name of the game early in the season."
STEVENSON'S LATEST CAMARO EVOLUTION
And so that leaves the focus on Stevenson – which won the Continental Tire Challenge GS championship the last time it competed in the series with Davis and Liddell – to look to secure the car's first win at Circuit of The Americas this weekend, a track where the old Z/28.R scored its fourth and final win of that 2015 title season.
This also continues the tradition of Stevenson premiering new Camaro race cars. The team has debuted the GT.R (2009) and the Z/28.R (2014) racing in both the GRAND-AM Rolex Series and the Continental Tire SportsCar Challenge. The GT4.R will mark the third consecutive Camaro generation that the team will debut.
It's up to Liddell and Bell to tell the tail of how the new car gets on this weekend, while leaving Aschenbach in the unusual position of rooting for a car he drives in another series, watching from the pit box!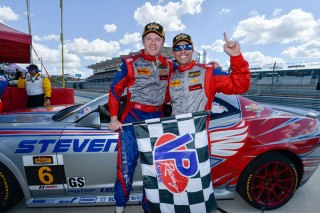 "I'm certainly going to miss the H-pattern shifters and more production-based cars, but the GT4 class is where the motorsport world is heading, and I'm happy to see IMSA has followed suit. At its roots, the CTSC GS class still seems to be the same rough and tumble brawl of a race series that I've enjoyed so much in the first seven years of my career, and I'm extremely happy to be contending in it once again," Bell said.
"The new Chevrolet Camaro GT4.R is a serious race car. It is lighter, more nimble, and even more engineered for the race track than the Z/28.R that Stevenson Motorsport won the GS Championship with in 2015. We know the team is up to the task, we know the new car is as solid as any we've raced, and I'm quite certain Robin (Liddell) and I will pair well together. While we have been teammates for seven years, we've never been season-long co-drivers. He and I both seem to like the car the same way and have similar feedback, so that will certainly streamline the tuning process."
The Stevenson crew's efforts are aided in large part by team manager Mike Johnson, who will pull his own unique double duty at COTA as he'll call race strategies for both Liddell and Davis' No. 57 Camaro GT4.R in the two-hour Continental Tire Challenge race, and the Aschenbach/Davis No. 57 Audi R8 LMS in the two-hour, 40-minute WeatherTech Championship race, which run Friday and Saturday, respectively. A further story on him is linked here via IMSA.com.
But there's something right about Stevenson being back in a Camaro, as they look to add to an already solid start established by Blackdog for the new Camaro GT4.R.