Dominance is defined as "power and influence over others." In essence, one who exerts dominance displays a level of superiority; he or she is simply better than everyone else, at least for a given time period.
In every sense of the word, Oliver Askew has been dominant in the 2017 Cooper Tires USF2000 Championship Powered by Mazda. In fact, it's been nearly perfect. Askew has led 47 of the 81 total laps, taking three wins and one second-place finish through four races. And that high level of performance was on full display at his last outing at Barber Motorsports Park.
Askew and his Cape Motorsports team qualified on pole for both races, led every lap in both races, and won both races to complete a clean sweep of the weekend. As Askew told NBC Sports, such a feat is never easy.
"It's definitely hard to finish a sweep over the weekend, especially because I think, in most cases, the competitors end up catching you at the end of the weekend, or the gap is closer," he explained. "It's so hard to keep progressing when you already feel like you're at the limit."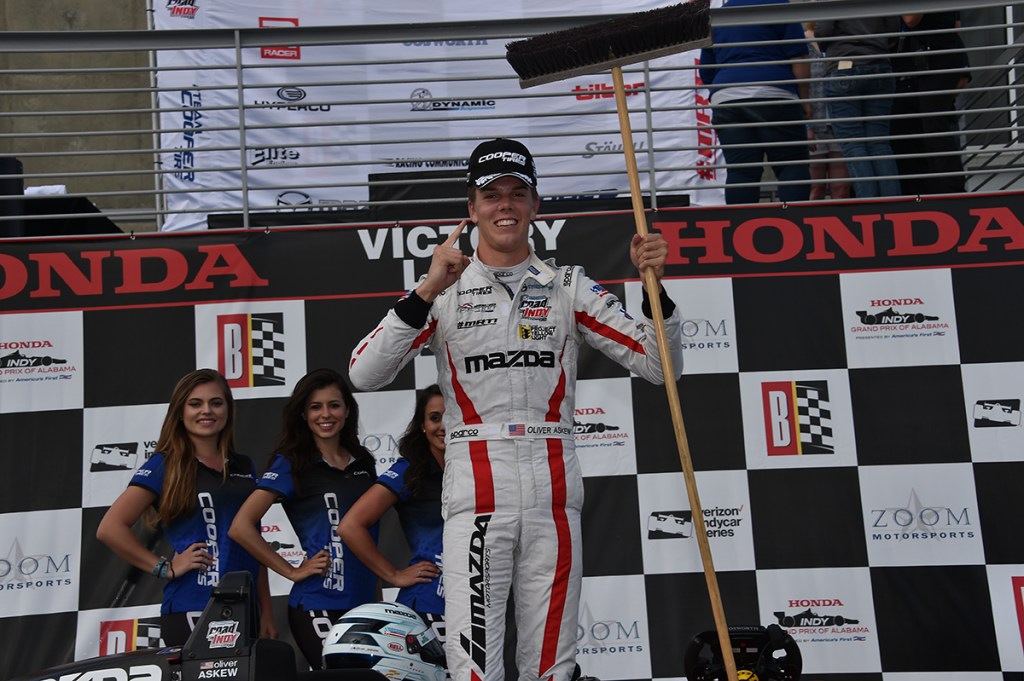 On the surface, everything looked routine, smooth, and even easy for Askew. However, particularly during Race 1, setup issues resulting from the different tire rubber made for an interesting challenge.
"We were actually struggling a little bit on (Friday) with the balance of the car. The IndyCar rubber went down, and that caught us off guard a bit," he said. "But, we made it a lot better for the race on (Saturday). I think if we didn't have such a long safety car period, we'd have actually driven away from the car in second, not like how the race was on Friday."
The early-season strength does not come as much of a surprise given the form he and the team displayed during pre-season testing at Homestead-Miami Speedway, where Askew was also quickest. As he asserted, the performance was a sign that he and the team could do great things this year.
"We were up at least three tenths on the field in every session except the last one, when we didn't put new tires on. I think that kind of set the tone and set our expectations for the season, especially the season openers. After that test, we kind of knew what our expectations were and what the potential for us was."
Of course, a look at Cape Motorsports' history also indicates a potential for dominance. The Florida-based team has won five consecutive USF2000 championships and, as Askew explained, works in a seamless, machine-like manner that would rival even the biggest of racing operations in its attention to details. "The way they work is amazing. They can just get so much done. At this level, with the cars being exactly the same and the engines being spec, all the details matter massively. I think the guys at Cape Motorsports definitely nailed down those details and provided a fantastic race car."
However, being a rookie in any series poses a set of unique obstacles, mostly due to inexperience, that cannot be ignored. Askew admitted that his learning curve has been steep, but the team around him has helped the transition from karts to cars go relatively smoothly.
"My learning curve has been very steep, since about the start of the Team USA Scholarship, and also at the Mazda shootout in (Mazda Raceway Laguna Seca). I learned so much in testing there. I feel like I have so many good people around me now, and that's really shown in my performance."
Further, his time in karting (he spent 11 years racing karts) helped him develop a strong race craft, a skill set he was able to carry into USF2000.
"I expected to be competitive. I don't think this competitive, this fast! I've been racing karts for 11 years, prior to this season. I think the race craft and speed has also come from all those years of racing go karts," he explained.
Currently, Askew leads Kaylen Frederick by 34 points going into the Indianapolis Motor Speedway Road Course, where all the ladders of the Mazda Road to Indy will compete on May 12-13.
Follow Kyle Lavigne.