For as much jubilation and utter shock as there was for Alexander Rossi in victory lane, there was pure agony standing hundreds of yards away for 2016 Indianapolis 500 runner-up Carlos Munoz and third-place finisher Josef Newgarden.
Munoz seemed to have the inside line on victory barring Rossi's surprise 36-lap stint on fuel economy to the finish, and Newgarden seemed the only Chevrolet runner to post a proper threat to the Hondas last year, having been that manufacturer's best balanced car nearly all month in the marquee race of the Verizon IndyCar Series.
The third place finish for Newgarden, then in the No. 21 Preferred Freezer Chevrolet for Ed Carpenter Racing, was his best finish yet at Indy in eight combined starts between the Indianapolis 500 and the Indianapolis Motor Speedway road course races. His others, in order? A forgettable 25th, 28th, 17th (2014 GP), 30th, 20th (2015 GP), 9th and 21st (2016 GP).
Yet his best finish to date might have been the hardest to swallow.
"It took probably 24 hours (to recover). It was so tough because it's the Indianapolis 500," Newgarden told NBC Sports. "That was the first opportunity I truly had at winning it. When you feel that, when you see it within your grasp… it was tough to lose. It was tough not to capitalize. It was a tough pill to swallow. But if you're running it enough years a row, maybe one will work out."
The sting also overshadowed the fact Newgarden made a big leap forward in the season-long points as a result of his incredible month.
After the Grand Prix, he sat 12th in points with only 100 points scored from five races all season.
In the Indianapolis 500, after qualifying second and finishing third, Newgarden scored 111 points for that one race, and spring-boarded to fourth in the championship, which put him in the title conversation for the first time.
"Indy you have to treat as its own event. It's hard to look at it from a points standpoint… yet you still do, because there's a lot there," Newgarden said.
"Indy is a race you want to win. Points are secondary. It's a big month… but you ask where do you stack up when you leave. To some degree you have to look at it, and in qualifying, you have to look at it as almost a full race of points."
Things are of course different now for Newgarden, and the first key to starting off a better month of May will be getting past what's been a traditional stumbling block for the likable 26-year-old out of Hendersonville, Tenn., driver of the No. No. 2 hum by Verizon Team Penske Chevrolet.
He has an utterly brutal record in the Grand Prix race, with this stat line: he started 15th and finished 17th in 2014, then started 12th and finished 20th in 2015 (got caught up in Turn 1 accident), and last year, started 25th (qualifying penalty cost him after making Firestone Fast Six) and finished 21st.
"It's been tough so far, but hopefully we can change the trend there," Newgarden said. "We either aren't stellar, or we got better – we got Fast Six and had some speed at ECR – but didn't convert. It's not been a good three years there."
The rest of May will see Newgarden bonding for the longest stretch of time with engineer Brian Campe, who it must be said, is already an Indianapolis 500 race-winning engineer – he did so with Newgarden's predecessor, Juan Pablo Montoya, in the No. 2 Penske Chevrolet in 2015.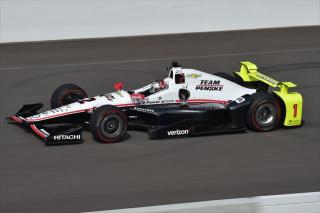 The Newgarden/Campe relationship has come together quickly, which has been impressive considering Newgarden's success and dynamic with past engineer at ECR, Jeremy Milless.
"That's a good point actually… that he's a race winner. He's more successful at the Motor Speedway than I am!" Newgarden laughed. "It's only been three years, but he's had more success.
"He's become a very good IndyCar engineer. He's a great engineer. He's learned what IndyCar racing is all about, and what you have to look after. He has great notes with him and Juan, and more on what can sneak up on you during the month of May. He's looked at my list of notes. We collaborate. I get to listen to him, and he listens to my ideas.
"I think it's been good … I don't know what I really expected. I never had any issues. Brian and I clicked right off the bat. I didn't expect us to have any big issues. We're going through the natural learning process. You have to have experience together for the relationship to grow and blossom. Every weekend we have, the better we get. The more you have those experiences, the better you are."
Newgarden also admits his comfort level has gone up now having four races under his belt at Team Penske. He was the first of the team's fearsome foursome to win this year, admittedly a bit lucky with Will Power's demise but still with a well-judged and executed pass of Scott Dixon at Barber, and enters third in points with 133. So he's already 33 points ahead of where he was following last year's Grand Prix, with one more race to add to that tally. He sits 26 behind championship leader, defending series champion, teammate and Phoenix winner, Simon Pagenaud.
"That's (the comfort level) changed for sure. I'm way more comfortable now, from a jelling standpoint," he said. "It feels so normal now to get to the racetrack with them.
"But it should get that way. You want to get comfortable with the people you're working with. It's a great unit. I love that I feel that way now and go into a race weekend and have success."
This May also provides Newgarden his first chance to have multiple full-season teammates at his disposal, plus the access of Team Penske's Rick Mears from a coaching standpoint.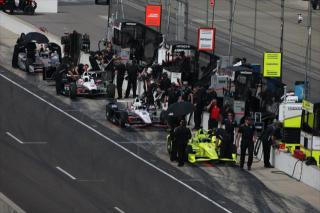 This month, Newgarden has four teammates – Pagenaud, Power, Montoya and Helio Castroneves. The last two years were his first years with multiple teammates, and in Ed Carpenter and JR Hildebrand, neither was a full-season driver and were in one of their first races of their respective seasons.
Beyond that, his past Indianapolis teammates were Indianapolis-only entrants in Alex Tagliani (2014) and the late Bryan Clauson (2012) with Sarah Fisher Hartman Racing.
This means Newgarden will also be able to do mock race simulations with this group of drivers during practice, in a multiple-car pack – a luxury he really hasn't been afforded previously.
"I'm very excited about that, to be the fifth or fourth car in line," he said. "That's hugely helpful for us to work in traffic. You need three or four – and we have that. People have got better with that on these big times.
"I think (this race) is more about how you manage cars in front of you. Sometimes you want to be behind more than in front of them. If you can lead, great, but it's very short lived at the 500. You have to be able to get back by."
Newgarden added of Mears, "He's our local guru, if you will. He's on Helio (as a spotter), but he's available whenever.
"For Indianapolis, it's the best time to talk to him. He's a wealth of knowledge anywhere. The 500, having him there, takes it to a different level. Spending time with him, he knows it like the back of his hand. He's such a great observer of this event."
Newgarden, like the rest of Team Penske, has tested twice at IMS earlier this year so he won't be going in blind to his first running at the Speedway with his new team.
With the motivation and determination high to eclipse that near-miss of a year ago and an otherwise tough record at Indy, hopes are high that greater results will bloom for Newgarden.